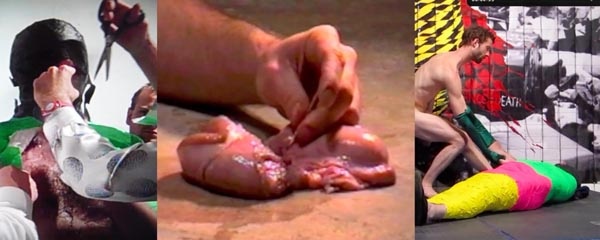 Hunter Reynolds Mummification Heart Transformations, 2012 from P.P.O.W New York
Moving Image, the contemporary video art fair, returns to New York's Waterfront Tunnel, March 8-11, 2012, with 31 artists presenting single-channel videos, sculptures, and installations represented by galleries from Europe, Asia, the Middle East, Australia, and North America. Moving Image was conceived to offer a viewing experience with the excitement and vitality of a fair, while allowing moving image-based artworks to be understood and appreciated on their own terms. For the 2012 edition, we are delighted to announce an expanded program of presentations and panels, including what promise to be very lively discussions on conservation and preservation of video artwork, the future of video art technology, and what you actually get when you buy video art.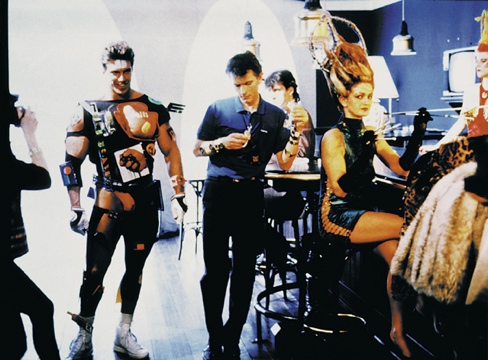 VALIE EXPORT Ein perfektes Paar oder die Unzucht wechselt ihre Haut/Perfect Couple, or Indecency Sheds Its Skin, 1986 Charim Galerie Vienna
Highlights of the 2012 New York program includes works by highly influential experimental filmmaker Ken Jacobs (presented by Electronic Arts Intermix, New York) and legendary pioneer of conceptual art, VALIE EXPORT (presented by Charim Galerie, Vienna, Austria). Along with a 2003 work by Zhang Peili (Saamlung, Hong Kong), widely considered the father of Chinese video art; a new work by renowned New York artist Mary Lucier (Lennon, Weinberg, New York), and an installation by the celebrated Estonian artist Jaan Toomik (Temnikova & Kasela Gallery, Tallinn, Estonia), these works reflect Moving Image's dedication to presenting historically important artworks (image below from Toomik's 2004 video, Seagulls).
Moving Image New York 2012 also presents several large-scale installations, including works by Martha Wilson (PPOW, New York), AES+F (Anna Schwartz Gallery, Melbourne/Sydney, Australia) Janet Biggs (Winkleman Gallery, New York), Josh Azzarella (DCKT Contemporary, New York), and Daniel Phillips (DODGEGallery, New York).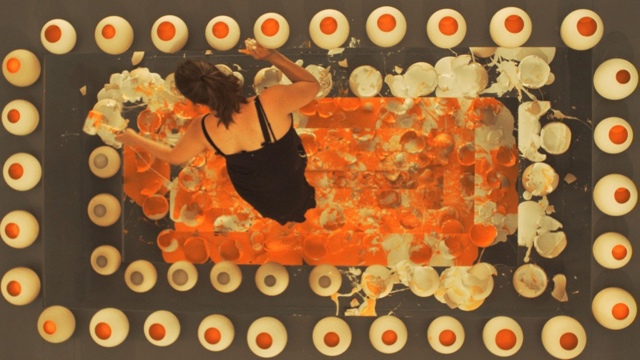 Kate Gilmour Built to Burst 2011 Braverman Gallery
New works in the program by emerging artists include videos by Kate Gilmore (Braverman Gallery, Tel Aviv, Israel); Alex Prager ( Yancey Richardson, New York, NY); Jesse McLean (Interstate Projects, Brooklyn, New York); and Jesse Fleming (Los Angeles, CA).
Artists / Participating Galleries
AES+F / Anna Schwartz Gallery (Melbourne / Sydney, Australia)
Sama Alshaibi / Lawrie Shabibi (Dubai, UAE)
Josh Azzarella / DCKT Contemporary (New York, NY)
Janet Biggs / Winkleman Gallery (New York, NY)
Eelco Brand / [DAM] Berlin | Cologne (Berlin, Germany)
Josef Dabernig / Andreas Huber (Vienna, Austria)
Song Dong & Yin Xiuzhen / Chambers Fine Art (New York, NY)
VALIE EXPORT / Charim Gallery (Vienna, Austria)
Jesse Fleming / The Company (Los Angeles, CA)
Alexa Gerrity / The Company (Los Angeles, CA)
Kate Gilmore / Braverman Gallery (Tel Aviv, Israel)
Christopher K. Ho / Winkleman Gallery (New York, NY)
Susanne Hofer / Christinger De Mayo (Zurich, Switzerland)
Ken Jacobs / Electronic Arts Intermix (New York, NY)
Yael Kanarek / bitforms gallery (New York, NY)
Kelly Kleinschrodt / Carter & Citizen (Los Angeles, CA)
Julia Kul / Postmasters (New York, NY)
Mary Lucier / Lennon, Weinberg (New York, NY)
Jesse McLean / Interstate Projects (Brooklyn, NY)
Jaakko Pallasvuo / Future Gallery (Berlin, Germany)
Zhang Peili / Saamlung (Hong Kong)
Jenny Perlin / Galerie M+R Fricke (Berlin, Germany)
Daniel Phillips / DODGEgallery (New York, NY)
Alex Prager / Yancey Richardson Gallery (New York, NY)
Hunter Reynolds / P.P.O.W Gallery (New York, NY)
Miguel Angel Rojas / Sicardi Gallery (Houston, TX)
Mariateresa Sartori / Galleria Michela Rizzo (Venice, Italy)
Jaan Toomik / Temnikova and Kasela Gallery (Tallinn, Estonia)
Stefanos Tsivopoulos / prometeogallery di Ida Pisani (Milan, Italy)
Martha Wilson / P.P.O.W Gallery (New York, NY)
Marina Zurkow / bitforms Gallery (New York, NY)
You can get an online preview of the work over at Gallerist on this URL
movingimage.gallerist.com/
Categories
Tags