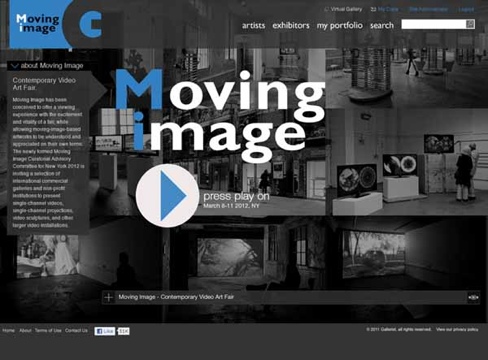 Moving Image, the Contemporary Video Art Fair, is very pleased to announce a unique partnership with Gallerist to bring Moving Image online with a customized "screening room" available for viewing excerpts from the exhibited works before, during and after the fair.
Launching March 4th, 2012 and running through March 24th, 2012, the Moving Image–Gallerist website will provide excerpts from all the video works exhibited at the fair, detailed information about the artists and galleries, and contact information to learn more.
The Moving Image–Gallerist website URL will be announced on March 4, 2012.
For additional information, please email us at contact@moving-image.info
About Gallerist
www.gallerist.com/
"From individual galleries to global fairs, Gallerist helps art professionals exhibit and exchange works of art from anywhere in the world while enhancing the quality of their client relationships and interactions.
Gallerist is currently in beta development. We would love to hear how we can enhance your art experience and keep you updated on our progress. Please email info@gallerist.com to get in touch."
About Moving Image
Moving Image was conceived to offer a viewing experience with the excitement and vitality of a fair, while allowing moving image-based artworks to be understood and appreciated on their own terms. The Moving Image Curatorial Advisory Committee for New York 2012 invited a selection of international commercial galleries and non-profit institutions to present single-channel videos, single-channel projections, video sculptures, and other larger video installations.
Categories
Tags