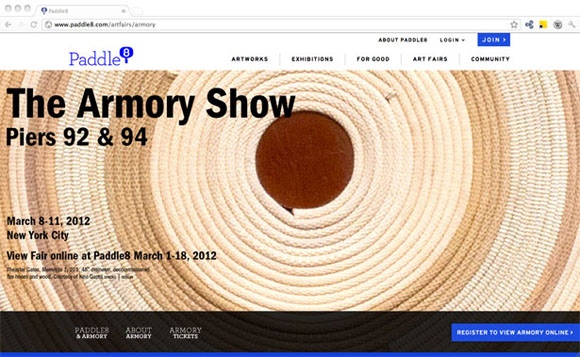 www.paddle8.com/user/register/ARM8RY
As The Armory Show continues to break new ground in the art world, it has joined forces with Paddle8 to bring the fair online for the first time in its fourteen year history. This partnership will allow collectors and art enthusiasts from across the world to view, reserve and acquire work from over 100 participating exhibitors, from 20 countries, through Paddle8. A week-long online preview will commence on Thursday, March 1st and the venture will run through Sunday, March 18th, expanding the timeframe and geographical boundaries of the New York-based fair which will be held from March 8–11 on Piers 92 and 94, 55th Street at 12th Avenue. Paddle8's unique technology offers a dynamic complement to the brick and mortar fair experience through a content rich and elegant viewing environment that enables exhibitors to receive inquiries, accept reserves, tender offers and process sales using a patented Internet-based system.
Paddle8's partnership with The Armory Show follows its successful recent collaborations with other art fairs, which have led to important sales for exhibitors and generated approximately 100,000+ views per day. As part of the collaboration, Paddle8 will also be showcasing and selling Armory Benefit Editions, proceeds of which support The Pat Hearn and Colin de Land Cancer Foundation and the Pat Hearn and Colin de Land Acquisition Fund at The Museum of Modern Art, New York. In addition, Paddle8 will provide unique editorial insights into events in and around the fair to further galvanize The Armory Show as the hub of New York's thriving contemporary and modern art activity. During the course of the fair, Paddle8 will extend the partnership into a physical presence with a booth in the VIP Lounge, showcasing a new animation video and the launch of a new Art Lunch Club.
Osman Khan, Managing Director at Paddle8, says "The Armory Show, one the most established and celebrated art fairs and a vital force in art sales in New York and internationally, is an ideal partner for Paddle8."
Since its inception in May 2011, Paddle8 has formed partnerships with the world's leading museums, including the Los Angeles County Museum of Art (LACMA), over 200 galleries, including Gagosian and Marianne Boesky Gallery, foundations such as Performa, art fairs such as NADA, in addition to prominent brands affiliated with high net worth communities, including NetJets, Edmiston and Krug. As a result, over 2,000 carefully filtered high-net-worth individuals from over 150 countries now join its private member community every month.
To become a Paddle8 member and visit the Armory online, readers may register at: www.paddle8.com/user/register/ARM8RY
About Paddle8
Paddle8.com is an online art marketplace founded by Aditya Julka and Alexander Gilkes, working with a curated selection of the world's most respected galleries, art fairs, foundations and museums to expand their global reach and to provide its substantial collector community with a new point of access to fine works of art. On the front end, Paddle8 seeks to provide its members with the most sophisticated portal for viewing, learning about and acquiring works online. On the back end, Paddle8 aims to provide galleries, foundations and fairs with an innovative and transformative suite of tools and services via Paddle8's "virtual registrar," aimed at enhancing the efficiency of traditional back-office processes. The site's original content seeks to provide context and curation to the works available on the site, including web-only exhibitions and projects curated by notable cultural figures, such as Marina Abramovic.
About The Armory Show
The Armory Show, a leading international contemporary and modern art fair and one of the most important annual art events in New York, takes place every March on Piers 92 & 94 in Manhattan. Now celebrating its fourteenth year, the Armory Show is re-establishing itself as the most adventurous and dynamic contemporary art fair in New York City. For more information, please visit www.thearmoryshow.com.
Categories
Tags