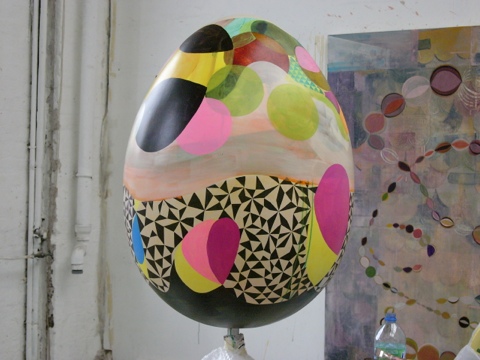 Julian Brown
www.thebigegghunt.co.uk/
From Tuesday 21st February, the UK's capital will become home to 200 giant and uniquely crafted Easter eggs for 'The Fabergé Big Egg Hunt'. The first event of its kind, it aims to raise vital funds for charities Action for Children and Elephant Family, inviting tourists, locals and visitors to join in a truly magical experience.
Members of the public will be able to hunt down the strategically placed, giant eggs, which have been exclusively designed, bejewelled and decorated by some of the world's leading artists, architects, jewellers and designers including Mulberry, Sir Ridley Scott, Zandra Rhodes, Diane Von Furstenberg, Marc Quinn, Bruce Oldfield, The Chapman Brothers, Theo Fennell, William Curley, Bompas and Parr and Polly Morgan.
In addition, participants in the The Fabergé Big Egg Hunt will have the chance of winning the world's most extraordinary prize. The Fabergé Tribute Egg, a fabulous creation valued at over £100,000, will be exclusively revealed on the first day of the hunt, Tuesday 21 February.
The event is set to smash Guinness World Records for the most participants in an Easter egg hunt and the world's most expensive chocolate egg, as designed by William Curley.
The hand-crafted eggs, which are destined to become highly collectible works of art, will be available to buy at auction, with proceeds going to Action for Children and Elephant Family. The jewel in the crown of the auction will be an exclusively designed, stunning 127ct emerald and gold egg pendant 'Le Collier Plume d'Or' by Fabergé.
'The Fabergé Big Egg Hunt' seeks to raise up to £2 million for leading children's charity, Action for Children, and Elephant Family – the UK's biggest funder for the endangered Asian elephant.
Action for Children's Chief Executive, Dame Clare Tickell, said: "The Fabergé Big Egg Hunt is a ground-breaking and exciting way to get London and all its visitors involved in raising awareness and crucial funds for the most vulnerable and neglected children, young people and families across the UK. It is an enchanting event, which will capture the hearts, imagination and interest of everyone taking part.
"We act as a lifeline to some of the UK's most vulnerable children, young people and families and the £1 million we stand to benefit from this event will make a huge difference to the people out there that need our help the most. It's particularly heartening to know that the money will have been raised thanks to an event which will be hugely enjoyable for the thousands of children and families who will be taking part."
Elephant Family Director, Ruth Powys, said: "From the charity that brought you Elephant Parade, we give you, in partnership with Action for Children, The Fabergé Big Egg Hunt. It's about time to have some fun again. Forget about your worries – we're going to put a smile on your faces and brighten up our great capital city. Like everybody, charities are up against it and you need to think out of the box, so welcome to another fun and vital initiative to protect our children and the endangered animals that share their world".
Sarah Fabergé, great granddaughter Peter Carl Fabergé said: "Eggs have become synonymous with Fabergé and it is almost impossible to think of one without the other! The egg is symbolic to so many nations and cultures representing new life and rebirth. We at Fabergé have recently undergone a rebirth ourselves opening our first boutique in London after an absence of more than 90 years! How could we not become involved in a big egg hunt taking place right on our doorstep in support of these two wonderful charities, Action for Children and Elephant Family whose tireless work involves nurturing young people and the animals that share our planet?"
About Action for Children
Action for Children supports and speaks out for the most vulnerable and neglected children and young people, for as long as it takes to make a difference in their lives. Action for Children works with the most vulnerable and neglected children and young people: whose families need support; are in care; who are disabled; who experience severe difficulties in their lives. Action for Children is a national charity delivering services that respond to the local needs of children, young people, their families and communities
Children are at the centre of everything Action for Children does.
www.actionforchildren.org.uk
About Elephant Family
Elephant Family is the world's leading Asian elephant conservation charity. Founded in 2002 we are active in five countries and have invested over £5 million into their conservation.
In the past 100 years, the population of the Asian elephant has plummeted by 90%. Without action this iconic animal of global importance may cease to exist in the wild by 2050. Elephant Family is racing against the clock to address their major threats which include massive habitat loss, poaching and human encroachment.
Best known for Elephant Parade London 2010, we are racing against the clock to raise funds and awareness before it is too late.
About Fabergé
Fabergé is one of the most revered names in history, synonymous with consummate design and craftsmanship.
Fabergé was founded in Russia's St Petersburg in 1842 by Gustav Fabergé. He was of French descent and had moved to Russia in the 1830's to train as a goldsmith. It was Gustav's son, Peter Carl Fabergé (born in 1846) who led the firm to worldwide renown, winning the favour of the Imperial Romanov family in the 1880's and the adulation of the world with the award of the Grand Prix at the 1900 World Fair in Paris.
In 1917, the Russian Revolution brought an abrupt end to the Romanov dynasty, and to the House of Fabergé. The company was nationalised, all production closed down and Peter Carl Fabergé and his family fled Russia. Peter Carl Fabergé never recovered from the tragedy that had befallen his beloved country and died in Lausanne, Switzerland on 24 September 1920.
By the time of the Bolshevik Revolution, Fabergé had produced over 155,000 items spanning jewellery, objects, tableware and accessories ranging from cigarette cases to crochet hooks. The first of the 50 legendary and world famous Imperial Fabergé Eggs was the "Hen Egg" of 1885, with the "Steel Military Egg" of 1916 being the last completed. Two eggs were in preparation in 1917 but were not finished. A handful of egg objects were made as private commissions, including the Rothschild egg which was in 2007 at auction by Christies for US$ 19.5 million.
In a second blow, the Fabergé family in 1951 lost the rights to use their family name in selling Fabergé-labelled designs when protracted and expensive litigation forced on them a settlement that ceded these rights to an American corporation in return for only US$ 25,000.
History came full circle in January 2007 when the Fabergé name was reunited with the Fabergé family. Tatiana and Sarah Fabergé, great granddaughters of Peter Carl Fabergé, together with Mr John Andrew, make up the Fabergé Heritage Council which guides the unified Fabergé in its pursuit of Fabergé's original values, philosophy and spirit. Dr Géza von Habsburg, one of the world's leading Fabergé experts and authors, serves as Fabergé's Curatorial Director.
The reunited Fabergé unveiled its inaugural and highly acclaimed "Les Fabuleuses" high jewellery collection on 9 September 2009 at Goodwood House in England. On 9 December 2009, Fabergé opened the first Fabergé boutique since 1917 in Geneva, Switzerland. In November 2011, after a 96 year hiatus, Fabergé returned to London, opening a boutique in Mayfair's Grafton Street.
Today, under the artistic direction of Katharina Flohr, Fabergé traces the legacy of excellence in creativity, design and craftsmanship to bring about a new era of endearing and enduring personal possessions and gifts for discerning clients.
Categories
Tags