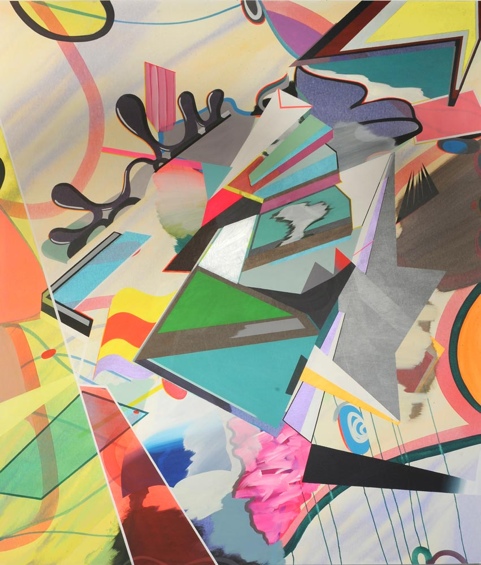 Exhibition continues: 17th February – 24th March 2012
In his paintings, Danny Rolph samples disparate cultural and historical references, from kids' clothes patterning to particle physics, producing non-hierarchical and chaotic abstract fields. For his second solo exhibition with Poppy Sebire, Rolph presents a selection of large acrylic paintings on canvas that continue his investigation into the language of collage.
Unlike the nocturnal, saturated blues of Rolph's multi-layered triplewall paintings, the pastel backgrounds of the expansive canvases evoke the light of day. Streaked and stained, their celestial hues are inspired by the skies of Tiepolo, just one of the artist's broad-reaching sources. As with the Venetian's buoyant frescoes, Rolph's candy colours and free-floating forms imbue a sense of fantasy. However, any notions of whimsy are deceptive. Rolph likens the revelatory elements against the dawn-like backdrop to Enlightenment. Meanwhile, the forms and plasticity of colour emerge as jarring, discordant. The work maintains a logic, albeit one of fragmentation.
The paintings remain visceral – indulgent – with shapes and surfaces that are, variously, soft, porous, delicate, sharp, clean, greasy, cold and delicious. Rolph insists on a guiding method that is 'overtly pictorial' rather than textual. This is echoed in his working process of creating series of miniature collages and drawings with paper, plastic and card, in order to experiment with larger ideas and compositions. He follows the cues from the media, its inherent surfaces and qualities, enacting a sort of truth to materials. Yet there is no attempt here at formal purity. Martin Holman has dubbed Rolph's paintings 'representations of abstraction'. They look to the fractured condition of modernism, mobilising fragmented shards, signs from pictorial history. These range from Constructivism, Pop and de Stijl to Proto-Renaissance artists such as Paolo Ucello. Architectural and popular design sources are also rife. But these are applied instinctually, becoming raw materials in their own right.
Rolph likens his process to musical sampling; the show's title is borrowed from a Peter Gabriel song. And yet, such popular references are conjoined indiscriminately with the random cardinal points of the paintings' titles and the esoteric science of black holes and event horizons that continually inspires the artist's work. The paintings seem to capture these unstable yet absorptive phenomena within the space-time continuum. They result in phantasms that hover between the banal and the unfathomable.
www.dannyrolph.com/
www.poppysebire.com/
Danny Rolph was born in 1967 in London, where he continues to live and work. Recent solo exhibitions have included Multiverse, Barbara Davis Gallery, Houston (2010); Brasilia, Koraalberg Gallery, Antwerp (2010); Automatic Shoes, Poppy Sebire, London (2010); Simultaneous Dreams, AR / Contemporary, Milan (2009) and There is no such thing as pure, Hales Gallery, London (2006). Group exhibitions include Around the World in 80 Days, Torrance Art Museum, Los Angeles (2012, touring); London-Berlin, Galerie Fruehsorge, Berlin (2011); Drawing Room 2011, Drawing Room, London (2011); Fate and Freewill, Contemporary Art Space, Riverside, CA (2009); Obsession, University of Leeds Gallery, Leeds (2009) and Park Avenue, Southampton City Art Gallery, Hampshire (2008). Rolph's work is in collections including the Metropolitan Museum of Art and Tate Britain, as well as several major private collections in London, New York, Dallas and Beirut. A monograph was published by Broken Glass in 2007. Rolph holds an MA in painting from the Royal College of Art.
Categories
Tags