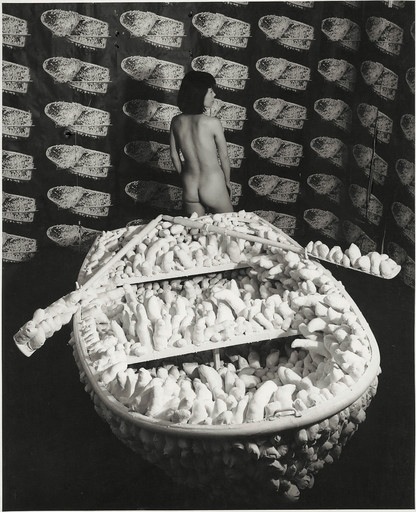 This article titled "This week's new exhibitions" was written by Skye Sherwin & Robert Clark, for The Guardian on Saturday 4th February 2012 00.06 UTC
Yayoi Kusama, London
Kusama is the artist who sees dots – everywhere. As a result she's spent the past 50 years obsessively creating psychedelic patterns, from her early hyper-intricate monochrome net paintings to dizzying mirrored rooms where toadstool-ish luminous spots repeat ad infinitum. This survey promises a heady bite of the mushroom, boasting her largest mirror room yet while tracing an artistic career that's certainly taken some unusual turns. Putting an oppressive traditionalist upbringing in Japan behind her, Kusama became a media sensation dubbed the "princess of polka dots", only to voluntarily retire to a Tokyo psychiatric institute in the 1970s, where she continues to work to this day. While her output has been aligned with minimalism, pop and feminist performance art, she remains an original, pronouncing her trippy creations as a kind of therapy for her hallucinations.
Tate Modern, SE1, Thu to 5 Jun
Skye Sherwin
Jennifer West, Sheffield
S1 Artspace continues to establish itself on the contemporary art-world map with this unashamedly spaced-out show of Jennifer West film installations. West dissolves the recognisable narrative orientations of documentary and movie film with techniques of almost desperate disruption. Film stock from Hollywood blockbusters is subjected to physical attack from the application of chemicals, whisky, urine, smoke, nail varnish and – oh yes – LSD. Film strips are burned, scratched and even bitten, then projected. Titles include Heavy Metal Sharks Calming Jaws Reversal Film and Dawn Surf Jellybowl Film. In an age of digital media, West reminds us of the sensuous physicality of genuine celluloid film by distressing its surface gloss.
S1 Artspace, to 10 Mar
Robert Clark
The Starry Rubric, Cambridge
This cosmos-themed show is full of art that offers its own version of stargazing. Things kick off tonight with a performance by Mark Aerial Waller, interpreting conceptual artist and science boffin John Latham's Government Of The First And Thirteenth Chair, an attempt to reconcile the infinite expanse of time with the fleeting moment. Further meditations on time include Karin Kihlberg & Reuben Henry's This Story Is About A Little Boy, a film riddled with black holes due to its narrator's halting attempts to remember the where, who and when.
Wysing Arts Centre, Sun to 18 Mar
Skye Sherwin
Lucian Freud, London
Freud's portraits are hard, disquieting things, attuned to the tough reality of bare, veiny sprawling bodies and the jaundiced walls, gummy sheets and cruel furniture around them. Alongside Francis Bacon he was Britain's greatest postwar artist, tirelessly working in his Holland Park studio, up until his death last year. This show spans Freud's entire career, from the early stylistic experiments of the 1940s to his legendary, hit-you-in-the-guts realism. It features some of his most iconic paintings, like his nude portrait of Leigh Bowery, slumped in a chair with legs nonchalantly akimbo, and the one of Bowery's friend Sue – the Benefits Supervisor Sleeping – which made Freud a record breaker in 2008 when it reached a cool ,641,000 at auction
National Portrait Gallery, WC2, Thu to 27 May
Skye Sherwin
The Indiscipline Of Painting, Coventry
By the 1970s, the modernist tradition of abstract painting was presumed dead as its assumed historical progression reached a minimalist full stop. Yet the raw matter of paint refused to disappear from studios, and painting as a discipline outlasted the clear-cut predictions of its own demise. So this exhibition's title cleverly encapsulates the survival of a tradition within a field of almost anti-academic indiscipline. Taking the geometric abstraction of Frank Stella and Bridget Riley as its guiding aesthetic, it reveals a host of maverick abstractionists working away through an era of postmodernist multimedia.
Mead Gallery, Warwick Arts Centre, to 10 Mar
Robert Clark
The Family In British Art, Sheffield
As usual the Millennium Gallery follows its populist agenda with a wide-ranging thematic show that nevertheless includes some works which – though all too familiar to most of us – are of genuine historic significance. So this exhibition covers the days of Gainsborough to the incisively critical art-world obligations of our own time. Richard Billingham's shockingly frank photographic portraits of his own parents' domestic lot are redeemed from satire by a touching empathy. But, of the contemporary work, it is Sarah Jones who introduces a less familiar perspective with her photographic reveries of almost painterly compositional subtlety.
Millennium Gallery, to 29 Apr
Robert Clark
Michael Shaw, Oldham
The considerable physical presence of Shaw's sculptures, their ability to animate the atmosphere of a gallery space, lies in the presence of seemingly contradictory characteristics. They are rigorously abstract, yet suggest some kind of cellular or amoebic organisms that indicate the almost primal origins of living things. Their often translucent surfaces suggest the more evanescent of natural phenomena and their compositional rhythms seem more derived from improvised and, well, doodled drawing than the building up or carving out of sculptural space. At their best here, they glow and mutate like eerie things unearthed from some creepy dream of a sci-fi future.
Gallery Oldham, to 10 Jun
Robert Clark
The Near And The Elsewhere, London
The shrinking world conveyed here by 15 artists has nothing to do with technology-fuelled interconnectedness. Its gloomy theme is economic decline and squeezed space in our overcrowded cities. Captured in photography, film and installation, abandoned buildings from the USA to Asia create an unnerving vision of society on the edge. Rachel Whiteread's print of a doll's house rubs up against Edgar Martins's chilling photography of American homes left as half-finished piles of rubble in the wake of the sub-prime mortgage crisis. In Noel Jabbour's photos squat brick Middle Eastern buildings look like ancient ruins; while the eerie urban models Thomas Demand builds and photographs are neat, boxy and empty. Lastly, in Francis Alÿs's slides of people living on the street, we see the human impact of all these failed business schemes and collapsing financial institutions.
PM Gallery And House, W5, to 17 Mar
Skye Sherwin
guardian.co.uk © Guardian News & Media Limited 2010
Published via the Guardian News Feed plugin for WordPress.
Categories
Tags