3rd – 17th February 2012
This is the first solo show by young London-based artist Grace Aza-Selinger;
Grace is an intermedia artist using photography, installation, found objects and canvas. For this show Grace's work focuses on the Macrocosm. It looks at the need to re-evaluate our relationship with the world around us and the current disconnection that can be felt living in a cosmopolitan city. With site-specific installations and over 1,800 sq ft of floor-space to play with, it promises to be an exciting event.
The exhibition is set in The Biscuit Factory, a buzzing community that hosts studios and artist's collectives such as V22. The Biscuit Factory works in collaboration with sites such as Meanwhile Space that aim to fill rooms with art whilst they are sitting empty.
The new show by Grace aims to harness this current crisis in a lack of space for creative enterprises. In the current financial market it allows an interchange between art and the 'commercial mentality'. In particular Grace's work uses Nature as a main theme, in order to direct the viewer's attention away from the industrial environment they are standing in and to allow them to question the possibility of the space being used for alternative practices.
Through a series of interactive installations, photography and tactile art SPACE asks us to get back to our roots, to Nature and to assess what is really important. It asks us to take the time out of our busy work-life and contemplate an alternative reality where we can connect to the bigger picture.
There will be refreshments and music by the amazing Owl and Mouse and King Marigold.
If you would like any more information on this exhibition or to schedule an interview with Grace please contact The Vibe Gallery on 07894709640 or see details on, www.vibe-gallery.com/ ww.graceaza-selinger.com or the facebook event page https://www.facebook.com/events/278764018850836/.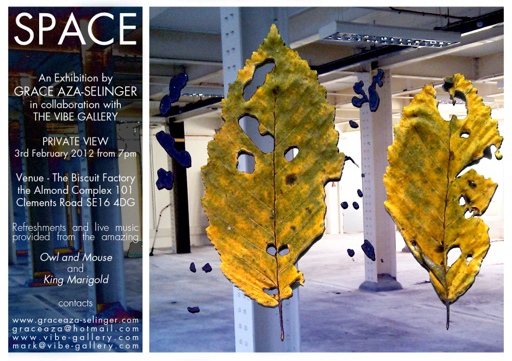 Categories
Tags