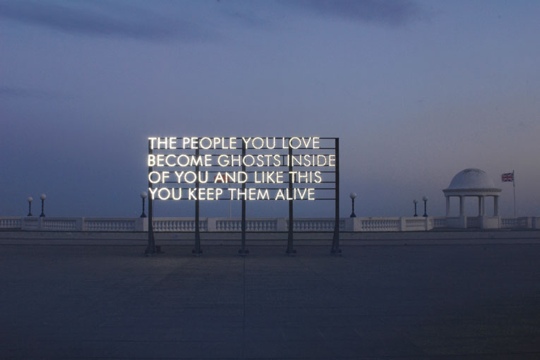 © kkoutlet / robert montgomery – de la warr pavilion installation
Robert Montgomery's first London solo show in over a year is at KK Outlet this Thursday.
Montgomery's work references the Situationist tradition of capturing the audience's attention in unexpected ways within the public realm. His heartbreaking and arresting poetry can be seen on hijacked advertising billboards in London, on the sides of trucks in Istanbul, on fire in the streets of Paris and this Spring lit up in the Brooklyn sky at night.
For his show at KK Outlet Montgomery will create a series of 3 large billboard poems on Old Street, which reference the moral failure of Capitalism, the concerns of the Occupy movement, and new ideas of freedom in the city. With the Occupy movement having recently taken occupation of the nearby Shoreditch Courthouse, there has never been a more poignant moment to bring back Montgomery's work to his home neighbourhood of Hoxton. Arguably he is the contemporary artist most aligned to the moral concerns of Occupy.
Montgomery's work though is not all political diatribe, his voice is as much romantic and poetic as it is issue-based. His billboard poems, "somewhere between Jenny Holzer and T.S. Eliot" also relate to a tradition of modern British avant-garde poetry and concrete poetry of which he is an acolyte and collector.
In addition to the billboard works KK Outlet present a major new work from his Recycled Sunlight Series on the façade of the gallery, before it moves to the site of the old Tempelhof airport in Berlin April 2012. The Recycled Sunlight series is a series of poems in light, which are ecologically solar powered, like neon signs for the 21st century, independent of "the grid" and responsive to the weather.
Within the gallery there will be a collection of Montgomery's more subtle drawings and watercolours on show. This quieter collection of work is the perfect contrast to his bolder outdoor pieces and offers a meditative insight into his practice.
The exhibition will also be the London launch event for his recent book THE FIRE OF EACH OTHER, which documents his interventions across the streets of London and Europe over the last two years.
And in addition to his own work, Montgomery also presents a new work by Goldsmiths graduate David Fryer in the back gallery space and in the bookstore a T-shirt collaboration with East London graffiti artist Krae.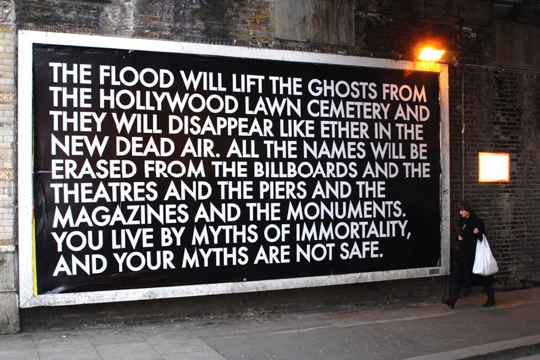 © kkoutlet / robert montgomery – oscar night poem.
ARTIST BIOGRAPHY
Robert Montgomery was born in Scotland where he went to comprehensive school in Prestwick, Ayrshire, and then to Edinburgh College of Art where he earned a 1st Class Honours degree and an MFA. In the late 1990s he was a core program Artist-in-Residence at the Museum of Fine Arts in Houston. He worked briefly with Robert Rauschenberg before moving to London in the early 2000s where he has worked as an artist and been a contributing editor to Flash Art and an associate publisher of Dazed & Confused magazine. His work is significantly influenced by the writings of Guy Debord on theories of the Spectacle as an ontological system and the after-affects of Capitalism. He is represented in Geneva by Galerie Analix-Forever, in Paris by Galerie Nuke and in Berlin he works with Neue Berliner Räume. His work was included in Shwetal Patel and Maurizio Bortolotti's acclaimed Orientale show at the most recent Venice Biennale.
Most recent articles on Robert Montgomery's work can be found in the current issue of Paris magazine Purple, the current issue of Berlin magazine Lodown and on the website of art book publishers Phaidon.
Categories
Tags