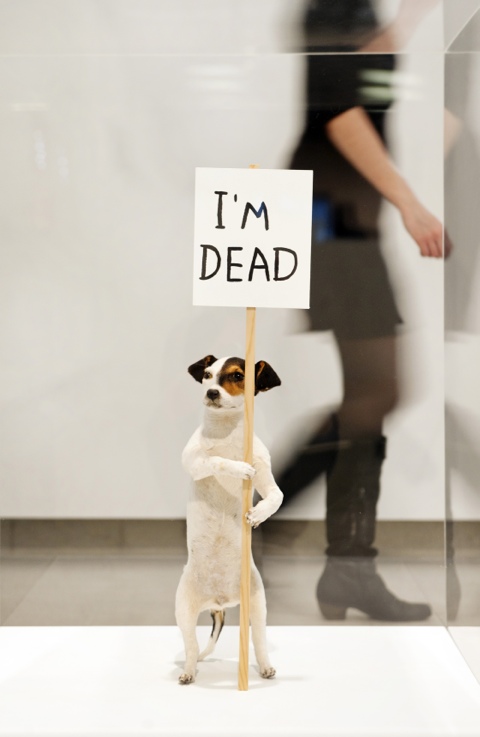 Image (attached) credit: I'm Dead (2010)Installation view of David Shrigley: Brain Activity at the Hayward Gallery Photo: Linda Nylind
1st February – 13th May 2012
www.southbankcentre.co.uk/shrigley

'David Shrigley is probably the funniest gallery-type artist who ever lived'
Dave Eggers
The largest ever presentation of Shrigley's work, from his widely known drawings and animations, to painting, sculpture, taxidermy and photography. Features 68 new works made specifically for the exhibition and 117 drawings never before seen in the UK. Sculptural works include the taxidermied Jack Russell I'm Dead (2010) and a large-scale installation featuring hundreds of metal insects. A new animation, Headless Drummer (2012), is inspired by the artist's interest in music.
This Hayward Gallery exhibition is the first major survey in the UK of works by David Shrigley. Spanning the upper galleries, David Shrigley: Brain Activity, covers the full range of Shrigley's diverse practice from the past two decades of the artist's career, including drawing, animation, painting, photography, taxidermy and sculpture. The exhibition features some 240 works, the majority of which are new or never before shown in the UK.
David Shrigley is best known for his pared down drawings and animations that make witty and wry observations on a range of familiar social subjects and everyday situations. Deliberately amateurish and crude, they have an immediate and accessible appeal, while offering insightful commentary on the absurdities of life, death and everything in between. Since graduating from the Glasgow School of Art in 1991, Shrigley has produced more than 7000 works on paper exploring everything from the mundane to the sublime through text and image. For this Hayward Gallery exhibition, he presents 117 drawings never before seen in the UK, in addition to 42 larger new paintings on paper. Shrigley also presents a brand new animation, Headless Drummer (2012), inspired by his interest in alternative music, which is shown alongside five existing films including New Friends (2006), an ironic twist on peer pressure; Ones (2009), a repetitious meditation on chance; and Light Switch (2007), which alludes to the Turner Prize-winning Work No. 227: The lights going on and off by conceptual artist Martin Creed.
Dr Cliff Lauson, Curator, Hayward Gallery said: "David Shrigley: Brain Activity for the first time brings together two decades of selected artworks from one of Britain's most humorous and witty artists. His intuitive and candid work probes our human frailties and morals as much as it amuses and delights."
The exhibition showcases the full diversity of the artist's sculptural work, including new works and interventions that respond to the Hayward Gallery's spaces, such as Do Not Linger At The Gate (2008) and Look At This (2012), presented on one of the outdoor sculpture terraces. Many of Shrigley's sculptures are characterised by their odd scale, lending the works a strange, uncanny edge. They range from hand-crafted smaller sculptures made out of unusual materials, to larger series and installations, including 12 Large Eggs (2011), Boots (2010) and Untitled (2009), an installation of hundreds of metal insects interacting with each other in different ways. Death and the macabre are recurrent themes in Shrigley's work, treated with the same deadpan humour as the everyday. His work Gravestone (2008) is inscribed with a mundane shopping list, while his taxidermied works in the show range from a Jack Russell holding up a sign reading 'I'm Dead' to a headless Ostrich (2009) and squirrel entitled Nutless (2002).
Other exhibition highlights include a large-scale in-situ wall painting, as well as the early work, The Contents of the Gap between the Refrigerator and the Cooker (1995), a colorful strip that, upon closer inspection, reveals itself to be a throng of miniature creatures. On display are also a well-known series of photographs featuring discreet interventions that the artist has orchestrated in various landscapes and interiors, injecting comedic irony to otherwise everyday banal imagery. Often extremely funny, these are the sort of scenarios you never come across in real life, but wish you did, such as Lost (1996), depicting a paper note on a tree calling out for a lost pigeon, and Leisure Centre (1992), the earliest work in the exhibition shot while Shrigley was studying Environmental Art at Glasgow School of Art.
Outside, Shrigley will present his animation The Letter (2009) which will be projected onto the exterior of the Royal Festival Hall from dusk each day during Southbank Centre's annual Imagine Festival for children (10 – 26 February 2012). The animation, which has never been shown in the UK, depicts an anonymous hand writing a letter of absence to Mrs Teacher. Two further works will be presented on Southbank Centre's site: Fight the Nothingness (2012), a new billboard overlooking Waterloo Bridge, and Shrigley's neon It's Freezing in Here (2000), installed on the Level 2 Riverside Terrace.
www.davidshrigley.com/
www.southbankcentre.co.uk/shrigley
Categories
Tags