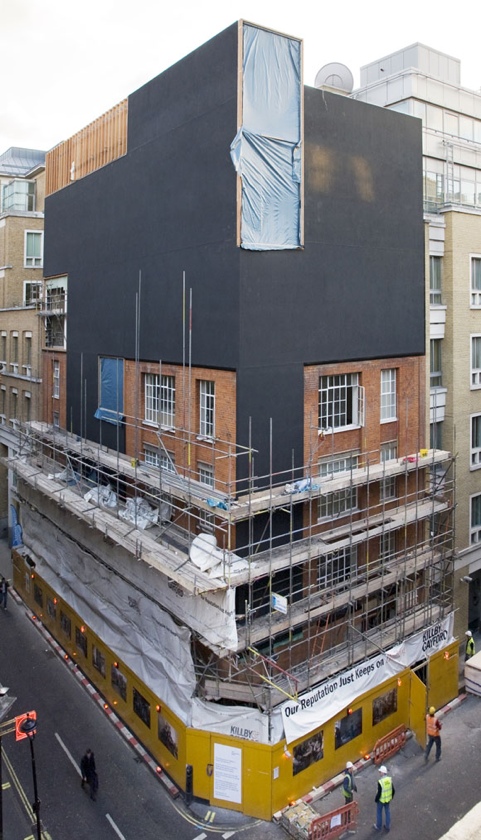 This article titled "Photographers' Gallery in London to reopen in May after £8.9m facelift" was written by Mark Brown, arts correspondent, for The Guardian on Monday 30th January 2012 00.01 UTC
More than 18 months after closing its doors to the public for an £8.9m facelift, the Photographers' Gallery in London will on Monday announce its plans for reopening and future ambitions.
It is a little late, admitted the gallery director, Brett Rogers, "but still on budget. It is such an exciting milestone in the gallery's history".
The publicly funded gallery, which first opened in 1971, will reopen on 19 May after closing for redevelopment in autumn 2010. The first shows will include a solo exhibition of photographs by Edward Burtynsky from his 10-year investigation into oil, and works by the New Delhi Raqs Media Collective.
The reopening marks the culmination of a fundraising campaign which gathered £3.6m from Arts Council England, £2.4m from the sale of its previous building and £2.5m from foundations, trusts, corporate sponsors and an auction.
"Raising money in this climate has been difficult," said Rogers. "But people at the time told me it was going to be impossible. What I've found is that as soon as you get the first people on board, others want to jump on to a successful fundraising campaign.
"We just got it in on time really, I wouldn't want to be starting it now."
The gallery's original location was in Great Newport Street, Soho, where it stayed from 1971 to 2009. It moved the half mile to its new location in Ramillies Street near Oxford Circus and stayed open for 18 months to establish the fact it had moved.
The new location is just off Oxford Street but in a little-travelled street – it's more an escape route from the shopping throngs.
"Don't worry," said Rogers. "We're going to grab people in. I've already got the buses saying our name."
Rogers has ambitious plans to develop the immediate area into a new cultural destination. "We want the gallery to seep into the street, to be a kind of photography alley," she said.
That includes making the outside a space for specific photography commissions. "There is no other public gallery anywhere near us and we see ourselves as a cultural oasis in the heart of the shopping area."
Before it closed, the gallery had about 400,000 visitors a year – a figure Rogers expects to rise. "It is not just location, it's that photography is the most democratic of all the art forms and people are not intimidated by it. With the rise of digital technology and camera phones, everyone feels they're a photographer now."
People are now deluged with images, not least on their computers, and the gallery's role is to try to make sense of them, to act as a kind of filter, according to Rogers.
With that in mind, the gallery will have a digital curator and the first thing visitors see will be a digital wall.
The newly transformed building, designed by Irish architects O'Donnell+Tuomey, will have two new floors with four-metre-high ceilings, a lift that previously was not there and a floor for education so schoolchildren will be able to visit for workshops.
The Burtynsky show will have more than 30 images from his series Oil, for which the Canadian photographer has travelled the world over the past decade.
The Raqs Media Collection show, meanwhile, will include a silent looped video entitled An Afternoon Unregistered on the Richter Scale (2011), which involves a series of subtle alterations to a 1911 photograph of a surveyors' room in colonial Kolkata.
Edward Burtynsky – Oil will be at the Photographers' Gallery, London, from 19 May to 1 July. www.photonet.org.uk
• This article was corrected on 2 February 2012 because the original at one point referred to Brett Rogers as "he".
guardian.co.uk © Guardian News & Media Limited 2010
Published via the Guardian News Feed plugin for WordPress.
Categories
Tags