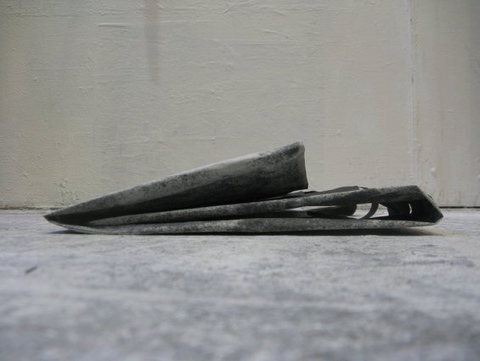 Lydia Gifford, 'Sounds (Series)', 2010. Courtesy Laura Bartlett Gallery, London.
This article titled "This week's new exhibitions" was written by Robert Clark & Skye Sherwin, for The Guardian on Saturday 28th January 2012 00.06 UTC
Santiago Sierra, London
It's often said that Santiago Sierra's art is shocking, not because he's had junkies tattooed in exchange for a hit, or paid people living on the breadline to hide inside sculptures around which his collectors sip drinks. Rather, what makes this Spanish artist's stuff provocative is that his audience, instead of being scandalised, digest it all so easily. Fact is, we're all so numbed to human rights horrors that Sierra's "real" metaphors seem like small change. Now he's exploring what happens when you say no, or at least what happened when he took a giant sculpture of the word on a global tour. The monumental NO and a video about its adventures is accompanied by a counter, recording human deaths since the beginning of the year.
Lisson Gallery, NW1, Wed to 3 Mar
Skye Sherwin
Thomas Demand; Daar, Nottingham
Fine art seems to have a thing about architecture just now, but few will have applied themselves like Thomas Demand. While his usual creative tactic means presenting mystifying photographs taken from architectural models, here he chooses a set of maquettes by architect John Lautner, whose sexy, modernist Elrod House featured in the 1971 Bond movie Diamonds Are Forever. Demand focuses in close, revealing subtle abstract details. An accompanying show by the Bethlehem-based group Daar (Decolonising Architecture/Art Residency) tells a more disturbing architectural tale, recreating for its centrepiece a section of the Palestinian parliament, abandoned in 2003.
Nottingham Contemporary, to 11 Mar
Robert Clark
David Shrigley, London
David Shrigley has achieved world fame thanks to his blackly funny greetings cards, skewering mankind's follies with scrappy felt-tipped cartoons. Yet his deadpan gags also extend to animation, installation and photography. This survey shows that there's more to Shrigley than caustic doodles. His sculptures include stuffed puppies and kittens with signs saying "I'm Dead". There are also larger works such as his plague of steel insects, plus – of course – his drawings and animations; lots of them.
Hayward Gallery, SE1, Wed to 13 May
SS
Will Alsop; John Wood & Paul Harrison, West Bromwich
Will Alsop has always distinguished himself as an architect very much on the move. His box of delights design for West Bromwich's eye-catching The Public was highly influenced by public discussions and creative workshops; an Alsop building is intended to be engaged with rather than admired. So here, for his first exhibition return to the gallery, Alsop collaborates with architecture students to present a large-scale 3D painting. The artistic duo John Wood & Paul Harrison, stage a more slapstick take on our experience of interior design in their show Twenty Six (Drawing And Falling Things), in which they bring Buster Keaton's endearing pathos up to date in video shorts that illustrate the man-made world's determination to trip up all human desire.
The Public, to 20 May
RC
Lydia Gifford, London
Painter Lydia Gifford's creations channel everyday mark-making. Strokes of house paint – scuffed up or spread across canvases and boards – might have been left by an errant decorator. To these she sometimes adds daubs of beeswax and glue, cotton dressings or even dust and clay. Some are propped against the wall, others left on the floor, like an afterthought. It might all seem random, were it not for the way Gifford orchestrates her works with chiming marks and forms, quietly transforming the spaces they inhabit. These scant offerings are beautifully conceived.
David Roberts Art Foundation, W1, to 24 Mar
SS
Matthew Darbyshire, Glasgow
We can only wonder how Matthew Darbyshire decks out his own living room; one can never be sure what his angle is. His meticulously placed, retro-minimalist interior decor could be taken as a satirical perspective on yuppie aspirations. Or his work could be interpreted as a nostalgic homage to popularly maligned modernist design. With typical sensitivity, his installation is here composed according to its site; sculpture, film and printmaking refer to Glasgow's architectural and cultural history. Yet his slick portrait of habitats might well strike a discomfiting note far further afield for us all.
Tramway, to 11 Mar
RC
Simon Martin, Bath
Simon Martin's latest film essay, Louis Ghost Chair, should make you think twice about the objects around you. At its core are a classic 18th-century Louis XV armchair, its carvings now battered and paint-chipped; and its distant relative, Philippe Starck's Louis Ghost Chair, a mass-produced piece of moulded polycarbonate. Yet Martin's film is far more than a portrait of furniture. In the style of museum audio guides, a woman's voice meditates on the memories objects carry, the psychic shift from craftsmanship to serial mass production. As the physical world collides with the mind's shifting terrain, design becomes a window on evolution and time, and chairs turn out to be surprisingly thrilling.
Holburne Museum Of Art, to 15 Apr
SS
Samantha Donnelly, Manchester
The list of source materials here sounds traditionally reassuring and conventionally attractive, verging on the seductive: mannequins, pin-ups, mirrors, lipstick, ribbons, buttons, false eyelashes, spray tan and lace. Yet once assembled by Samantha Donnelly the outcome is unnerving. Donnelly is far from rare in her professed concern with the objectification of the female image in the mass media, yet her nightmare hybrids go beyond that. She serves up a freakish world of fragmented intimacies. If the surrealist Hans Bellmer had been let loose in Poundland he might have created something similar. Broken armatures are decked out with amoebic limbs; organic substances abutted against geometric plastic. Bits dangle, squirm and writhe about; it's guttural kitsch, erotic farce. As playful as it is perverse, Donnelly's art is daft yet deeply serious.
Cornerhouse, to 25 Mar
RC
guardian.co.uk © Guardian News & Media Limited 2010
Published via the Guardian News Feed plugin for WordPress.
Categories
Tags