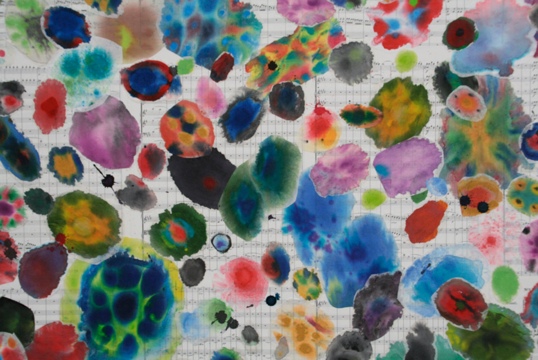 Tim Rollins and K.O.S., A Midsummer Night's Dream (after Shakespeare and Mendelssohn), 2008.Watercolor, acrylic and India ink, abaca and mulberry paper, collage, mustard seed, offset music score on paper on canvas, 60 x 156 inches 152.4 x 396.24 cm. In collaboration with neighborhood youth from the Henry Street Settlement House. Courtesy of the artist and Lehmann Maupin Gallery, New York.
Frieze announced the artists that have been commissioned to produce unique works as part of the inaugural Frieze Projects program for Frieze New York. The fair will be located in the unique setting of Randall's Island Park, overlooking the East River.
The eight artists that will participate in Frieze Projects New York are: John Ahearn, Uri Aran, Latifa Echakhch, Joel Kyack, Rick Moody, Virginia Overton, Tim Rollins and K.O.S. and Ulla von Brandenburg. The Frieze Projects program is realized annually at Frieze New York and is curated this year by Cecilia Alemani.
The majority of the commissioned projects are situated outdoors and are located throughout Randall's Island. Artists have been invited to react to the exceptional environment of Frieze New York and to create special projects that respond to the island's unique geography. The projects have been conceived as not only interactions with the existing architecture of the site but also participatory platforms for the fair's visitors and existing local communities. Forming a temporary pop-up village, the commissioned artworks will provide punctuation points to the island, activating vital sites or remote locations and will provide a navigational tool for visitors to the fair and its environment.
Cecilia Alemani said of the program, 'Randall's Island offers a stunning backdrop to the Frieze Projects: the invited artists have responded to the site by presenting a series of works that play with the unique landscape – both social and geographic – of the island. At turns participatory, irreverent and idyllic, this year's Frieze Projects will transform Randall's Island into a fantasy world'.
Frieze New York will take place 4th – 7th May 2012 and will present over 170 of the world's leading galleries.
friezenewyork.com/
John Ahearn
(b. 1951, Binghamton, NY. Lives in New York)
John Ahearn will present a reconstruction of his 1979 legendary exhibition 'South Bronx Hall of Fame', an exhibition of sculptural casts originally presented at Fashion Moda, a pioneering South Bronx alternative space founded by Stefan Eins in 1978 and open until 1993. The presentation inside the fair at Frieze New York will include a series of sculptures originally displayed at Fashion Moda and realized in collaboration with Rigoberto Torres, as well as a casting station where Ahearn and Torres will be making a new series of commissioned portraits, live for the whole duration of the fair. The original 1979 sculptures portray faces of neighbors from the 3rd Avenue shopping area, as well as downtown artist friends and people from the methadone clinic across the street. Ahearn and Torres began their castings in the gallery's storefront window, transforming the space into a public street performance visible from the sidewalk. During the casting, the model is coated in molding gel and must breathe through plastic straws that extend from his nostrils while being wrapped in soaked plaster bandages that quickly harden. This project will also function as a tribute to the alternative spaces and galleries that were once vital for the artistic community and have now closed.
Uri Aran
(b. 1977, Tel Aviv, Israel. Lives in New York)
Using one of Randall's Island's existing buildings – an abandoned ticket office next to the boat pier – Uri Aran will turn a derelict structure into a fictional examination room in which actors will play the roles of doctors and patients. The encounters will be filmed and projected live inside the fair. The project articulates Aran's ongoing interest in the depiction of authority figures and power relationships in the media and contemporary culture. In this case he will look at how doctors and patients are traditional roles that impose stereotyped behaviors in society, be it in games, dramas, novels or fiction. Aran's performance will investigate the way individuals willingly transform themselves into characters.
Latifa Echakhch
(b. 1974, El Khnansa, Morocco. Lives in Martigny, Switzerland)
Latifa Echakhch's work addresses contemporary globalized culture through simple, elegant gestures and formal restraint. For her project, Echakhch will turn a patch of grass on Randall's Island into an enchanting mirage – installing hundreds of tumbleweeds in an incongruous location. Typically seen rolling in the desert or on empty highways in the American southwest, tumbleweeds have long become icons of classic Western movies and popular imagination. As a three-dimensional still life, this constructed illusion will invite us to re-examine a familiar object that is unexpectedly made present in an idiosyncratic context.
Joel Kyack
(b. 1972, Abington, Pennsylvania. Lives in Los Angeles)
Los Angeles-based artist Joel Kyack will create a country fair game trailer shaped as a giant body. Unfolding simultaneously as an installation, a performance space and a large-scale mobile sculpture, the trailer houses two games, one taking place inside the trailer's 'mouth', the other in its splayed 'ribcage'. Visitors can play free of charge and win prizes of original artworks that are also part of the installation. Continuing Kyack's interest in Americana and grotesque depictions of the human body, this work not only confronts but also employs themes of chance, precariousness and the continuous risk of failure.
Rick Moody
(b. 1961, New York, NY. Lives in Brooklyn, NY)
American novelist Rick Moody has been commissioned to write a short story for Frieze Projects. Inspired by the unique location of the fair on Randall's Island, the author will compose a literary prototype for a global positioning system.
Virginia Overton
(b. 1971, Nashville, Tennessee. Lives in New York)
Known for her use of industrial raw materials such as sheetrock, wood beams and cement, Virginia Overton's sculptural practice defies notions of scale and site specificity. By creating vertiginous installations that question their surroundings, she initiates vibrant confrontations with the viewer. For Frieze Projects, Overton will react to the idyllic landscape of Randall's Island by installing flexible mirrors among trees. Echoing Robert Smithson's series of 'Non-Sites', the artist transforms a minimal, seemingly cold material into a sensual, weightless combination of nature and artificiality.
Tim Rollins and K.O.S.
(b. 1955, Pittsfield, Maine. Lives in South Bronx, New York)
Working on a 40-foot table under a canopy of large oak trees on Randall's Island, the collaborative team of Tim Rollins and Kids Of Survival will conduct their first open workshop for children and youth. The participants will create a choral painting inspired by Shakespeare's A Midsummer Night's Dream, which will be painted on a musical score of Felix Mendelssohn's 1828-1842 composition of the same name. Using watercolors and inks on Thai mulberry paper, the young participants will channel the transgressive character of Puck to compose a vast painting-collage, overlaid with floral decoration and cacophonic fields of color. The instrumental music Mendelssohn wrote under the spell of the play will be played on loudspeakers to accompany the work of the children.
Ulla von Brandenburg
(b. 1974, Karlsruhe, Germany. Lives in Paris)
For her project at Frieze New York, Ulla von Brandenburg will construct an outdoor shadow theater hidden in a brightly striped tent reminiscent of a circus structure. Viewers of all ages are invited to enter the tent and watch a shadow play that alternates between figures, tableaux vivant and music.
Borrowing from traditions of commedia dell'arte, burlesque performance, and 19th-century Parisian shadow plays, Von Brandenburg continues her exploration of the language of theater, examining the strategy of artifice and the fascinating power of fiction
Categories
Tags