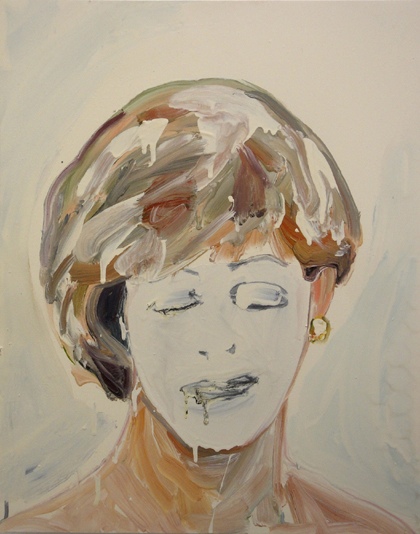 DAVID BEN WHITE, 'Wig Painting' 2007 40 x 50 cms
Art/Converters! Thursday 19th to Sunday 29th January 2012
studio 1.1 are starting 2012 with a major fundraising initiative. They have asked artists from past and future shows to donate work (of any value) which can be sold for the simple one-size-fits-all sum of £200.
The show will be an opportunity to buy truly affordable art from truly interesting artists.
A great chance to buy something you like safe in the knowledge that the artist has the serious, sincere qualities upon which studio1.1's reputation stands.
And at the same time of course your purchase will gain the added value of having contributed to the continued survival of a space that lives for and believes in the artists it shows.
Images of the donated work will appear shortly on their website and Facebook page.
The show's private view is on Thursday 19th from 6 till 9; at 7 the event will be opened by Sacha Craddock with a short introduction. It will continue to Sunday 29th, 12 till 6. To mark as clearly as possible its authentic fundraising status the show is called…ART/CONVERTERS!
Amongst those Art/Converting so far and in no particular order are:
LAURA MORRISON, MARCUS COPE, PAUL SAVAGE, STEPHANIE MORAN, ANNIE KEVANS, KATE LYDDON, ROSS WALKER, VANESSA JACKSON, JOHN DOUGILL, CRAIG ANDREWS, SACHA CRADDOCK, GILL ORD, RALPH DOREY, JOSHUA RAFFELL, ROBIN SEIR, RON MEERBEEK, DAVID SMALL, KAY WALSH, SARAH McNULTY, JEFFORD HORRIGAN, WILL CRUICKSHANK, GLEN WILD, DAMIAN GRIFFITHS, WILLIAM STEIN, AMANDA BENSON, CLARE PRICE, DAVID BEN WHITE, JEREMY WILLETT, HOWARD DYKE, ALAN MAGEE, TOM CHAMBERLAIN, CHRISTOPHER BOND, DANIEL DEVLIN…
studio1.157a Redchurch St London E2 7DJ www.studio1-1.co.uk
Categories
Tags