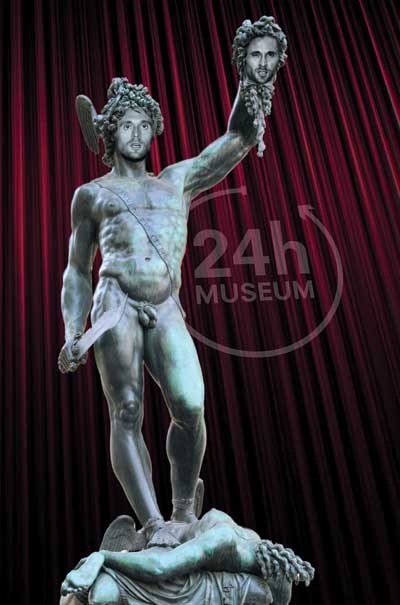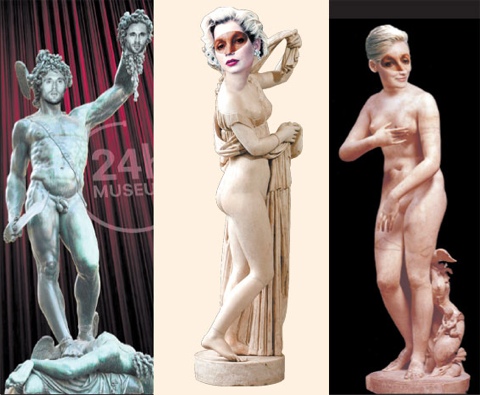 This article titled "Francesco Vezzoli plans 24-hour museum to vainglorious decadence" was written by Alex Needham, for The Guardian on Monday 16th January 2012 19.32 UTC
If there is one art Francesco Vezzoli excels at, it is persuasion. The Italian video and conceptual artist has the knack of getting famous people to participate in ever more outlandish projects. In 2006, he charmed Helen Mirren, Benicio del Toro and Gore Vidal into Versace-designed togas, in order to make a film trailer for an imaginary remake of Caligula. In 2009 he unveiled Greed, an ad for a fictitious perfume directed by Roman Polanski and featuring the actors Natalie Portman and Michelle Williams grappling on the floor.
His most famous show, at the Museum of Contemporary Art in Los Angeles, saw the singer Lady Gaga don a hat designed by the architect Frank Gehry while playing a piano painted by Damien Hirst, as members of the Bolshoi ballet danced alongside.
Though he is tiring of working with stars – not least because of the epic feats of organisation it takes – Vezzoli says:
"We live in a very baroque and surreal moment, despite the fact that we're aiming to be correct and moderate."
This month will see his most extravagant project yet. Funded by the fashion house Prada, Vezzoli will take over the Palais d'Iéna in Paris and create a pop-up 24-hour museum. The venue, designed by AMO, the alter ego of Rem Koolhaas's architectural practice OMA, will start with a private dinner at 9pm on 24 January, turn into a nightclub and then the following day morph into a museum, complete with school trips and a press conference. The last three hours will be a public party, before the museum closes its doors forever.
Vezzoli is tickled by the fact that, though originally built as a museum, the Palais d'Iéna is now the seat of the Conseil économique, social et environnemental, France's economic and social and environmental council. "It's like I'm squatting in the House of Lords." He plans to fill it with five-metre high, neoclassical figures with the heads of the celebrities he has worked with, from Courtney Love to Cate Blanchett. The statues will light up in the course of the evening and "look like something you might find on the way to a brothel in Las Vegas".
Ostentatious, ephemeral and kitsch, it promises to be a provocative spectacle. "It could be seen as a tacky show-off or it could be seen as a deep political analysis of the role of institutions as social hubs," says Vezzoli. "Artists and critics see museums as a jewel case where the mementos of our epoch should be preserved, but if you said 'MoMA' to the president of Barclays' bank, [he would] say, 'That's a venue for rent for ,000 if you want to hold an event.' These places have gone from being small and protected to being big and less protected. The only institutions that aren't for rent are the private ones because people like Prada don't need the money." Prada opened a gallery at the Venice Biennale last year and are building another in Milan, designed by Koolhaas.
Vezzoli has no problem with the idea of corporate sponsorship: his film director heroes Visconti and Pasolini were funded by rightwingers. He describes Prada's cash as "the cleanest money on earth – the fruits of a product which is a vehicle of culture". Rather than spend the money on the party "like any other fashion house would do", it has chosen to invest it in an art work.
Set up in 1994, the Prada Foundation has funded a number of art projects, including Carsten Höller's Congolese-style nightclub the Double Club, which ran in London in 2009. It has been followed by other fashion houses, including Louis Vuitton, who in 2010 commissioned a work by immersive theatre company Punchdrunk to open their Bond Street store in London. Such creative collaborations are often regarded as more credit crunch-appropriate than an extravagant party.
So what is Vezzoli trying to achieve? "A smile," says the artist. "People are very unhappy these days – if they come and laugh at my disco sculptures it will be something." The project, he continues, is a parody of a retrospective. "If you're setting up this whole extravaganza and make it completely self-referential, you become the object of the ridiculousness."
The pop-up project will also involve a Twitter chat between Vezzoli and a celebrity "even bigger" than Lady Gaga (he denies it will be Madonna, but says that Rihanna "may do something"). He is intrigued by the potential of social media, and is contemplating another, science-themed project which uses sites like Twitter and Facebook to harvest answers for a Kinseyesque report into sexuality.Though his work may seem deliberately gaudy and shallow, as with his ultimate inspiration Andy Warhol, hindsight has revealed its depths. Vezzoli's Caligula trailer , a portrait of decadence, looks prescient in the wake of Silvo Berlusconi and the bunga bunga scandal.
"I put on the screen what happened in my nation five years later," he says. "Power degenerating into abuse of power: sexual power, legal power.
"I'm so happy that Berlusconi is gone and there was no blood. I know there are a lot of people that are not in a happy place because of the financial moment, but my nation has seen some pretty rough changes of tides, from the Red Brigade to Mussolini hanging upside down. Now we have a decent government who will have an election. I'll make sculptures from now on because there won't be any more bunga bunga to talk about."
Vezzoli has never shown work in the UK, though London is close to his heart – he studied at Central Saint Martins, though he says that nightlife was a bigger attraction: "I wanted to meet the Pet Shop Boys, not Gilbert & George – though later I decided I should meet Gilbert & George too."
Clubs have long provided inspiration. "In everything I've done there's always been a touch of Studio 54," he says, referring to New York's legendary disco. "When I was eight years old I asked my grandmother to take me there."
Vezzoli says the project's technicolour kitsch is a response to the way we regard the classical world as white, spare and tasteful, when in fact the Parthenon and its statues would have been painted. Hence the 24-hour museum's enormous light-up sculptures: "I thought, let's give them back the colour."
When the 24-hour museum is over, Vezzoli says he is happy if its trappings are burnt or stolen, though what he would really like would be for people to start having sex in it. He says he intends to stay up for the entire 24 hours – but "if there's no sex, I'll go home".
• Corrected on 17/1/12 Due to a mistake in the editing, the printed version of this piece suggested that the Prada Foundation had funded Louis Vuitton's Punchdrunk show in London. This has been corrected.
guardian.co.uk © Guardian News & Media Limited 2010
Published via the Guardian News Feed plugin for WordPress.
Categories
Tags