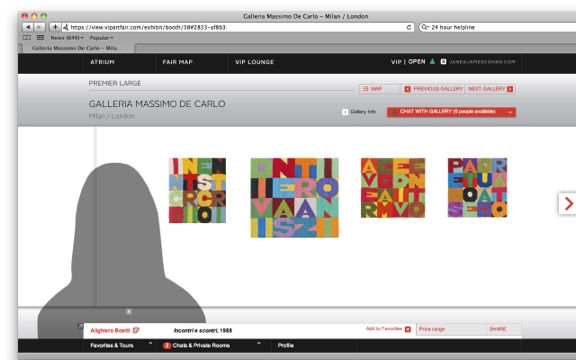 2.0 Preview – 2nd February 3rd -8th February 2012
www.vipartfair.com
VIP Art Fair, the world's first contemporary art fair held exclusively online, is pleased to announce the closing of an initial round of angel funding by two international investors.
The fair, which launched in January 2011, will be hosting its second edition, VIP 2.0, from February 3rd – 8th.
Selmo Nissenbaum, Brazilian art collector and Partner in Personale Investimentos, and Philip Keir, Australian collector, media and arts specialist and former Founder of NextMedia, have invested a total of $1 million into VIP Art Fair. With a new executive team including CEO Lisa Kennedy and newly appointed Fair Director Liz Parks, and the financial backing from this substantial investment, VIP Art Fair is well positioned to develop and expand their unique contemporary art brand.
As a first move towards expansion, VIP Art Fair is launching three new art fairs to take place later this year:
VIP Paper – 20th – 22nd April
VIP Photo – 13th – 15th July
VIP Vernissage – 7th – 9th September
Much like the company's flagship fair VIP 2.0, with galleries including White Cube, Gagosian and Victoria Miro, this new series of fairs will leverage Internet technology to create live, online events in which to view, learn about and purchase artworks by leading contemporary artists from around the world with more frequency throughout the year. Galleries exhibiting at VIP Paper will present limited editions and works on paper.
Lisa Kennedy, CEO of VIP Art Fair says: "This capital investment allows us to continue to build on the strength of our platform adding substantial resources to our technology. It also will provide more opportunities for galleries to meet up with their clients while continuing to build new audiences for contemporary art, from anywhere in the world. Not only will this series of fairs give us the ability to showcase a wider range of works at a wider variety of price points, but will also help the VIP brand solidify its position as the leader in online art sales and the premier cultural destination on the web."
As a portal to the world's premiere contemporary art galleries, VIP Art Fair builds technology for dealers to connect with existing clients, for would-be collectors to discover the art world, and for students, educators, critics and curators to access contemporary artists.
Twitter – @vipartfair
Facebook
About Mark Westall