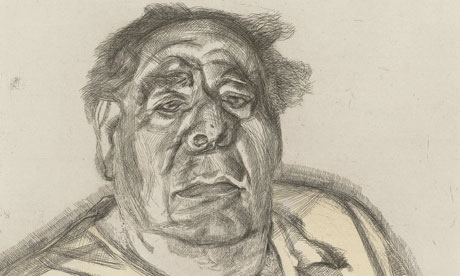 A Lucian Freud etching entitled Lord Goodman in his Yellow Pyjamas is included in the Christie's sale. Photograph: Christie's/PA

This article titled "Lucian Freud etchings to go on sale" was written by Maev Kennedy, for The Guardian on Tuesday 3rd January 2012 01.00 UTC
A collection of etchings by the late Lucian Freud, assembled by Magar Balakjian, the master printer with whom the artist worked for more than a quarter century, will be auctioned next month, with each of the 45 works estimated at up to £70,000.
The prints are based on Freud's sketches – made in natural light rather than the unflattering, raking artificial light of most of the oil paintings – of the subjects of many of his most famous portraits. Freud sketched them directly on to copper plates, and took intense interest in every detail of the printing process.
The prints include Woman Sleeping, estimated at up to £50,000, an image of Sue Tilley – subject of one of Freud's most famous paintings, Benefits Supervisor Sleeping, which set a new world record for his work when it sold for £20.6m in 2008.
There are also images of his daughter Bella; Pluto, one of his beloved whippets; and Lord Goodman, former chairman of the Arts Council – the only print which Freud coloured, with yellow watercolour to his subject's pyjamas.
The collection will be exhibited at the Museum of Mankind in London from 16-27 January, and auctioned at Christie's on 15 February.
Balakjian said they had become good friends over the years they worked together. "His work was always exceptional, but his character so informal that you would never know he was one of the most important living artists of the time," he said.
guardian.co.uk © Guardian News & Media Limited 2010
Published via the Guardian News Feed plugin for WordPress.
Categories
Tags