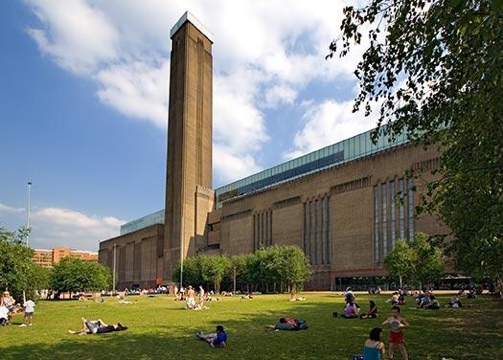 This article titled "Tate may not renew BP sponsorship deal after environmental protests" was written by Alex Needham, for The Guardian on Tuesday 13th December 2011 17.05 UTC
The Tate galleries are reviewing their 20-year partnership with BP, after demonstrations by green campaigners.
Tate's director, Sir Nicholas Serota, has said it will decide whether to renew the contract with BP "quite soon". This month he was presented with a petition from 8,000 Tate members and visitors organised by the pressure groups Platform, Liberate Tate and Art Not Oil. Serota said: "You'll not be surprised to learn that the whole question of the support from BP has exercised trustees quite seriously over the past two years. Both the trustees as a board, but also the trustees through their ethics committee, which was instituted about four years ago, have looked very carefully at the question." The trustees had decided that "the good that has been done through the money that has come from BP for the gallery, and for the gallery's public, has been very profound". The current three-year sponsorship runs out in 2012. Art Not Oil has also called for protest against BP's sponsorship of next year's Cultural Olympiad and Festival of London. It asks artists to submit work to a "BP-free Cultural Olympiad gallery" on its website. "The Olympics has presented the company with the perfect platform for some aggressive rebranding," it said.
The company's sponsorship of British arts institutions, including the National Gallery and the Royal Opera House, is worth more than £1m a year. It first attracted protests after the Deepwater Horizon oil spill in 2010. Two months later, five gallons of molasses were poured down Tate Britain's stairs at its summer party. Demonstrators also let off helium balloons in Tate Modern's Turbine Hall with dead fish attached which were shot down with air rifles by gallery staff.
Sponsorship is increasingly contentious as arts organisations make up the shortfall in government funding. Last week, two poets withdrew from the TS Eliot prize sponsored by investment management firm Aurum Funds; the Poetry Book Society struck the deal with Aurum after its arts council funding was withdrawn. On Thursday, the culture secretary, Jeremy Hunt, said artists should support firms that donate; it is "is encouraging good behaviour by corporations", he told the New Culture Forum, a rightwing arts thinktank. Encouraging philanthropy, Hunt added, was his priority for the arts.
Arts Index, launched by the National Campaign for the Arts last week, calculates business contributions are down 17% from 2007-10, but Hunt said he hoped this coming year would show an increase of 6%.
BP said it remained "committed" to the Cultural Olympiad and the London 2012 Festival. But a spokesman said it would not comment on the Tate sponsorship before talks on its renewal. The Cultural Olympiad said it valued BP's support.
guardian.co.uk © Guardian News & Media Limited 2010
Published via the Guardian News Feed plugin for WordPress.
Categories
Tags