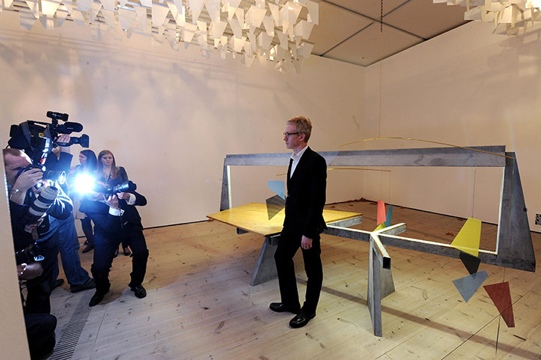 This article titled "Turner prize: the beauty lies in its orchestration" was written by Adrian Searle, for The Guardian on Monday 5th December 2011 20.25 UTC
Martin Boyce's installation is extremely beautiful. Beauty is not a word I use often. It is unexpected, and takes time to reveal itself.
Just as unexpectedly, Boyce has won. I thought George Shaw was a dead cert to win, with his suburban Coventry. The appeal of Shaw's paintings is just as complex as that of Boyce's, and I don't think there's much between them, in the quality and richness of what they do. I imagine the jury meeting was a tough call.
It doesn't matter that Shaw didn't win, the Turner has widened his audience and proves that the annual prize is not about peculiar art for weird people. Nor was he a token contender, or a stalking horse for traditional values (whatever they are). Shaw's pictorial conservatism is just as much an adopted tone of voice as Boyce's nostalgic modernism, his sense of our time is just as acute and troubled.
Karla Black's paper, pigment and bath bombs installation left dusky, powdery smears on my jacket, but never quite fixed itself in my mind, however engaging some details were. They just didn't count enough, or add up to enough. As in her Scottish pavilion at Venice, she didn't know when to stop, or leave space for the viewer's imagination. There wasn't enough of a sense of flow.
I felt the same about Hilary Lloyd's room at the Baltic, with all those monitors, mounts, projectors and stands, and all that unconnected imagery. Her show at Sadie Coles's gallery is much more successful as a kind of rhythmic choreography of hardware and projected light, of rhythm and pacing.
Boyce has a more developed sense of the place and engagement of the spectator. His is the more generative and generous art. From the drifts of waxy, geometric paper leaves on the floor, to the dappled lighting; from the wonky litter bin, to the library table as the room's centrepiece; Boyce's room is both impressive and affecting. The beauty lies in its orchestration.
He deserves the prize. I'm haunted by his room, with the way a hanging mobile entwines itself with the library table, like a dangling thought, the room sweeping away into a kind of indoor autumn. His art is a sort of elegy to modernist purity. It feels like a human space and a mental territory. I'd love him to make a permanent room somewhere.
guardian.co.uk © Guardian News & Media Limited 2010
Published via the Guardian News Feed plugin for WordPress.
Categories
Tags