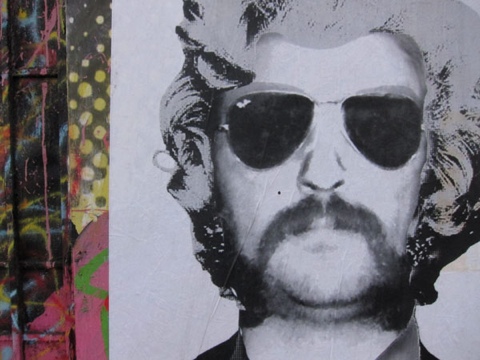 Mr. Brainwash will be unveiling his solo show, Untitled, at Art Basel 2011 where he will be taking over an entire building in the heart of South Beach. The show will mix his signature street and pop art, oil paintings, life-size sculptures and giant installations. Located on the corner of Collins Avenue and 21st Street, the show will be open to all art enthusiasts from December 1st thru December 4th.
Mr. Brainwash is renowned for his spectacular solo shows. His first ever exhibition in June 2008, Life is Beautiful, attracted over 50,000 people in Los Angeles. Two years later, he had his New York solo debut with Icons, a 15,000 square-foot exhibition that was extended for nine months due to an overwhelming response.
Mr. Brainwash achieved worldwide recognition with Banksy's Oscar nominated film Exit Through the Gift Shop, as well as with his artworks for Madonna's greatest hits compilation, Celebration. He is also known for his involvement with charities around the globe, from children's hospitals to global warming Organisations.
Most recently, Google collaborated with Mr. Brainwash for the launch of Google Music on November 16th. The event took place in Mr. Brainwash's 80,000 square-foot studio in Los Angeles, the same building that will host his next solo show during the last two weeks of December 2011.
Show location: 2000 Collins Avenue, Miami Beach, FL 33139
Hours of operation: Pre-opening November 30th – 7:00pm to 11:00pm
December 1st thru 3rd – noon to 10:00pm December 4th – 1:00pm to 8:00pm
Categories
Tags