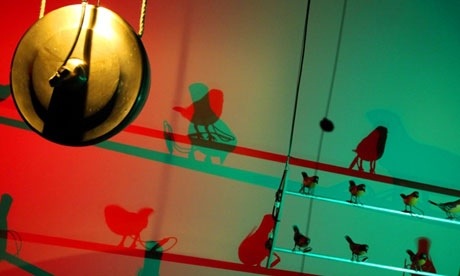 Carillon Shadows by Jony Easterby, showing in West Bromwich. Photo: PR
This article titled "This week's new exhibitions" was written by Robert Clark & Skye Sherwin, for The Guardian on Friday 28th October 2011 23.06 UTC
Jony Easterby, West Bromwich
Jony Easterby's Carillon Shadows takes place in The Public's Black Gallery as part of its Art Of Noise programme. While Art Of Noise celebrates the Midlands' cultural heritage of heavy metal, reggae, punk and bhangra, Easterby adapts the numinous aura of the bell-tower carillon to the enchanting possibilities activated by hi-tech electronic sensors set within the primal spookiness of a darkened room. His work is organic and dreamlike, almost oceanic in its intimations of delicately rippling worlds engulfed by the massive forces of nature. Engaging with an Easterby installation involves a degree of childlike wonderment, like one gets from staring at waves in the sea or flames in the fire. We seem to be ready programmed to respond and Easterby well knows it.
The Public, to 15 Jan
Robert Clark
Building The Revolution, London
Brave new worlds need a look to match. In designing worker's clubs, housing blocks and radio towers, Soviet Russia had avant garde artists for inspiration. This show pairs photographs documenting the architecture of glass and smooth white concrete created in the late-20s and 30s with paintings by leading constructivists. Take Liubov Popova's Spatial Force Constructions, a dynamic crisscross of geometric shapes that sought to flatten the 3D angles and curves of buildings into a painting's single plane. Her vision comes full circle with the pared-down formalism of architects like Konstantin Melnikov or Le Corbusier (one of a number of foreign names brought in to transform Russia).
Royal Academy Of Arts, W1, Sat to 22 Jan
Skye Sherwin
Siobhan Davies Commissions, London
Maverick choreographer Davies's commissions give performers the chance to tread new territory in collaboration with artists. Lucy Skaer's 16mm film collides St Kilda with Mount Stuart through dream-like double-exposure for Gill Clarke's exploration of gravity. Elsewhere, performance artist Marcus Coates and dancer Henry Montes have used interviews with people at home and work; Sarah Warsop and Tracey Rowledge explore movement and mark-making, while Montes, with Bruce Sharp and Deborah Saxon, uses drawing to explore gesture and movement.
The Bargehouse, SE1, Fri to 13 Nov
Skye Sherwin
Kurt Hentschläger, Liverpool
Upon arriving to attend Kurt Hentschläger's mind-boggling immersive installation, ZEE, you are asked to sign a disclaimer before entering and warned that, should you start "to tremble and shake", you should hold your hands firmly over your eyes and use a series of suspended ropes to guide you to the exit. What this installation actually consists of is somewhat obscured by its tendency to catalyse an onset of multicoloured fractal hallucinations. For sure there are some kind of strobe lights effecting clouds of fog that make normal vision impossible beyond arm's length. One is left unsure whether or not the rest of it is happening inside one's head or outside. Sample visitor responses: "It's like death" and "like entering heaven."
FACT, to 27 Nov
Robert Clark
Graham Gussin, London
Wim Wenders's 1982 deconstruction of the film business, The State Of Things, begins with a futuristic-looking gang making their way through a Portuguese landscape. When the camera pulls back it turns out that they're actors starring in a film within the film, a remake of Roger Corman's sci-fi B-movie The Day The World Ended. Wenders's weird hall of mirrors seems perfect fodder for British conceptualist Graham Gussin, an artist who has long made the gauzy layers between reality and fiction his subject. For his latest project he returned to the original hotel where Wenders's film was shot, creating slides and photographs that summon its sci-fi phantoms. In black and white pictures, a survival sheet blows through the building's modernist spaces, like a silvery ghost or a UFO.
Art House Foundation, E2, to 3 Dec
Skye Sherwin
Simon Le Ruez, Newcastle upon Tyne
Simon Le Ruez extends his creative vocabulary with this show of recent sculptures, installations and paintings. Le Ruez's sculptural scenarios evoke moments of psychological suspense, with the deceptive reassurance of domestic props subtly undermined by hints of a decidedly unsavoury eroticism. Postcards have been doctored to leave inconclusive suspicions of moody and momentous goings-on behind the scenery. Paper scraps are caught up in tense ghost-town constructions. Themes are suggested with such subtlety that one is left wondering whether the story is all made up in one's own mind. Le Ruez gets better with each show.
Vane, to 17 Dec
Robert Clark
Civic, Sunderland
Across three galleries and 13 specially-sited outdoor billboards, Civic is a wide-ranging show that knowingly infiltrates the urban environment in which we all live, constantly assailed by screens and signs and advertisements. There are small-scale posters as well as full-scale billboards, personal self-reflections as well as declamations of social alienation. John Kippen's The Poor Are Always With Us is a cool piece of graphic design featuring a lavish chandelier. As with much of the work, the message is painfully obvious and that indeed seems to be some of the point. Then again, Sophie Helas-Kwo presents a graffiti scrawl stating God Is Laughing, under which some wit has added Wrong!
Various venues, to 13 Nov
Robert Clark
Cezary Bodzianowski/Savage, Bristol
With his little moustache and penchant for deadpan silliness, Cezary Bodzianowski cuts a Chaplinesque figure. The Polish artist's slapstick antics have included running inside a barrel while wearing roller skates, and standing beneath a tree pretending to be a bush. His actions point to the innocuous tyranny of everyday life, struggling to blend in, but doomed to fail. These gently jarring skits, documented by his wife Monika Chojnicka in photographs and videos, offset work by Bristol local and recent winner of the Roostein Hopkins Award, Savage. Insatiable consumer culture desires and commercial ills are Savage's quandary – in earlier work he fashioned once edgy graffiti slogans as neon signs. His latest offerings include a frenzied collage of Hollywood clips, where the question is repeatedly posed, "what do you want from me?"
Spike Island, to 27 Nov
Skye Sherwin
guardian.co.uk © Guardian News & Media Limited 2010
Published via the Guardian News Feed plugin for WordPress.
Categories
Tags