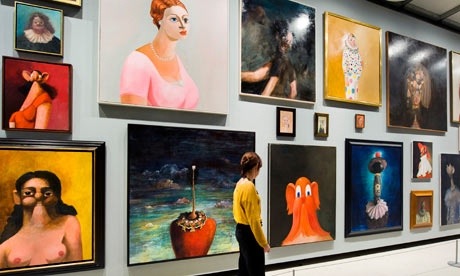 George Condo: Mental States, at the Hayward Gallery in London. Photograph: Linda Nylind

---
This article titled "George Condo retrospective opens at the Hayward Gallery" was written by Mark Brown, arts correspondent, for The Guardian on Monday 17th October 2011 17.57 UTC
Nine portraits of the Queen as she has never been seen before – with a green nose, a robot eye or a long carrot through her head – are going on display at the first UK survey of an artist whose whole career involves making the funny serious and the grotesque beautiful.
The retrospective of the influential American artist George Condo opens on Tuesday at the Hayward Gallery in London.
The nine portraits are called Dreams and Nightmares of the Queen and include one shown at Tate Modern in 2006 which drew complaints that he made her majesty look like a Cabbage Patch doll.
Condo said the works were meant to be humorous and should not be seen as degrading. That also goes for his novel interpretations of subjects such as the Madonna and Jesus.
He said: "When I go and see great paintings, a smile comes on to my face, whether it is a Rubens or a Picasso, and I'm hoping that's the same kind of smile that people have when they look at these works."
The Hayward director, Ralph Rugoff – who curated the show – agreed. "There are a lot of people who feel that serious art can't be humorous," he said. "These are people who don't understand what tragicomedy is."
Rugoff said Condo was and is very much an artist's artist but many of the people he directly influenced, such as John Currin, Glenn Brown and Lisa Yuskavage, ended up getting more attention than him.
"For a while he got eclipsed by his own group of followers, all of whom admit that he was huge influence on their work."
The show was overdue but also good timing as it allows important recent work – his "drawing paintings" made in charcoal, pastel and acrylic paint – to be shown with work from the start of his career when he emerged from New York's early 1980s art scene.
Condo, 54, has many buyers and fans in high places, not least Kanye West, who commissioned the artist to create the cover of his last album, My Beautiful Dark Twisted Fantasy.
Offered a choice of five, West went for the sexually explicit one of him naked being straddled by a grotesque female phoenix.
Condo said he liked to capture people "in extreme moments of hysteria, I don't like complacency" and there are numerous examples of that in the Hayward-organised show with titles such as Nude Homeless Drinker.
The show covers 28 years of Condo's career so far and arrives from its first port of call at the New Museum in New York, where the New York Times called it "sensational".
George Condo: Mental States at the Hayward Gallery, 18 October-8 January.
guardian.co.uk © Guardian News & Media Limited 2010
Published via the Guardian News Feed plugin for WordPress.
Categories
Tags