(In)Visible takes Calvino's Invisible Cities as its starting point. Cities are, says Calvino, a place where "everything imaginable can be dreamed" but that these dreams are "a rebus that conceals a desire or, its reverse, a fear".
In this context, (In)Visible at Edel Assanti is an exhibition in which each piece seems to sit in a place that is inbetween, hovering beyond the definite. The best of the works have a palimpsest like quality, where they are just beyond concrete conception, straddling two realities. Like Calvino's rebus, their presence indicates something other than their appearance and this lingering presence of something else is captivating.
The spectre of desire and fear seems a unifying force between some of the works, with earthy umbers and rust shades charging the space with something more primordial than the notion of the city. The muted tones gesture at something primitive, and this dichotomy is one which the show flirts with to unsettling effect, a pre-city state which is ruled by desires and fears.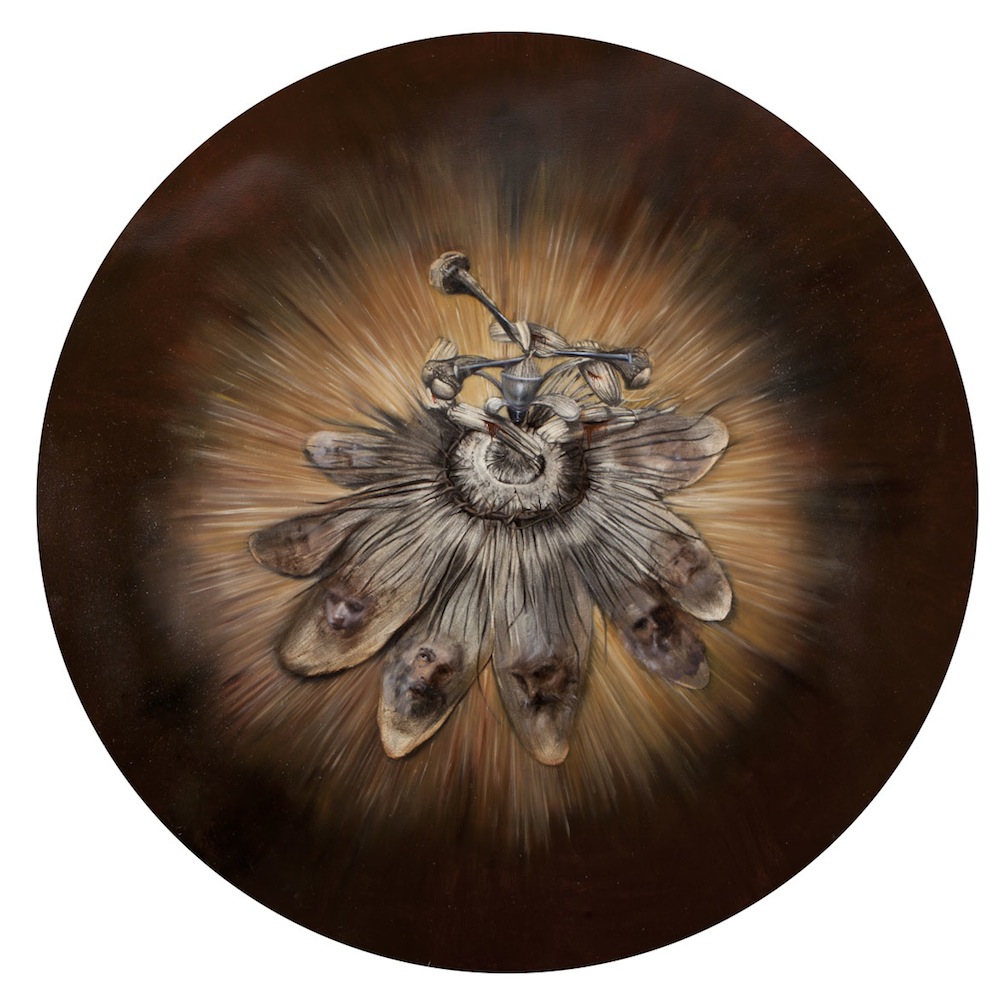 Hugo Wilson Passion Flower, 2011 Oil, charcoal and pencil on prepared paper 155 x 155 cm © Hugo Wilson, Courtesy Edel Assanti, London
Ann-Marie James and Hugo Wilson share this muted palate, and the two pieces, though distinct, are both ghostly apparitions. Ancient faces appear on the petals of Hugo Wilson's Passion Flower, not quite fantastical, the piece feels like a meeting of past and present, with the impregnable figures absolutely as present as the flower. There is something mythic about the quality of the flower, and a story hovers with an ambiguity that intrigues and agitates. Ann-Marie James' Beside me on the Left Appeared is charged with the same mythic force, an abstract presence conjured with the same frenetic tension as Laurence Edwards' Chord series
Ann-Marie James Beside me on the left appeared, 2011 Oil and acrylic on canvas 154.4 x 274.2 cm © Ann-Marie James, Courtesy Edel Assanti, London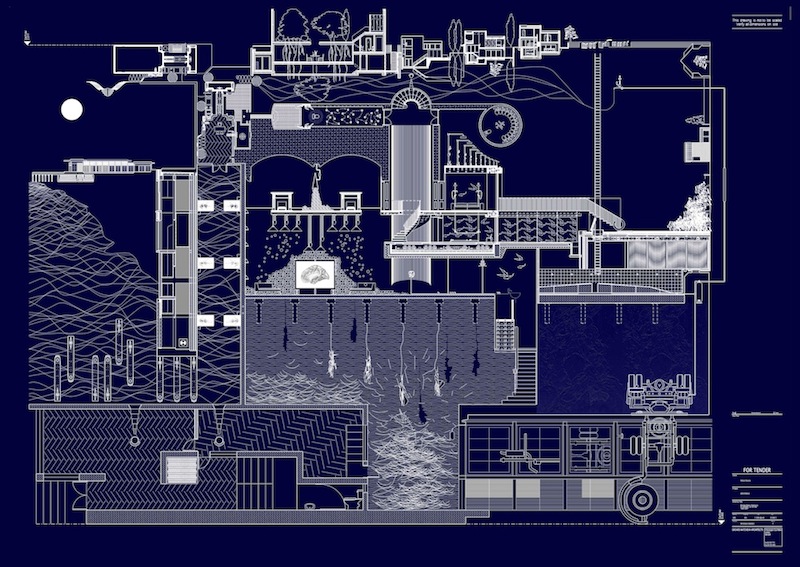 Groves/Natcheva Boreas Notus Zephrus, 2011 Inkjet print 120 x 170 cm © Groves/Natcheva, Courtesy Edel Assanti, London
This is in sharp contrast to the re-imagining of the gallery space by Groves/Natcheva, a blueprint foists its definitive intention, positing architecture as a definite, a blueprint as the mapping of the unemotional and the concrete, with no space for desire or fear. Yet, within this show, the blueprint becomes something else, an ineffectual barricade against the current of fear and desire, and upon closer inspection, this re-imagining is fantastical, imbued with memory and impossibilities that open up the gallery space with potentiality.
Henry Hudson Beaupre Hall, Norfolk, Demolished 1966, 2011 Plasticine on MDF, neon light 113 x 83 x 10 cm © Henry Hudson, Courtesy Edel Assanti, London
An exhibition of duality and ambiguity this is manifested variously, nothing is what it at first seems. This can be a literal process of a changing perception, like Henry Hudson's Beaupre Hall, Norfolk, seemingly just a neon frame, until the viewer comes close to the work, and a plasticine engraving emerges, poised at a place of erasure, like the now demolished building it depicts. A similar exploration of buildings and spaces takes place in Louise Thomas' We Renounce the Old World / We Shake its Dust from Our Feet which depicts a room that is two spaces simultaneously, with walls torn down or built up to show another alternative manifestation of the same space. The most hopeful of all the pieces contained within the show, there is an affirmative potentiality in the double vision.
Laurence Edwards Chord series, 2007 (Three unique works) Bronze 118 x 25 x 14 cm / 100 x 22 x 22 cm / 106 x 23 x 18 cm © Laurence Edwards, Courtesy Edel Assanti, London
In Laurence Edwards' Chord series the figures are frozen in a moment of transition, and the motion of transformation is unclear as these crude figurines cling to their upright stick, forming themselves around this single central point, or perhaps, disintegrating. At once, there is the birth and the death of the figure, and this ambiguity gives the three scratchy bronze statues, with a form reminiscent of static, a perpetual tension where they are neither figures, nor abstract, not caught in the moment of birth, nor on the point of death, but indistinguishably rushing towards both, and neither. Sayaka Maruyama's Birth series captures a similarly obscure moment, between the Birth of their title, and their death shroud of their content, these images are unnaturally, hauntingly ambiguous.
Sayaka Maruyama Birth 8, 2009 C-print on metallic paper 35.5 x 27.9 cm Edition of 8 © Sayaka Maruyama, Courtesy Edel Assanti, London
An imaginative view which is propelled by a force of duality, the potentiality revealed when nothing is confined to being one reality, is the great success of bringing these divergent pieces together. Derrida described Force as that which always evades expression, but that which language constantly strives to express, and here there is a delightful willingness not to express one thing only, but rather a flirtation with the possibilities of ill-definition. Fear and desire come to inhabit that gap between, but the process of ambiguity is illuminating.
Rachel Bennett
Categories
Tags