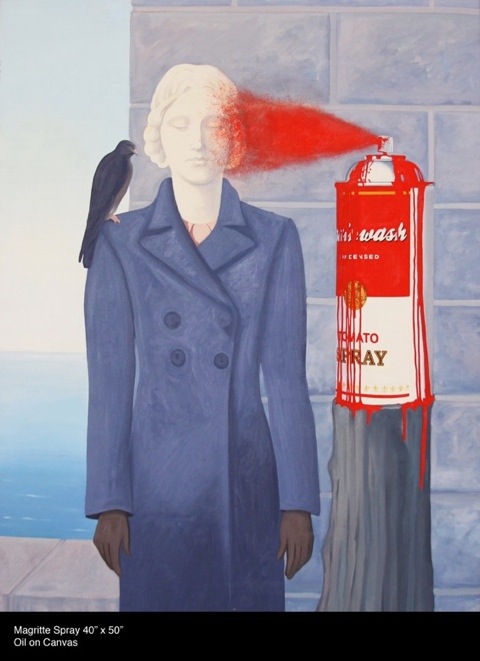 Opening on 6th Oct to 31st Oct 2011
ANASTASSIOS-Mr. BRAINWASH " Mr Brainwash "Opera Gallery presents the UK premier of new works by Mr Brainwash in an exhibition curated by Jean-David MALAT, Director of Opera Gallery London.
Polemical artist Mr Brainwash is the moniker of LosAngeles based film-maker and pop artist Thierry Guetta. He has spent the better part of the last decade attempting to make the ultimate street art documentary. Meanwhile, inspired by his subjects, he started hitting the streets, from LA to Paris, with spray painted stencils and posters of his pop art inspired images. He rapidly emerged as a renowned figure on the international street art scene.
In June 2008, Mr Brainwash debuted one of Los Angeles most memorable solo exhibitions entitled ?Life is Beautiful featuring larger-than-life installations as well as his widely recognizable images. The show was visited by thousands of visitors and extended from two weeks to three consecutive months. By 2009 Mr Brainwash's work had garnered so much recognition that he was approached by Madonna to design the cover for her greatest hits
album, Celebration.
And in 2011, he was commissioned by the Red Hot Chili Peppers band to direct the campaign for the launch of their latest album.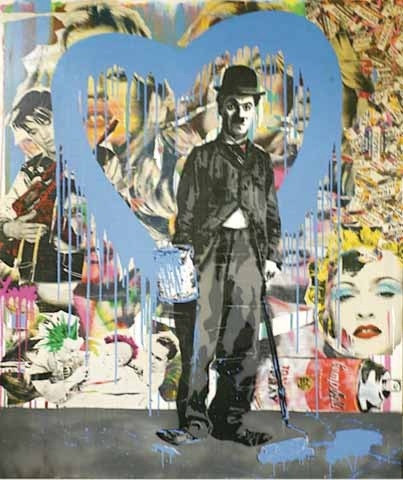 Charlie Chaplin Stencil, Acrylic Paint and Mixed Media on Canvas 213 x 183 cm 83.9 x 72.0 In.
Mr. BRAINWASH
Mr. Brainwash ("MBW") is a pseudonym for Thierry Guetta, aka Cyprian[ He is presented in the 2010 film Exit Through The Gift Shop as a French citizen who now lives in Los Angeles, having been a proprietor of a clothing store and videographer who evolved into a street artist and gallery artist, influenced by the street artists he claims to have documented through video over the years. The film says that Thierry Guetta was first introduced to street art by his cousin, the French street artist, Invader. The film includes what it claims to be authentic documentation of Space Invader , Shepard Fairey , Banksy and other well-known street artists at work on the streets. The film is directed byBanksy and includes much participation by Fairey.
The artwork attributed to Guetta strongly emulates the styles and artistic concepts of well-known street artists including Banksy andShepard Fairey . Like Banksy, Guetta employs famous artistic and historic images, many of which are copyrighted and amends the originals in slight or significant ways. Unlike Banksy, who is shown in the film creating his own work, Guetta states in the film that his work largely consists of "scanning and photoshopping", acts which are carried out by hired assistants. Guetta further admits in "Exit Through The Gift Shop " that most of the actual artistic process is carried out by hired graphic designers to whom he describes his ideas. In the film, he is not shown creating very much artwork himself.
Guetta's first show Life is Beautiful opened in Los Angeles June 18, 2008.In 2009, Guetta created the cover art for Madonna 's Celebration <. On February 14, 2010, his second show ICONS opened in New York City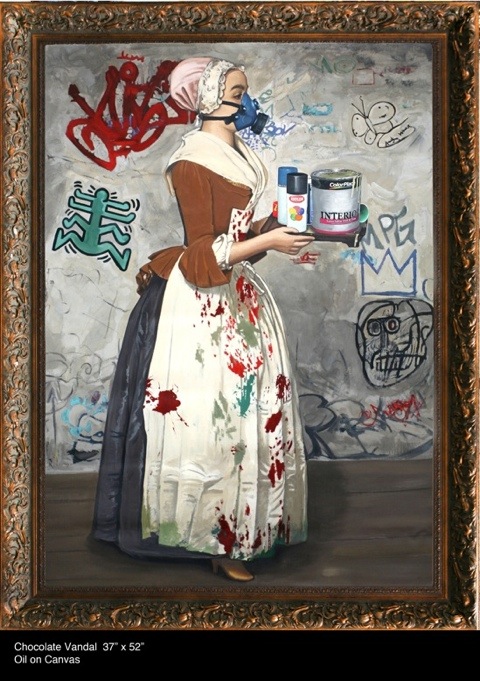 Categories
Tags