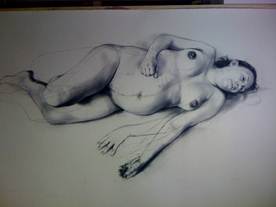 Nadja Romain and Jenny Saville invite internationally renowned contemporary artists to support Women for Women International
27th September to 1st October 2011
"In the nineteenth century, the central moral challenge was slavery. In the twentieth century, it was the battle against totalitarianism…
in this century the paramount moral challenge will be the struggle for gender equality in the developing world." – Nicholas D. Kristof and Sheryl WuDunn
Acclaimed contemporary artists from around the world have been invited by producer Nadja Romain and artist Jenny Saville to support the vision behind Women for Women International. On 15 October, Christie's will auction each artist's exclusively commissioned artwork for the launch of Artists for Women for Women International, in their Post War and Contemporary Day Sale during Frieze Art Fair.
Artists for Women for Women International brings together an impressive group of people dedicated to the groundbreaking work and message of Women for Women International and aims to raise awareness of social issues within the art world. Artists include Matthew Barney, Cecily Brown, Chuck Close, Michael Craig Martin, Tacita Dean, Tracey Emin, Teresita Fernandez, Anthony Gormley, Carsten Holler, Isaac Julien, Servane Mary, Andrei Molodkine, Farhad Moshiri, Tobias Rehberger, Bridget Riley, Jenny Saville, Richard Serra, Taryn Simon, Marcel Odenbach , Francesco Vezzoli and a piece by Louise Nevelson, donated by Arne Glimcher.
Nadja Romain's relationship with Women for Women International started in 2010 when, together with Jose Martos she produced a limited edition version of the UK magazine TANK in support of the organisation. Artists including Elizabeth Peyton, Lawrence Weiner, Isaac Julien, Michael Craig-Martin, Tracey Emin and Jenny Saville all generously contributed to this edition and the £250,000 raised helped support over 800 women in the Women for Women International sponsorship programme.
Romain and Saville each realised the power and immense support they had to bring hope and change to the lives not only of the women, but their families and communities as well. After a chance meeting between Romain, Saville and Zainab Salbi (Founder and CEO of Women for Women International) they decided to join forces once again and launch this incredible project.
"If you think about Afghanistan, Congo, or South Sudan – these are countries in turmoil. We won't achieve the sustainable peace we're seeking if women don't have access to basic human rights like health care, food and education. As I'm speaking, they don't: so how can they help their community to rebuild? The work of Women for Women International is crucial, and under the impetus of Zainab Salbi the organisation has become a key player in women rights and the
struggle for peace. I have found it incredibly empowering to realise that by using my professional and personal skills to do a project like this one, I can have an impact on thousands of lives. It's inspirational. So is sponsoring a woman in the Women for Women programme; it connects you with someone on the other side of the world; and you find strangely that it's helping you in return." —Nadja Romain
Gagosian Gallery will exhibit the works at its Britannia Street space.
Women for Women International invests in women in conflict zones, transforming their lives by providing training in leadership, rights awareness, job skills and business in Afghanistan, Bosnia & Herzegovina, Democratic Republic of the Congo, Iraq, Kosovo, Nigeria, Rwanda and South Sudan. The commitment of the artists and partners to the work of Women for Women as well as the exhibition catalogue will raise awareness of how Women for Women International's
programmes have made an immense difference in the lives of women survivors of war. For every £100,000 raised through Artists for Women for Women International the organisation can help 400 women move from victim, to survivor, to active citizen – changing the world, one woman at a time. www.womenforwomen.org.uk
Nadja Romain is a key advocate of the work of Women for Women International, putting to work her impressive experience in the arts to support Women for Women International through last year's TANK Art Attack and co-chairing this year's Artists for Women for Women International event. Nadja is an independent producer, specialised in the field of art films and artist films, a curator and writer and has worked as a journalist for press and television (Conde Nast, Canal+).
Her projects include documentaries such as No Restraint: A portrait of Matthew Barney, feature film Mister Lonely, which premiered in Cannes 2007, T.V show Dr. Portnoy Provocateur premiered at Sundance 2008 and A Better Life by Isaac Julien in Competition in Venice 2010. Nadja currently divides her time between Paris, New York and London where she has founded Everything I Want, devoted to developing and producing films, art projects, books and events. She is the Director and Head of Programming at tank.tv, an online museum of contemporary artists and is writing "Faces of Change" a book to celebrate women's empowerment.
Jenny Saville was born in Cambridge, England in 1970 and currently lives and works in England. In 1990, midway through her BA course at the Glasgow School of Art, Jenny Saville exhibited in Contemporary '90 at the Royal College of Art. In 1992 she completed her degree as well as showing in Edinburgh and in Critics Choice at the Cooling Gallery, London. Following the success of her show at the Saatchi Gallery in 1994, which generated a great deal of publicity for
her work, Saville went on to take part in the exhibition American Passion, which toured from the McLellan Gallery, Glasgow, to the Royal College of Art and the Yale Center for British Art in New Haven, Connecticut. Her work has been included in exhibitions worldwide including "Sensation: Young British Artists from the Saatchi Collection", Royal Academy of Arts, London (1997, traveled to Hamburger Bahnhof, Berlin and the Brooklyn Museum of Art, New York 1998-99); "The Nude In 20th Century Art", Kunsthalle Emden, Germany (2002, traveled to Arken Museum of Modern Art, Copenhagen in 2003); "Painting", Museo Correr, 50th Biennale di Venezia (2003); and "Paint Made Flesh", Frist Center for the Arts, Nashville (2009, traveled to the Philips Collections, Washington D.C. and Memorial Art Gallery, University of Rochester, Rochester, NY in 2010). In 2005, her work was the subject of a solo exhibition at the Museo d'Arte Contemporanea, Rome.
www.gagosian.com
Categories
Tags