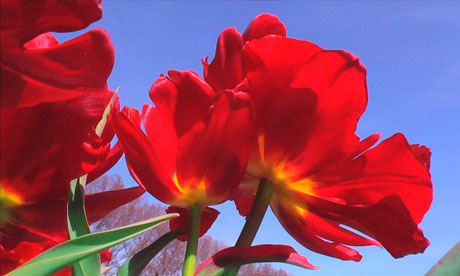 Image:Lobe Of The Lung (2009), by Pipilotti Rist. Photograph: Ernst Moritz

This article titled "This week's new exhibitions" was written by Robert Clark & Skye Sherwin, for The Guardian on Friday 23rd September 2011 23.08 UTC
Pipilotti Rist, London
Pipilotti Rist is art's unrivalled pleasure specialist. Her video installations are awash with kaleidoscopic fields of flowers, flesh bared in kooky sex scenes, and – in one famous work – a woman who smashes car windows with a giant torch lily before sharing a smile with a cop. But her work has more serious undercurrents than all the colour-saturated razzle dazzle suggests. The artist's feminist rethink of male power structures can be creepy, as with her horribly speeded-up topless karaoke take on a line from the Beatles' Happiness Is A Warm Gun. Rist is unafraid of taking wacky approaches to challenging issues and she delivers her message with jolts of pure joy. This survey runs from her earliest works to the technological mega-productions she's known for now.
Hayward Gallery, SE1, Wed to 8 Jan
Skye Sherwin
Mary Webb: Journeys In Colour, Norwich
Mary Webb's statement about her Spring Colour Study series that the "choice of colour was an attempt to find a red red, a blue blue …" hardly chimes with the self-analytical art theory bandied about in studio seminars these days. Webb's brand of geometric abstraction, with its uncompromising constructivist agenda of paint about paint and colour for colour's-sake, recalls the first half of the 20th century. Yet despite, or perhaps because of this, Webb's retrospective comes across as a record of admirable personal persistence. Her Manhattan is a stacked-up, full-frontal rectangle of urban grey. In contrast, Provence is all dynamic lyricism with distinct intimations of joie de vivre. Forget art history just for a bit: this is deceptively simple work that deepens with the looking.
Sainsbury Centre For Visual Arts, Tue to 4 Dec
Robert Clark
Postmodernism: Style And Subversion, London
It's about time that a show tackled postmodernism, a term that's as slippery as it is maligned. The emphasis here is the interest in style over substance that emerged in the 1970s and 80s. History was treated as an atemporal free-for-all, even by magazine designers (Wet Magazine, by April Greiman and Jayme Odgers). Other maverick collagists here include everyone from Andy Warhol to Jeff Koons. Look out, too, for design rebels Memphis, Peter Saville's album art for New Order, and examples of Grace Jones's costumes.
Victoria & Albert Museum, SW7, Sat to 15 Jan
SS
Bloomberg New Contemporaries, Sheffield
This year's New Contemporaries kicks off in Sheffield, a city whose lively studio scene has long been let down by a lack of contemporary art venues. So Site Gallery, a stalwart in giving exposure to adventurous work, is here joined by the relocated and expanded S1 Artspace in being first to stage the annual open-submission show by art students and recent graduates. This year's show is afforded extra cultural relevance because of the rapidly encroaching threat to art students' free creativity posed by spiralling tuition fees. So here's hoping that featured artists such as Cornelia Baltes, Sarah Brown and Poppy Whatmore will provide hope by becoming new art superstars.
S1 Artspace & Site Gallery, to 5 Nov
RC
Museum Show, Bristol
Bristol's landmark art gallery celebrates its 50th birthday with a show about artists' museums, tackling the politics, oddities and failures, and shining a light on their shadow lives. It includes Marcel Duchamp's museum in a suitcase and Marcel Broodthaers's Museum Of Modern Art: Department Of Eagles, where the changing content and locations undercut museums' authority and permanency. These are matched by the likes of Susan Hiller's After The Freud Museum, a vast collection of vitrines full of personal ephemera; Peter Blake's singular museum of curiosities; and collections from many younger talents. It adds up to an idea of museums as subjective spaces, shaped by human foibles.
Arnolfini, Sat to 19 Nov; Part two: 9 Dec to 5 Feb
SS
Dark Matters, Manchester
Here's a show staged in part-darkness that at times touches on psychologically doomy themes while at others it catalyses moments of pure sensuous illumination. The Whitworth has pulled out prints and paintings of ominous dramas by the likes of Francis Bacon and Paula Rego, but the main focus is on recent work by 10 artists internationally acclaimed for their wow-inducing use of technical trickery. Ja-Young Ku, Daniel Razin and R Luke Dubois draw the viewer into scenarios muddled by multiple mirrors, perceptual riddles, spatial illusions, and time-delay projections until we begin to wonder whether what we're seeing is taking place out there or in the recesses of our deliberately befuddled minds. It's a charming art of gentle yet effective intrigue that's bound to prove popular. After all, who doesn't like their everyday reality to be periodically yet safely undermined?
The Whitworth Art Gallery, to 15 Jan
RC
Gabriel Kuri, London
Gabriel Kuri doesn't make sculpture that sits behind ropes in museums. His work acknowledges the human factor, like those large metal works that doubled as ashtrays outside the entrance to Frieze Art Fair a few years ago. He's interested in exchange, function and the unpredictable effects of time, and this first major London show, titled Before Contingency After The Fact, takes a stab at themes such as financial speculation, disaster and its aftermath. Kuri's formal ingenuity plays out in large, shelter-like abstract sculptures in the gallery's gardens and sculptures-cum-plinths for emergency blankets, soap and plastic sheeting: apt pieces for an unstable world.
South London Gallery, SE5, Thu to 27 Nov
SS
Eric Bainbridge, Sunderland
CIRCA Screen, a new space dedicated to artists' films and videos, launches with an enticing show of rarely seen videos by the sculptor Eric Bainbridge. Through his highly sophisticated sculptural compositions of non-traditional stuff such as fake fur, chipboard and assorted knick-knacks, Bainbridge has become an influential artist of disarming humour and generosity of spirit. He comes across as irreverent yet utterly sensitive in his assemblage of disparate sculptural materials. So how is this reflected in his video works? The titles give a hint: Sausage One, Two Sausages, and The Ghost Of Jimmy The Nail.
CIRCA Screen, to 21 Oct
RC
guardian.co.uk © Guardian News & Media Limited 2010
Published via the Guardian News Feed plugin for WordPress.
Categories
Tags