Image:The Thousand Yard Stare
Showtime is the creative portfolio platform for University of the Arts London. Sharon graduated from BA Fine Art: Time Based Media at Wimbledon College of Art, University of the Arts London, in 2011.
1 If you weren't an artist, what else would you be?
I imagine what it would have been like to have a career as a dancer or choreographer. I am fascinated by gesture and movement and the physical prowess that is needed for that discipline. The physicality of dance and the expression of meaning and emotion through movement appeals to me.

2 What is your favourite 'ism'?
Eclecticism. Drawing inspiration from a variety of sources is something I delight in doing within my own practice and I enjoy discovering and exploring the diverse influences and reference points used by other artists.
3 Which artists do you admire and why ?
Jeremy Deller for successfully co-ordinating diverse groups of people and meaning when creating his large scale re-enactments. Also the numerous artists and filmmakers who were associated with the Russian Constructivist Movement. The style and strength of their visual imagery appeals to me and it is well documented how their philosophies and influence extended to a wide range of practices including architecture, dance, theatre, film, graphic design and costume.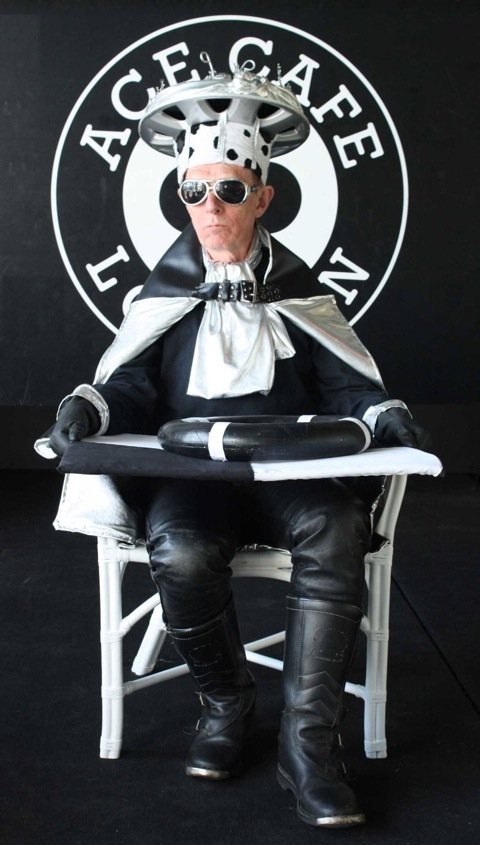 Image:C'mon Everybody (Long Live The King)
4 What was the most intelligent thing that someone said or wrote about your work?
My work is often described as humorous and intriguing. A recent sculptural piece, 'Motorcycle Hoodlum' was described as 'a resonant image'.
5 Do you care what your art costs? State your reasons!
Unfortunately yes, as in our culture although the monetary value given to the work can be very subjective this is then perceived as being representative of its aesthetic value. It can become difficult to separate the two. In practical terms, of course I would love to make enough money to support myself doing something I love.
6 What are the three big ideas that you would like your work to express?
My work explores notions of ritual, identity and belonging but I am also very happy if my sense of playfulness comes through to an audience.
7 How do you start the process of making work?
I start by immersing myself in the research process. My recent work has been intrinsically attached to specific sites. I carry out quite extensive research by visiting the site, investigating its heritage and interviewing those connected with it in relation to my interests. After I have taken photographs and made video and audio recordings of my findings I return to the studio and start to experiment with object, prop and costume making for possible use in performances or films.

8. What's next for you?
A part- time MA in Fine-Art at Wimbledon College of Art should take care of the next two years for me!
9 If you could ask yourself one question what would it be? And what would be the answer ?
Why am I so hard on myself? I think it's because it drives me to do the best I possibly can!
Current favourite piece of work:
It's hard to say but Both Ends Burning and C'mon Everybody (Long Live The King) have been great fun to make and I enjoy getting to know and working with the performers and actors. As a departure from my previous style of working, these two works have been successful for me.
Find Sharon McElroy on Showtime
About Mark Westall