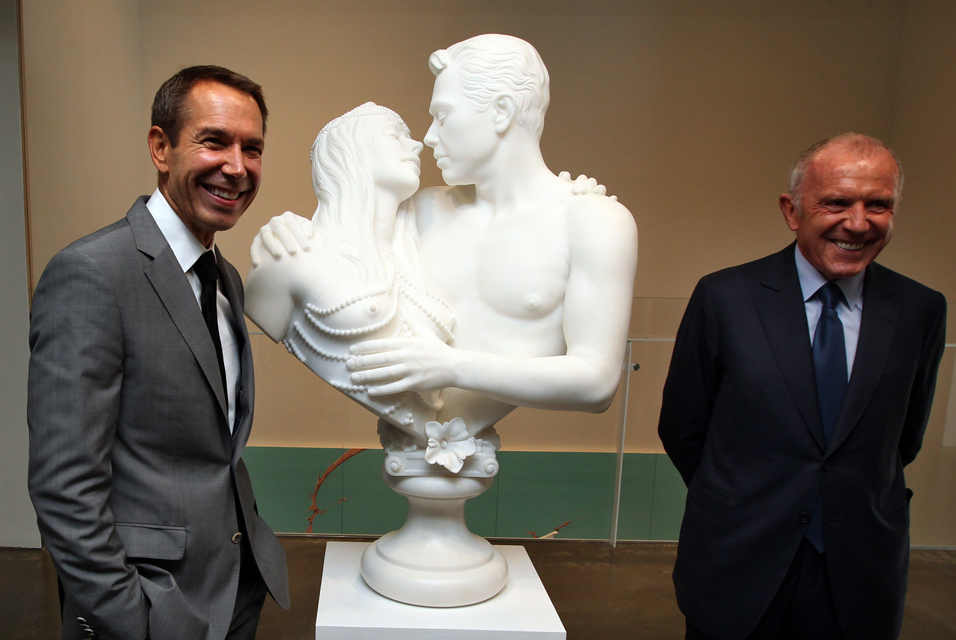 Image:Francois Pinault (R), chief of the French multinational holding company PPR, and American artist Jeff Koons (L) pose for a photo during a press conference in Seoul, South Korea. Pinault is in Seoul to attend an exhibition of his collection of artworks by world-renowned artists. PPR specializes in retail shops and luxury brands including Gucci. EPA/YONHAP.
SongEun ArtSpace welcomes the exhibition "Agony and Ecstasy" a selection of 23 works from the François Pinault Collection of contemporary art. This will be the first time that works from the François Pinault Collection will be presented in an exhibition in Asia.
For this exhibition, François Pinault has decided to entrust the curatorship to Francesca Amfitheatrof. Focusing upon the central theme of portraiture and the representation of the self, Amfitheatrof has selected a highly expressive list of works, which include portraits, statues, busts, mirrors, animals preserved in formaldehyde and photographs by four major contemporary artists: Damien Hirst, Jeff Koons, Takashi Murakami and Cindy Sherman.
The title "Agony and Ecstasy" refers to both Damien Hirst's butterfly diptych and Irving Stone's biographical novel of Michelangelo Buonarroti derived from the Renaissance painter's correspondence. Inspired by the great master's depiction of Man, the exhibition proposes to revisit the infinite possibilities of how we perceive each other and ourselves.
The four artists in the exhibition approach this idea but respond to it differently by each embracing a different tendency. Damien Hirst's existentialist and visceral language is expressed and understood by all. Jeff Koons allows the familiar to become the spectacular, as in the scandalous bust from his 1990's series Made in Heaven. Takashi Murakami's beautifully crafted sculptures expose the exaggerated over-sexuality of manga characters, whilst at the same time playing upon our westernised perceptions of Japanese culture. Cindy Sherman deals with the obsession we have with defying the effects of time and aging. She candidly scrutinizes at our faces upon which are etched the smallest of tragedies. The portraits by all four artists have forgone the classic sense of depiction and ventured into unknown territory inviting us to reflect, celebrate and question life.
As an art lover, François Pinault has built one of the greatest contemporary art collections in the world, both in terms of quality and diversity, comprising of over 2,000 artworks. He has always considered art as the best way to overcome one's own limitation, to push the boundaries, to discover new territories. From the very first step of his collection 40 years ago, his wish is to share his passion for art with a large audience.
DAMIEN HIRST
Born in 1965 in Bristol, UK. Lives and works in London and Devon, UK.
Hirst allows us to stare at death, to celebrate it and to fear it all at the same time. By freezing the moment of death, at the second when the last breath is taken, and immortalising it, he allows us to celebrate life. We seldom have that intimacy with death, and of being able to freeze time and ponder on the meaning of life.
Hirst strips away decorative notions of life, by preferring to focus the viewer on the reality and beauty of life. It is this simplicity that makes his art so unforgettable. It is as if one is crossing a boundary untouched by fear.
The themes of death, love and religion are always central to Hirst's work. The exhibition includes his formaldehyde pieces, The Kiss of Death (2005) butterfly paintings The Agony and The Ecstasy (2004), cabinets Dead Ends, Died Out Examined (1993) and also his recent paintings Bad news (2009) and Turn Away From Me (2009).
JEFF KOONS
Born in 1955 in York, USA. Lives and works in New York City, USA.
Many consider Jeff Koons as cynical, and at best ironic. Yet Koons insists that "Irony causes too much critical contemplation" To understand Koons's art, one has to go beyond the kitsch or the ironic language as meaning. Koons uses this medium as a form of presentation because of the effective way in which it does not alienate nor speak down to the viewer and thereby liberates the viewer and makes the experience an instrument of selfempowerment. His declared strategies are to make art beautiful, to strive for objectivity, to give back the familiar, to reflect, and thus empower the viewer.
When Koons's says, "Embrace your past" it can be understood as: Don't be intimidated; you are fine with where you come from and who you are. It is an attempt to overcome alienation from the powerlessness that a culture of critique has generated. In Bourgeois Bust – Jeff and Ilona (1991) Koons depicts himself tenderly embracing his wife. The marble bust has a smooth, gleamingwhite surface that inevitably evokes memories of the solemn reserve of neo-classical forms, taking his inspiration from the Venetian artist Antonio Canova.
Koons seems to have eliminated the boundaries between life and art, attributing artistic dignityto everyday objects, such as in Olive Oyl (2004-2009) a mirror where the viewer inescapably becomes the portrait or in Dutch Couple (2007), a self-portrait where the artist becomes a monkey.
TAKASHI MURAKAMI
Born in 1962 in Tokyo, Japan. Lives and works between New York City, USA and Tokyo, Japan.
In Takashi Murakami words, "If my art looks positive and cheerful, I would doubt my art was accepted in the contemporary art scene. My art is not Pop art. It is a record of the struggle of the discriminated people". By discriminated people Takashi Murakami means the Otaku's – a group of people with obsessive interests such as manga, anime and video games.
The sculptures Hiropon (1997), whose name derives from a famous recreational drug used in the Post-war Japan, and My Lonesome Cowboy (1998), which is inspired from the 1968 movie by Andy Warhol, are both cartoon characters. The over exaggerated sexuality, exposes the otaku culture's obsession explicitly. It also suggests the idea that a manga cartoon figure can possibly also become an icon of beauty and veneration. In years to come, will this figure be venerated as we do an antique Buddha or a classical Greek sculpture today?
In the works, Milk (1998) and Cream (1998) known as 'Superflats', the classic Japans screen is reinterpreted as an ideal background to accompany the sculptures. The result images are perfect symbols of the cultural flatness of an increasingly alienated society.
CINDY SHERMAN
Born in 1954 in Glen Ridge (New Jersey, United-States). She lives and works in New York City, USA.
Since the 1970s, Cindy Sherman has been the subject of her images. Working entirely by her own, not only does she photograph herself, she also designs her own elaborate costumes and make-up to create depictions of various characters from an ever-expanding archive of personalities. The self is continually transformed as she explores the themes of female identity and the representation of women in contemporary society, such as in Hollywood Portraits (2000).
In Balenciaga Series (2007-2008), the artist depicts urban, middle-aged women who appear to be fighting to hold on to their youth. For all their protective shield of showy make-up and eager enthusiasm, the women are exposed to the cruel eye of the camera. At one and the same time, these images are attractive and repellent. They depict the weaknesses to which contemporary women are in thrall, the social impositions that oblige them to adopt roles and attitudes that verge upon the grotesque. And in observing them, we have the disturbing sensation we are seeing something all too familiar.
In Sherman's own words "I'm not about revealing myself". Hence even though Sherman's work is not autobiographical, the work is about her sense of self.
THE FRANÇOIS PINAULT COLLECTION
The François Pinault Collection comprises more than 2,000 artworks by contemporary artists. The collection has already developed a remarkable reputation thanks to its two pillars Palazzo Grassi and Punta della Dogana in Venice.
After its renovation by Tadao Ando, Palazzo Grassi reopened in April 2006 with the exhibition Where Are We Going? A Selection of Works from the François Pinault Collection; followed by A Post-Pop Selection (2007); Picasso, la joie de vivre, 1945- 1948 (2007); Sequence 1: Painting and Sculpture in the François Pinault Collection (2007); Rome and the Barbarians, the Birth of a New World (2008); Italics – Italian Art between Tradition and Revolution, 1968-2008 (2008); and Mapping the Studio (2009).
The inauguration of Punta della Dogana in 2009 with the exhibition Mapping the Studio was welcomed internationally as a major artistic, cultural and architectural event.
The opening of the exhibitions In Praise of Doubt at Punta della Dogana on 10 April 2011, and The World Belongs to You at Palazzo Grassi on 2 June 2011, marked the 5 year anniversary in Venice by François Pinault.
The François Pinault Collection also pursues its missions to make contemporary art accessible to as wide an audience as possible. To this day, over 1.5 million visitors have seen works from the collection in Venice as well as internationally with temporary exhibitions such as in Lille, France (The Passage of Time, 2007), Moscow, Russia (A Certain State of the World, 2009) and Dinard, France (Who's Afraid of Artists?, 2009).
Categories
Tags