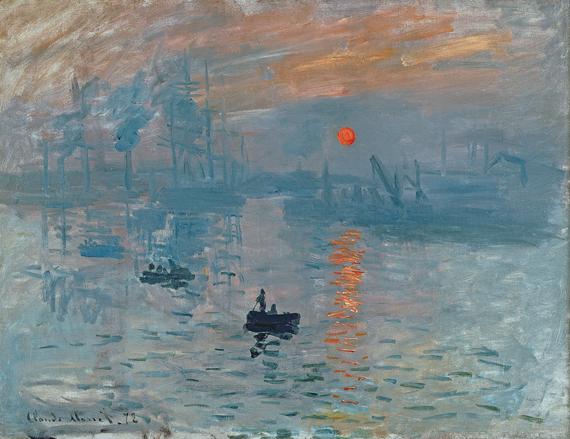 Image:© Bridgeman Art Library / Musee Marmottan, Paris, France / Giraudon
---
This article titled "The people's painters: what makes a work of art popular?" was written by Jonathan Jones, for theguardian.com on Friday 19th August 2011 11.28 UTC
What makes a painting popular? As I write, the social media-style art site Artfinder lists the top five works collected by its users as follows:
1. Claude Monet, Impression: Sunrise
2. Vincent van Gogh, The Starry Night
4. Gustave Caillebotte, The Parquet Planers
5. Katsushika Hokusai, The Great Wave
It's interesting that popularity in this case depends on what people add to their online collection. I have always believed that artistic taste varies wildly between works we might find challenging and stimulating in a gallery, and those we'd love to own. Putting a work of art in your digital collection is not quite the same as buying the actual painting – but it means you want to have it around, at least on screen. Collecting a work of art, even virtually, means you can live with it.
So it is not surprising that the Artfinder top five may strike some as conservative. Or a little bit obvious. After all, the only surprising name here is Gustave Caillebotte, whose enigmatic, arguably homoerotic image of working men is a fascinating treasure of the Musée d'Orsay.
But popularity always is obvious. And it is healthy. On the whole, the world's favourite works of art are the world's best works of art. Monet deserves his number one slot. He is an artist you don't find a lot of cooler-than-thou art theory books being written about – because he is popular. But there are few experiences in art as rapturous as losing yourself in a Monet. What is retardataire about the sensory and psychological journeys into which his paintings lure the beholder?
Van Gogh, the visionary, and Klimt, the hedonist, are two more artists whose popularity is heartening. It is a great posthumous gift to Van Gogh to be loved by so many when he was so lonely in life. And Klimt, however many snobs try to do him down, is a mystic priest of love.
Japanese art was loved by Van Gogh and his contemporaries, so Hokusai confirms that the mood here is early modernist.
Perhaps what it reveals is that the most popular art, that hits most people most deeply, is the art of the early modernist era from the 1860s to the 1900s, when new visions changed painting forever while still drawing on its long global history. It was a golden moment.
guardian.co.uk © Guardian News & Media Limited 2010
Published via the Guardian News Feed plugin for WordPress.
Categories
Tags