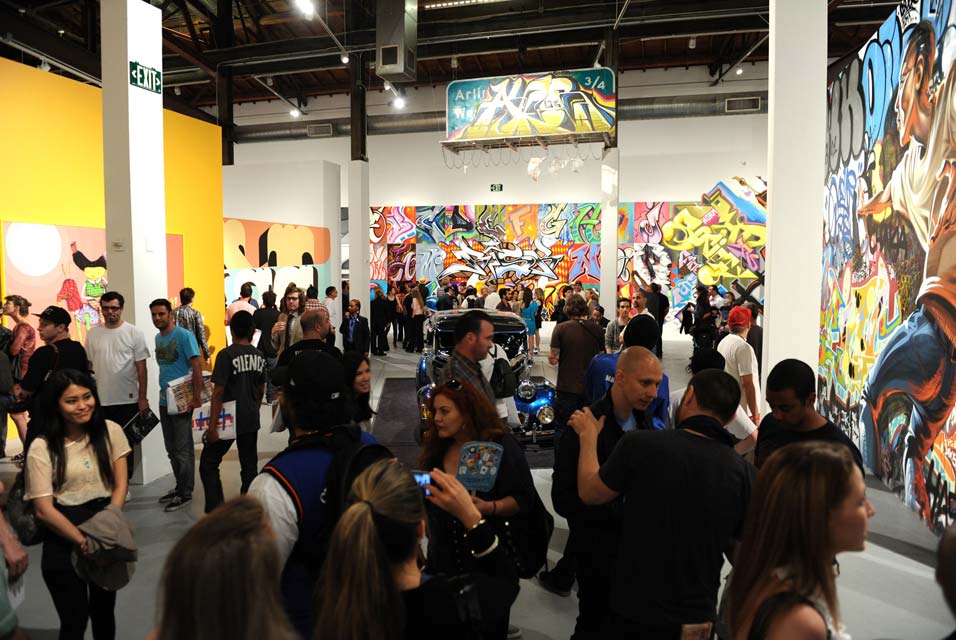 Image:The exhibition attracted 201,352 visitors. Via: Dailyart.com
The Museum of Contemporary Art announced today that the exhibition Art in the Streets, presented in the first year of MOCA Director Jeffrey Deitch's tenure at the museum, attracted 201,352 visitors from April 17–August 8, 2011, marking the highest exhibition attendance in the museum's history. Previous attendance records were set with the museum's presentations of Andy Warhol Retrospective (2002) and MURAKAMI (2007), which welcomed 195,000 and 149,323 visitors, respectively. With this exhibition, MOCA expects to double its annual attendance this year to 400,000 visitors.
The exhibition ran for 81 days, with a daily average attendance of 2,486, which breaks previous daily attendance records. The final week of the show drew 32, 278 visitors, also a museum record.
One of the most popular features of the exhibition, and an unprecedented gesture by an artist, was Free Mondays, the first-ever museum sponsorship by British artist Banksy. The program, which provided free exhibition admission on Mondays, drew an average 4,083 visitors each Monday. On closing day, an all-time daily high of 8,424 visitors attended, with lines stretching from the entrance of The Geffen Contemporary at MOCA to Alameda Street in Little Tokyo.
For the duration of the exhibition, the museum extended its hours on Saturday nights with the support of Ovation, and continued free admission on Thursday evenings, with the support of Wells Fargo.
In addition to these high attendance figures, nearly 2,500 new members joined the museum during the 17-week exhibition run. For the first time, MOCA commissioned the design studio of artist Shepard Fairey, who was featured in the exhibition, to create the exhibition's poster and banners.
As an extension of the exhibition, three public murals displayed on the exterior walls of the new West Hollywood Library are the result an innovative collaboration between Vanity Fair and Cadillac in partnership with MOCA and the City of West Hollywood. The project, known as "The West Hollywood Library Murals," features work from three of the biggest names working in the visual arts today: Shepard Fairey, RETNA , and Kenny Scharf. The official unveiling is slated for October 12, 2011.
Categories
Tags