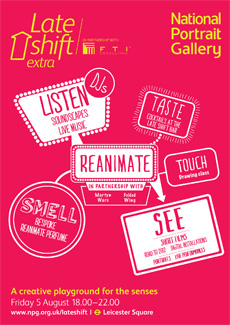 Image:Late Shift Extra: ReAnimate. ©National Portrait Gallery, London.

For one night only the National Portrait Gallery will become the first museum to offer a total sensory visitor experience where people can listen to sonic landscapes and DJ sets, see exhibitions and films, taste cocktails and even be intoxicated by a specially created perfume. The event is set to be one of the most far-reaching explorations of the power of the senses. .
Curated in partnership with Martyn Ware, Illustrious ,Karen Pearson and Folded Wing: ReAnimate will offer sonic soundscapes, an artist's panel discussion, an exclusive DJ set from Illum Sphere and a Philosophy Salon on the subject of Sound Thinking and Bodies led by film-maker Julian Henriques.
There will be live performances by Andreya Triana, a self-taught, experimental singer/songwriter, Ben Westbeech, a DJ, singer and producer and Marvin Ayres, a British composer/cellist/pianist/producer who, has released minimalist and modern classical orchestral music for both himself and other recording artists. A founding member of The Government, Marvin also made solo contributions to many bands and artist's albums, notably Culture Club, Simply Red, Frankie Goes to Hollywood and Prefab Sprout.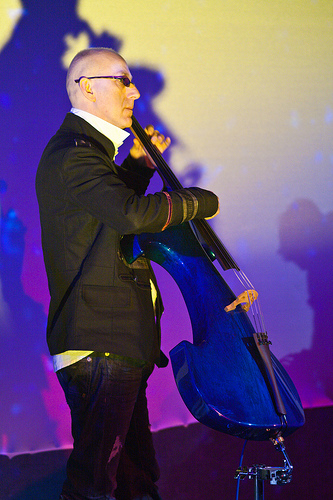 Marvin Ayres By Davide Simonetti 2011© Davide Simonetti
Responding to the themes of 'Art, Invention and Thought', Illum Sphere's soundscape for the evening attempts to reflect the work of such sitters in Gallery portraits as Wordsworth, Scott, Byron, Brunel and Stephenson. Inspired by the Gallery's portrait of Catherine Parr, Mira Calix's piece features lyrics inspired by letters written by Parr to Henry VIII whilst he was in France. Marvin Ayres's Anthromorphic draws on the history of the feuding relationships represented within Gallery portraits and re-animates these connections with the sound of a distant, echoing piano.
As a counterpoint to Only Connect, an experimental new Gallery display, Martyn Ware has taken quotes from the sitters to create a conversation played alongside his own musical interpretations of selected composers' most famous works.
Brian Duffy's installation It is no spirit who from Heaven has flown was recorded using the Optophonic Lunaphone, an instrument of his own invention, and is inspired by the portrait of astronomer Sir William Huggins.
Artist Tracey Moberly has saved every single text she has ever received since 1999. Taking inspiration from Gallery portraits, she identifies texts from her archive to create an aural narrative representing the Gallery's Collection.
An experimental performance from Di Mainstone and Adam Stark will create The Atmospheric Railway. Inspired by Isambard Kingdom Brunel, it is a unique wearable instrument in a series of special 10-minute performances by dancer Holly Miller.
Goldsmiths students have photographed over 500 people in the five Olympic host boroughs to create a digital clock projected in the Main Hall which will be available to download as a screensaver, www.npg.org.uk/roadto2012 Visitors can also experience the students' filmed portraits of London-based athletes during three very different moments of training – preparation, participation and rest – and which also include the internal sounds of the body during training.
The sensory experience extends beyond films, talks and performances as a reanimate perfume created especially for Late Shift by scent artist Sissel Tolaas will fill the Gallery's spaces with extraordinary fragrances. Visitors will be able to taste specially-created ReAnimate cocktails in a two-for-one drinks offer at Late Shift bar with tickets bought for the Gallery's current exhibition Glamour of the Gods. And there are drop-in drawing sessions led by a professional artist. All events are free but tickets are required for some activities.
Folded Wing are also producing a podcast which will go live after the event and will feature interviews with performing artists and will include the soundscapes.
ReAnimate is the sixth Late Shift Extra since the launch of the National Portrait Gallery's Late Shift programme of late night openings at the Gallery last year. The Late Shift runs every week from 6pm-9pm on Thursday and Friday nights. Thanks to the support of FTI Consulting, this is the first time the Gallery has been able to present such an ambitious late-opening events programme.
Erin O'Connor, who launched Late Shift says: 'Late Shift is a brilliant way to encourage people to explore the arts in the evening. Every Thursday and Friday visitors can enjoy free talks and music and a great atmosphere over a glass of wine – as well as brilliant exhibitions and regularly changing displays. The Gallery's central location makes it perfect for evening and after-work audiences who might not normally be able to enjoy everything the Gallery has to offer.'
Jack Dunn, president and chief executive officer, FTI Consulting, says: 'Since we launched the Late Shift in partnership with the National Portrait Gallery in May 2010 we have been proud to play our part in unlocking art and culture for new and increasingly diverse audiences. The success enjoyed by the Late Shift has provided the platform from which we are able to host exciting new projects such as ReAnimate' Via:[ArtDaily]
About Mark Westall