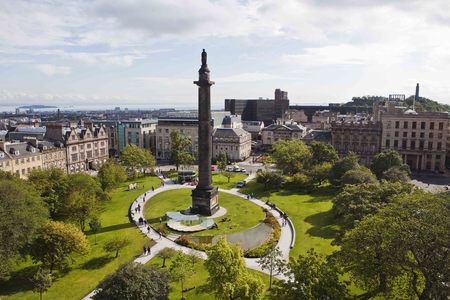 Image:Solar Pavilion, Karen Forbes photocredit: David Grinley
Edinburgh Art Festival is delighted to present the first artist-designed Festival Pavilion. Situated in St. Andrew Square Gardens, Solar Pavilion is a 2.8 metre high, 14 metre long glass structure formed from 9 segments. Designed by Karen Forbes with leading structural engineers Buro Happold and RMJM architectural practice, the Pavilion is a contemporary expression of the city's long fascination with optics and optical devices for viewing. The Pavilion will open to the public on 4 August 2011 and will host a series of free events throughout the festival in partnership with the city's museums and galleries.
At the intersection of art and architecture, and at the heart of the city where Sir David Brewster invented the Kaleidoscope and dedicated a life to exploring the physics of light, Forbes' glass chamber uses the latest technology in glass façade engineering to create a space which celebrates the play of light and shadow. Forbes' innovative structure invites visitors to both enjoy a point of contemplation and reflection in the centre of the festival city and provides an optical viewing point from which to re-see the city.
Much of Forbes' work comes from a lengthy engagement with site and place. Here her structure engages with the workings of the square's architecture. With its curved forms and scalloped edge, Solar Pavilion captures the lines of light, continuously re-configured on its surfaces as a measure of time and place; a parallel to the neighbouring Melville Monument's circling shadow and a reminder to the viewer that they are standing on a planet in constant motion.
www.solarpavilion.co.uk
www.edinburghfestivals.co.uk/

Karen Forbes is an artist and writer working at the interface between art and architecture. Professor of Art at Edinburgh College of Art, her recent architectural collaboration with Vito Acconci, invited by Manhattan Loft Corporation, explores the creation of a new experimental public realm model / raised urban plaza for the 21st century at St Pancras station in London. Moscow City Palace, a skyscraper designed in collaboration with architects RMJM, is currently under construction.
About Solar Pavilion
Solar Pavilion is designed by Karen Forbes with structural engineers Buro Happold and RMJM architectural practice. The Pavilion is supported through the Scottish Government's Edinburgh Festivals Expo Fund with additional support from British Council Scotland, Baillie Gifford, Cruden Foundation and Essential Edinburgh.
About Mark Westall