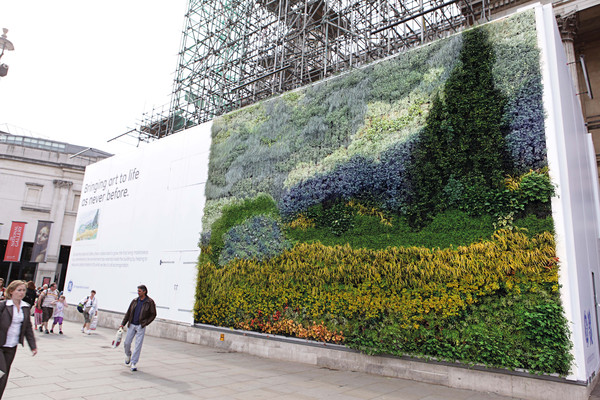 GE is currently helping the National Gallery improve its carbon footprint and to celebrate their endeavours they have created the first ever 'living masterpiece" in Trafalgar Square, London. The Van Gogh; A Wheatfield, with Cypresses, recreation is made entirely from living plant life and will be present in the square from now until November.
Over 8,000 plants of 24 different varieties were hand selected to closely match the colours in the images, ensuring that the living wall perfectly represented Van Gogh's work.
In order to create the living wall, they colour coded key sections of the famous work, and fitted plants into the sections to create the overall image. The plants were then grown vertically, before the piece was showcased in Trafalgar Square for all to see.
A Wheatfield, with Cypresses was painted in September 1889, when Van Gogh was in the St-Rémy mental asylum, near Arles, where he was a patient from May 1889 until May 1890. It is one of three similar versions of the same landscape. Van Gogh was committed to working from nature yet he strove to render the 'inner character' of the landscape rather than to reproduce its appearance.
Over the coming months you can tag your own photos of the living wall #GElivingwall. These images will then be used to create an online mosaic of the famous Van Gogh painting at www.facebook.com/ecomagination
Categories
Tags