Video:CITY (by BLOOM!) – promo Straightforward, ironic and fearless, CITY expresses opinions about dictatorship, discrimination, prejudice, power, fear, ignorance, attraction and faith in the language of theatre and dance.
August – September 2011 About The Place
For over forty years, The Place has engaged with audiences and participants, championed the best ideas, and created inspiring conditions for artists and enthusiasts to realise their potential. The Place combines London Contemporary Dance School, Richard Alston Dance Company and the Robin Howard Dance Theatre, together with pioneering learning, teaching, outreach, recreation and professional development projects. Their approaches to participation, education, creation and performance inform each other, respond to today's world, and embrace risks. Their goals for the future are to build on the achievements of their history: to transform and enrich lives, to continue to shape where dance is going next.
www.theplace.org.uk
Artists and enthusiasts of all ages and abilities will come together to form a community sharing in the dance created and performed at The Place in a new season of events called: Summer House.
Participants will be able to join in different activities, including courses and classes,
professional seminars, research projects, discussions and sharing moments. Summer House also features an international dance season programmed in the Robin Howard Dance
Theatre.
Summer Intensives (Mon 1 – Fri 19 Aug) is three weeks of exhilarating dance courses for anyone aged 16 and over, from beginner to advanced level. At the centre of each week's programme is a residency from three of the UK's foremost dance companies:
Akram Khan Company (1 – 5 August), Phoenix Dance Theatre (8 – 12 August) and
Richard Alston Dance Company (15 – 19 August).Dozens of professional artists have been invited to explore ideas and develop new work
in Choreodrome (Aug – Sept), The Place's biennial summer research and developmentalproject, which also includes workshops led by international artists Guy Cools, Lin Snelling, Rui Horta and Eleanor Bauer.
Thu 4 August, 8.30 pm
Rui Horta, Local Geographic UK premiere The legendary Portuguese choreographer, founding director of S.O.A.P. Dance Theatre, presents a solo performance for actor/dancer/performer Anton Skrzypiciel. Local Geographic
is a reflection on identity and a study of personal geography that uses the body as a tool to discover the world.
Some of the work in progress created during Choreodrome will be seen in:
Touch Wood (Thu 4 Aug – Fri 8 Sept), a season of performances presented each Thursday and Friday evening in Studios 1 and 2. Participating artists will be announced weekly . Touch Wood features works still currently under development, and includes discussions and sharing. The works-in-progress staged come from Choreodrome, a biennial research and development programme for contemporary choreographers, over the summer at The Place.
Touch Wood performances will only be finalised at the last possible moment, a few days (or perhaps hours) in advance. One of the least predictable set of performances, Touch Wood offers the opportunity to see raw ideas straight out of the studio.
The focal point of Summer House will be performances of acclaimed works by groundbreaking international companies and performers, on Thursdays and Fridays after Touch Wood, in The Place's Robin Howard Dance Theatre (Thu 4 Aug – Fri 16 Sept). The programme features works by companies from Portugal (Rui Horta, Thu 4 Aug), Hungary (Bloom!, Fri 5 Aug), Greece (RootlessRoot Company, Thu 11 and Fri 12 Aug), USA (Eleanor Bauer, Thu 18 and Fri 19 Aug), Israel (Yossi Berg & Oded Graf Dance Theatre, Thu 1 and Fri 2 Sept), The Netherlands and Germany (Itamar Serussi Sahar and Public in Private, both on Thu 8 and Fri 9 Sept); and Norway (Alan Lucien Øyen's Winter Guests, Thu 15 and Fri 16
Sept).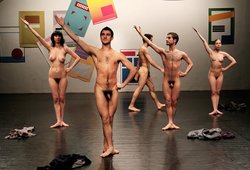 Image:(c) BLOOM! CITY, photo Zsolt Puskel
Fri 5 August, 8.30 pm A dance-theatre exploration of the urban rush, CITY is a bold and straightforward investigation on dictatorship, discrimination, prejudice, power, fear, ignorance, attraction and faith in the bustling urban sprawl. Working out of Budapest and London, BLOOM! collective comprises five young dance artists: Viktória Dányi, Csaba Molnár, Tímea Sebestyén, Moreno Solinas and Igor Urzelai. BLOOM! was awarded the Rudolf Laban Award in 2010 for best Hungarian dance production (CITY) and received an artistic residency through the Prix Jardin D'Europe 2010. Bloom! collective appeared in Resolution! 2011 at The Place.
www.bloomdancecollective.org
Thu 11 & Fri 12 August, 8.30 pm Rootlessroot Company, Eyes in the Colour of the Rain Inspired by William Blake's poem Night and the texts related to St John's Vision, Eyes in the Colors of the Rain is a blistering trio that lays bare the painful collision between physical material and the soul. It is a performance in which physical structures continuously collapse and are rebuilt, in order to reveal a secret life locked away.
RootlessRoot Company was formed in 2006 in Athens by Linda Kapatanea and Jozef Frucek. Between 2002 and 2005 the pair performed with Wim Vandekeybus' Ultima Vez Company. RootlessRoot last appeared at The Place as an Aerowaves company in 2008, displaying a characteristic style of intensely physical dance that is instantly compelling, chaotic and raw.www.rootlessroot.com
Thu 18 & Fri 19 August, 8.30 pm Eleanor Bauer, (Big Girls Do Big Things)
London premiere In her quest for the accomplishment of 'big things', American dancer and choreographer Eleanor Bauer pastiches all sorts of performing artists, digging up images from pop culture, dance history and the underground. She transforms herself into a rapper, a ballerina, a diva and even a polar bear, making use of all the possibilities the stage has to offer.Eleanor Bauer studied at the Tisch School of the Arts in New York and at P.A.R.T.S. in Brussels. She has been creating her own works since 2005 and has danced for Trisha Brown, Anne Teresa De Keersmaeker and Mette Ingvartsen.
www.goodmove.be

Image:Animal-Lost-by-Yossi-Berg-and-Oded-Graf-photo-Christoffer-Askman
Thu 1 & Fri 2 September, 8.30 pm Yossi Berg & Oded Graf, Animal Lost UK Premiere
Animal Lost started with the question of whether it was possible to define yourself in just three sentences, and the result is a look at stereotypes and misperceptions. An investigation into social clichés, exploring cultural differences and the universality of repression, sexuality and individual fantasies, this piece deals with our ability to redefine ourselves. The performers shift between illusions and reality, trying to awaken hidden elements of ambiguity and negativity.
Yossi Berg, who has worked with DV8 Physical Theatre, Batsheva Dance Company and Yasmeen Godder, started collaborating with Oded Graf in 2005. Together, they have built a reputation for work that is supremely physical, sometimes provocative, and by turns poignant and witty. Their company performs throughout the world and has won a string of international choreography competitions.
www.yossioded.com
Thu 8 & Fri 9 September, 8.30 pm Itamar Serussi Sahar Ferrum and Public in Private Allege (double bill) UK premiere (Itamar Serussi Sahar) Itamar Serussi Sahar returns to The Place after a highly successful visit in February 2011 as part of Aerowaves. In this new work, musician Richard van Kruysdijk has created a five- part composition especially for Ferrum that gives free rein to dancers Genevieve Osborne and Milena Twiehaus. The two women have worked together before and relished the degree to which they were allowed to improvise within choreography which they describe as raw, powerful yet full of dry wit.
Israeli choreographer Itamar Serussi Sahar stretches the physical opportunities of his dancers by using humour, improvisation and experimenting with unusual composition www.stationzuid.com
Directing music and lighting cue whilst balancing a glass of water on the back of his neck, Clément Layes' remarkable solo strives to make sense of everything that looks arbitrary, forcing meaning into order. Layes studied circus skills, art and philosophy before turning to dance. He has worked with Boris Charmatz, Hubert Godard, Jean Luc Moulène, Vera Montero, Claude Espinassier, Steve Paxton and Joseph Nadj. www.publicinprivate.com

Image:(C) Winter Guests, Avenida Corrientes, photo Yaniv Cohen
Thu 15 & Sat 16 September, 8.30 pm Winter Guests (Alan Lucien Øyen), Avenida Corrientes. Avenida Corrientes is the story of celebrated German choreographer Dieter Geier and his Argentinean principle dancer and muse Augusto Garcia, who return to Buenos Aires to create a new piece for a gala in honour of their 10-year collaboration. The events and routines of their savage and passionate world are revealed, as the two artists struggle towards the premiere of their new work, and a decision which will change everything, Alan Lucien Øyen continues his collaboration with actor/director Andrew Wale and dancer Daniel Proietto (Russell Maliphant's soloist in Afterlight) on this dance theatre work, set in an apartment on Avenida Corrientes – Buenos Aires' famous street of theatres. Drawing on inspiration from dance biographies, films and documentaries, this is a passionate love story – a triangular relationship between a dancer, a choreographer and their work. Winter Guests was established in 2006 as a producing and touring company for work created by choreographer and director Alan Lucien Øyen; the company was last seen at The Place in 2009 as part of Aerowaves.
www.winterguests.com
The Place, 17 Duke's Road, London WC1H 9PY
There will also be a series of talks, seminars and social events where everyone involved in Summer House is invited to meet and join-in.
The Place www.theplace.org.uk The Place, 17 Duke's Road, London WC1H 9PY
Categories
Tags