Tonight The Cob Gallery is being taken over for an evening of art, fashion, theatre, music and Surreal Women. For one night only, the gallery's project space is being transformed into a space for the exploration and celebration of all that pertains to Surreal Women!
Guts for Garters will be displaying beautiful boutique pieces from Grayson Perry, Euleen Agar and Alexander McQueen alongside others, all of which have been drawn together for this evening to explore ideas around the depiction of the female, as inspired by anarchic 20th century female surrealist Claude Cahun. In celebration of the 75th anniversary of the Surrealist movement, Guts for Garters are revelling in the inspiration which women provided for the movement, where the female female came to represent the sublime and the unconscious, the place where some of the least inhibited masculine fantasies were revealed. All this tempered in a homage to Claude Cahun, who was a woman mostly loathed by the Surrealists, and who changed her name to be both masculine and Jewish in a time of extreme anti-Semitism.
Tonight's line up of events will also see a performance from the unique dramatic company Little Theatre of Dolls, a theatre company which fuses puppetry and magic through fantastical creations which carry mystery and an edge of darkness. (I'm enjoying how wonderfully Angela Carter this sounds, I hope my imagination leaping to these conclusions is vindicated..!)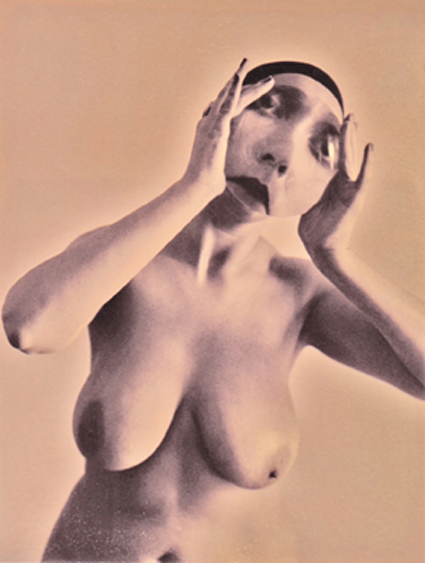 The Pain of Desire, Wendy Bevan
The event accompanies the current exhibition of new works by surrealist photographer Wendy Bevan and attendees with be able to view the new works which the show brings together. This is Bevan's first UK solo show and is entitled The Pain of Desire. The works are an exploration of the theatricality of female desire, and the inner pain suffered through the pursuit of prescribed and aspirational notions of identity and success. At once beautiful yet haunting, nostalgic yet timeless, Bevan's surreal staged moments are captured on Polaroid. Each hand-printed, Bevan's intimate, otherworldly studies of mysterious female characters will be displayed in found, antique frames sourced by the artist, the frame an extension of the piece.
Alongside her photographic work, Bevan will also present a companion performance piece with her band Temper Temper, with a series of haunting vocal performances which have been taking place throughout the exhibition. In this piece, Bevan's assumed character will interpret and respond to her photographic series and the emotions it portrays. Temper Temper's recording DROWNING IN THE DAY will be available on limited release CD at the exhibition.
Both artists and curators will be on hand to answer questions and welcome you to the space. There will also be a series of performances from special guests.
It all kicks off at 6pm and will go on till 8pm. To attend email Rachel@gutsforgarters.com – but be quick as there are limited places available.
You can get to the Cob Gallery from Camden Town and Camden Road stations, it's at 205 Royal College Street, London NW1 0SG
Rachel Bennett
Categories
Tags