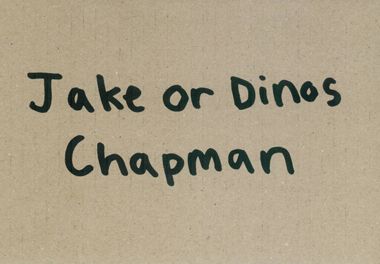 Image:© the artists Courtesy White Cube
15th July – 17th September 2011
Jake and Dinos Chapman began their artistic collaboration after graduating from the Royal College of Art in London in 1990 when they created 'We are Artists'. Since this self-defining anti-aesthetic manifesto was first stencilled onto a mud-splattered wall at the ICA, London in 1992 they have developed their own shared discourse as 'sore-eyed scopophiliac oxymorons' with, as they put it at the time, 'a benevolent contingency of conceits'.
Over the last twenty years their practice has seen them make iconoclastic sculpture, paintings, prints and installations that examine, with searing wit and energy, contemporary politics, religion and morality. In the essay accompanying their survey show at Tate Liverpool in 2006, Christoph Grunenberg described the work as existing between that which repulses and that which attracts the viewer. Furthermore, he said that what becomes really disturbing is "the underlying psychological meanings – the attacks on the whole body, the blurring of gender lines, the revulsions of the abject, the insinuations of sadism and moral offences. While their sculptures, paintings and prints function perfectly on a visceral level without theoretical superstructure, particular figures, motifs and images can always be traced to specific textual and visual references."
Working distinctly has also been part of the brothers' practice as was demonstrated with their 'GCSE Art Project' in 1999, which saw Jake and Dinos creating works to pass their GCSEs as individuals, not as the artistic duo that had established an international reputation. In 2000 they went on to create 'Exquisite Corpse', a body of work inspired by the Surrealist game where each contributor adds his part to a drawing without revealing his artistic input to the other.
For the past year, Jake and Dinos have been working in separate studios to produce a series of works in isolation from each other. Only in the staging of this show will each become aware of what the other has done. Unlike Gilbert & George, for whom Jake and Dinos worked at times as studio assistants, their practice is not one of 'singular duality'. They have always discussed, debated, argued and on occasion fought over creative and cultural ideas, but in this exhibition they will scrutinise and confront the whole idea of creative collaboration.
In a recent interview Dinos stated that "Jake and I only make things that amuse us… So I make things for Jake and he makes things for me." Jake responded by saying that they were "not trying to produce a unified sovereignty. We're not interested in the similarities between our interests, but the divergences. This show will be an exemplar of that. Catastrophic, maybe, but we'll see."
There will be two separate publications to accompany the exhibition. Jake Chapman will publish his third novel titled 'INTROSPASTIC: From the Blackened Beyond' while Dinos Chapman will produce a publication of 22 drawings, printed to scale, titled 'They Teach Us Nothing'.
Categories
Tags