Beach London launches on July 7th. FAD headed to the work in progress that is the Beach London gallery / shop / cafe on Cheshire street to meet Charlie, one half of the Beach team, to hear more about the project, where it has come from and where it is headed.
A cafe / gallery space / shop / publishing venture all in one, Beach had recently received their keys when we met with them and were getting down to work converting the space. Having worked at other East London galleries, the dream was to start their own space promoting the artists they love and offering a new kind of way to buy art. Already the online store is stocked with affordable pieces and soon that will be accompanied by the East London space. Split over two floors the plan is for a cafe / bookshop on the first floor which spills out into a delightful little garden at the back. Downstairs will be a rotating exhibition, featuring some of their favourite illustrators and artists with works for sale. Refreshingly, like an increasing number of galleries, the aim is to always sell the works, alongside books, stationary and zines, at an affordable price – with a mix of original pieces and prints for sale.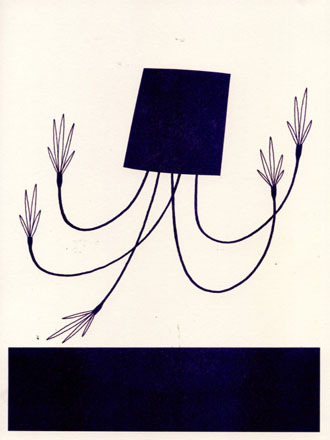 Image: Ryan de la Hoz – Shifting Room Risograph Print from the Beach London Shop
Beach will present monthly exhibitions from young emerging and established fine artists, who are influenced by low-brow culture – think artists influenced by and working in comics, zines and magazines. The launch show, Editions, will feature an eclectic selection of their favourite international artists and illustrators, including James Unsworth, Sister Arrow, Anna Faye Gillespie, Sean Morris, John Bohl, Danny Espinoza and Carl Partridge. Each of the artist's involved have produced a number of special editioned art works exclusively for Beach.
Image: Sister Arrow – Zoo Flask Risograph Print from the Beach London Shop
Alongside the artworks, July 7th is the launch the very first Beach London publication. Lifestyle's of the Poor and Unknown are an Essex-based photography collective and their first zine, in conjunction with Beach, will be a lustrous 28-page full colour edition – you can check out their lovely colour drenched work over on their tumblr
Watch this space! The online Beach shop is already stocked with prints, limited edition works, books and stationary and we're looking forward to the opening – FAD will have more information leading up to the opening night on July 7th, as well as a special competition in conjunction with Beach London.
www.beachlondon.co.uk
www.beachlondon.tumblr.com
Rachel Bennett
Categories
Tags