Historic Central St Martin's site at Charing Cross closes as the college moves to new Kings Cross cultural quarter
The historic Charing Cross Road site of Central St. Martins will close for the last time this week. The famous site has been bought by American book emporium Foyles as the art school moves to a new building in King's Cross. The school has sat at the Charing Cross road site for 72 years where it has fostered some of the art industry's brightest talents. The closing night saw the unofficial St Martins anthem, Common People performed by Pulp
The new site is part of the proposed cultural quarter, King's Cross Central, the University of the Arts will form the hub of the a 67-acre development that is the largest in London for 150 years.
Outspoken Chinese Artist Ai Weiwei released on bail
Chinese artist Ai Weiwei has been released on bail from jail, where he has been held for almost three months on charges of tax evasion. As CNN stated, Ai Weiwei is renowned as a provocative conceptual artist, but is equally well known as an outspoken commentator and critic of Chinese government policies.
Speaking to the Guardian, Ai said that he was in good health and glad to be back with his family after almost three months in detention. Addressing a crowd of well wishers, he said that he was unable to give details of his release or his time in prison, due to bail conditions.
Cuts group 'Art Uncut' target Bono at Glastonbury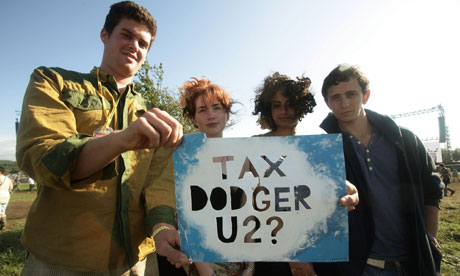 Tax avoidance protest group Art Uncut, a group of artists and musicians that form a part of larger tax avoidence protest organisation UKUncut, last Friday targeted Bono and U2 in a glastonbury based protest during their Friday night headline set. With an 8m-high balloon – inscribed with the slogan "U Pay Your Tax 2".
This year was billed as the year in which Glastonbury would get its political mojo back, and the anti-tax cuts group insist that those engaging in tax avoidance, like Bono, should be forced to pay their taxes to avoid the hard hitting cuts, like those which have recently impacted on arts funding.
Picasso sells for $29 million at Christie's
A painting of Picasso's girlfriend Dora Maar entitled Femme assise, robe bleue sold for $29 million at Christie's last Tuesday. The winning bid was almost double the maximum predicted by Christie's.
Upon its completion in 1939, Picasso sent the piece to his dealer Paul Rosberg. The piece was then confiscated by the nazis and remained in their possession until it was retrieved by members of the French Resistance in the mid-1940s.
Another painting by Picasso showing his mistress Marie-Thérèse Walter, Jeune Fille Endormie, sold at the same auction, raising money for medical research. The piece was donated by its former owner, who said "When you own a valuable painting like this, it owns you back. For the first time in a long while, I finally feel free."
British Artists selected to design a set of posters to commemorate the Olympic and Paralympic Games
Twelve artists including Tracey Emin, Martin Creed and Chris Ofili will design a set of posters for the Olympic and Paralympic Games next summer, as Britain seeks to use the events to showcase its cultural heritage.
Emin told reporters at an event at Tate Britain gallery, held exactly a year before the London 2012 Festival event gets underway, that she wanted her poster to be a celebration of life in the city.
"(I want to) show the world that London can really throw a party and that was what it was like with the royal wedding," she said, referring to the recent marriage of Prince William and Kate Middleton that attracted a huge global television audience.
"In times of depression, what came across as really, really cool was the arts. Arts and culture is the soul of the country," she added. "I'm interested in the party scene, the celebration."
For Michael Craig-Martin, also selected, artists had the advantage over graphic designers when it came to making posters for an event like the Olympics.
"Artists always bring something different, because you are bringing a personal language to it."
The artists commissioned artists are: Fiona Banner, Michael Craig-Martin, Martin Creed, Tracey Emin, Anthea Hamilton, Howard Hodgkin, Gary Hume, Sarah Morris, Chris Ofili , Bridget Riley, Bob and Roberta Smith, Rachel Whiteread
Rachel Bennett
Categories
Tags