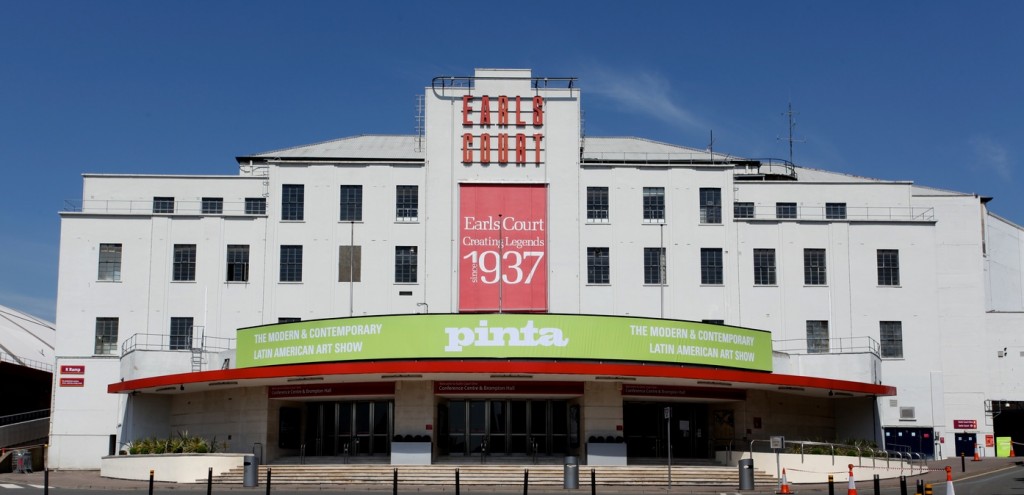 6th -9th JUNE 2011 Brompton Hall, Earls Court Exhibition Centre, Warwick Road,
Following a successful first year in London in 2010, PINTA, the Latin American Art Show is returning to Earls Court Exhibition Centre this June to present the very best in modern and contemporary Latin American art.
Launched in New York City in 2007, PINTA has become the annual meeting place for Latin American Art. In June 2011, PINTA will bring to London over fifty galleries from the Americas and Europe including Guillermo de Osma Galería and Distrito 4 from Madrid; Maddox Arts from London; Ruth Benzacar Galería de Arte from Buenos Aires; LucIa de la Puente from Peru, Galería Enrique Guerrero from Mexico, Galeria Nara Roesler from São Paulo, Aninat Isabel from Santiago, Chile and Durban Segnini and Sammer Gallery from Miami.
Anticipating its second year in London, PINTA's chairman Alejandro Zaia, commented: "Latin American art is increasingly making its mark in London. The UK's renowned institutions including TATE Modern have lead the trend by acquiring the best works from the region and top auction houses and commercial galleries have responded to increased demand for Latin America's talent with dedicated sales. Now PINTA London offers artists, patrons, private collectors, galleries and museums the opportunity to meet every June to build their knowledge and widen their networks in the Latin American art world. We look forward to PINTA becoming a fixture on the London arts calendar".
PINTA will showcase an important range of works by established Latin American artists – such as renowned Uruguayan artist Joaquín Torres García whose work has recently reached impressive prices at auction and Cuban abstract painter Carmen Herrera, alongside new and emerging talent like the Brazilian artist Felipe Barbosa who is known for using footballs as a medium for his work.
In homage to established living artists, there will be some stunning solo shows: the Brazilians Regina Silveira (Luciana Brito Galeria, São Paulo) and Waltercio Caldas (Celma Albuquerque, Belo Horizonte), the Mexican Felipe Ehrenberg with Baró Galeria, São Paulo for example.
In addition to the main show, PINTA will also present a Solo Projects section curated by the London-based Mexican Pablo León de la Barra. Here, selected galleries showcase some of the most interesting works from contemporary Latin American artists working today. A highlight is Brazilian artist
Rivane Neuenschwander's work 'Prosopopeia' shown jointly by Stephen Friedman Gallery (London)/ Tanya Bonakdar Gallery (New York)/ Galeria Fortes Vilaça, (São Paulo) – a conceptual art piece using different word games made from edible and organic materials (dehydrated oranges, coconut soaps and eggs for example).
Similar to Scrabble, the interactive piece allows words to be formed, decrypted, deciphered and arranged.
Other important projects include Berlin gallery Thomas Schulte with the Argentinean Fabián Marcaccio, Galeria Vermelho from São Paulo with works by André Komatsu and Josée Bienvenu from New York with the Guatemalan artist Darío Escobar.
PINTA London Museums Acquisition Programme
Institutions are well represented at PINTA because of their interest in the PINTA London Museums Acquisition Programme. This programme invites museums interested in Latin American art to buy artworks from the fair by receiving special funds from PINTA which they must match or exceed in order to purchase the works. This year the PINTA London Museums Acquisition Programme will once again include Tate Modern (London), the Centre Georges Pompidou (Paris), the University of Essex Collection of Latin American Art (Essex), and the MUSAC – Museo de Arte Contemporáneo de Castilla y León (Spain).
PINTA Lectures, talks and discussion programme
PINTA also presents an engaging diary of lectures and debates organised by the University of Essex Collection of Latin American Art, which includes curators, artists, dealers and collectors.
General admission £15, Student £8, Groups (8+) reduced price £12. Catalogue £15. General admission ticket and catalogue £25
www.pintaart.com
Art Galleries, Art projects , Solo Shows
Categories
Tags