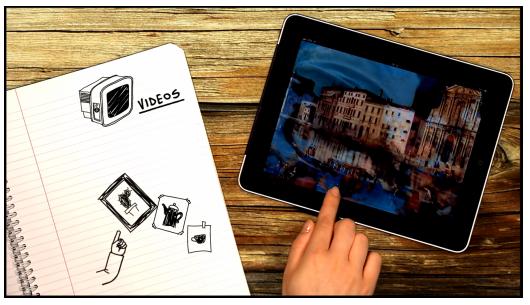 The official and Best App out there for navigating your way around the Biennale
you can find it just by searching for iBiennale in itunes.
What it says on ITunes:
iBiennale (la Biennale di Venezia) is a thrilling new way to discover and visit the Venice Biennale. Find out more about the exhibitions by accessing the official catalogue along with loads of extra content. iBiennale takes you into the installations using virtual view and new videos and lets you explore texts and images of works and artists in a multidimensional mode, finding analogies and showing you the most interesting details. It also lets you personalise your visit by selecting your tour and saving your favourite works and your notes.
iBiennale is a vast interactive catalog giving you access to the texts, images and videos of the exhibitions as well as letting you interact with all its contents. An exciting user-friendly experience: descriptions and images are connected by means of multi-dimensional links that allow you to navigate through the contents using various filters, such as thematic analogy and indexes of places or names. You can choose how to move from one work to the next using a simple proximity menu that guides you in discovering details and increases links between works and artists.
iBiennale gives you close-ups of the installations by means of extra contents like special videos and 360° image rotations. Each work is presented by means of a large gallery of photos, videos and interactive contents that can be accessed with a touch. iBiennale also lets you plan your visit in advance and choose your own personalised tour of the works based on your preferences and notes.
If you have previously purchased the full version of the catalog, you can unlock it on any of your devices by following the standard purchase steps and using the same Apple Store account. No additional fee will be charged.
Categories
Tags