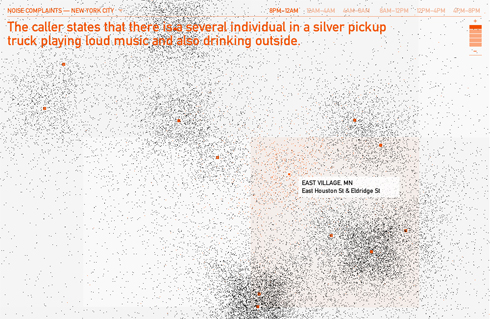 While the vitality and stimulation of the urban environment can be pleasant, those living in or visiting densely populated areas, such as New York, can have wildly different experiences. The ever-present cacophony of traffic, construction, and commerce; the struggle for mental and physical space; and the anxious need for constant communication in person or via technology are relentless assaults on the senses. One wonders how locals and visitors can escape, find respite, and make peace with their space in this "city that never sleeps."
The Guggenheim Museum responds with stillspotting nyc, a two-year multidisciplinary project that takes the museum's Architecture and Urban Studies programming out into the streets of the city's five boroughs: Manhattan, Brooklyn, the Bronx, Queens, and Staten Island. Every three to five months, "stillspots" are identified, created, or transformed by architects, artists, designers, composers, and philosophers into public tours, events, or installations. In conjunction to these site-specific commissions around the city, students from Columbia University and the School of Visual Arts are visualizing, reflecting, and responding to everyday issues of visual noise, anxiety, and stillness through interactive maps and videos that will be presented on an exhibition microsite launching in June. Together, these works weave an unexpected and cross-disciplinary web of tranquility throughout the city.
Stillspotting nyc is organized by David van der Leer, Assistant Curator, Architecture and Urban Studies, Solomon R. Guggenheim Museum, New York.
About Mark Westall