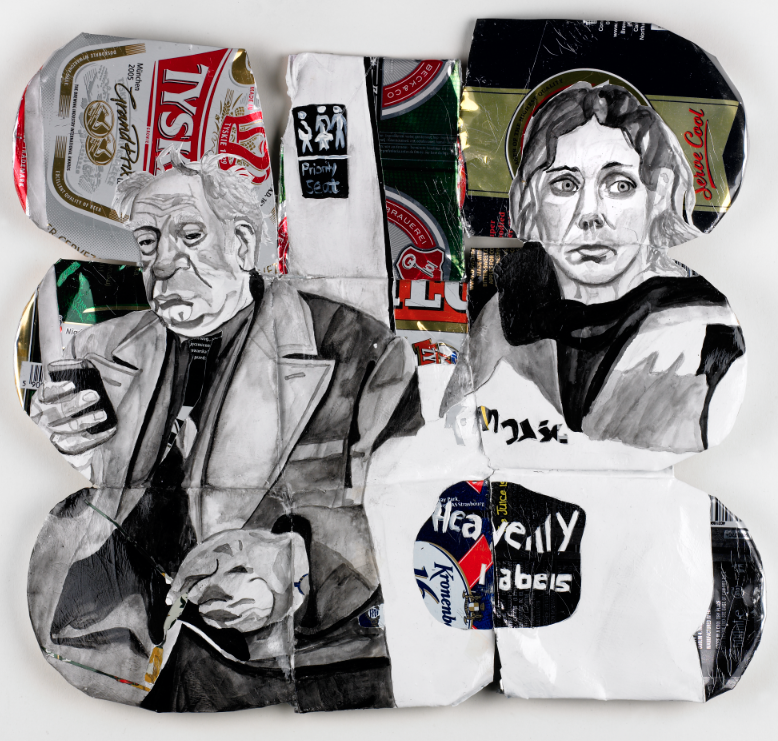 Image:from the series "We Are Disposable", black ink on primed aluminium (2010)
1. If you weren't an artist, what else would you be?
someone else's property
2. Name 3 of your least favourite artists.
I don't have three favourite, so haven't got around to disapproving of any yet
3. Anytime, any place – which artist's body would you most like to inhabit?
Stanley Kubrick, perhaps during the planning of 2001. It was said that he acted as if his reputation rested on every frame. That kind of attention to detail and focus is what made his work the most captivating in cinema history
4. What is your favourite 'ism'?
Adamitism
5. What is the most intelligent thing that someone said or wrote about your work?
Criticized it
6. And the dumbest?
Are you an alcoholic?
7. Which artists would you most like to rip off, sorry. I mean appropriate as a critique of originality and authorship?
I really like this shot in Peter Strickland's Kaitlin Varga, when three characters are in a small rowing boat. As one character reveal's things that will change all their lives radically, the boat is going round and round in circles. One of the most powerful things I have ever seen
8. Do you care what your art costs? State your reasons!
For a young artist, a sale brings a lot more than money and something that can't be acquired, confidence, which is the fuel for development.
So I think at this stage, achieving a certain value is psychologically very important whilst compliments can't pay the bills
9 What are the three big ideas that you would like your work to express?
Individualism
Understanding
Stories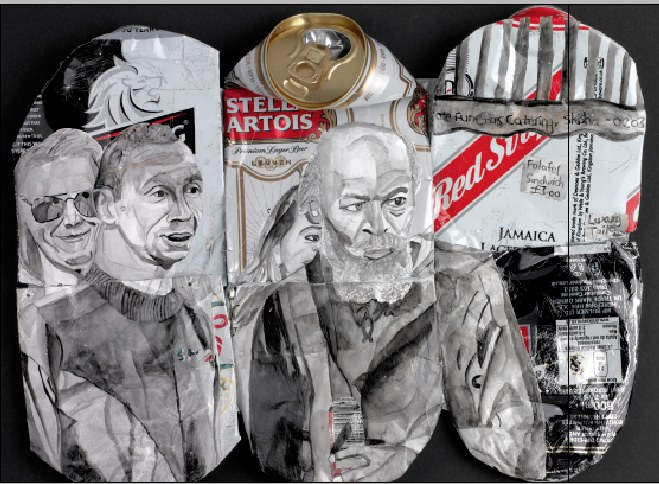 Image:from the series "We Are Disposable", black ink on primed aluminium (2010)
10 Are you a political artist?
Who isn't ?
11 How do you start the process of making work?
On a post-it-note or a sudden exclamation to whoever is listening
12 What next ?
An open studio at the start of June, a second fictional film in July and a solo show in December, life doesn't always go to plan though
13 If Moma and the Tate and the Pompidou wanted to acquire one of your works each, which would you want them to have?
A piece I did entitled "My Mother's Protection" which is bricks painted on a duvet. It's nieve and childish really ,but everyone would be able to relate to its meaning and that's when art is at it most effective and relevant
14 Complete the following sentence "Blessed are the artists, for they shall……"
believe they have a purpose beyond product makers
15 Complete the following sentence "Blessed are the curators, for they shall…"
take 20%?
16 Complete the following sentence "Blessed are the art critics, for they shall…."
be overweight as a badge of honour
17. What is your favourite cheese?
Street art in galleries
18. What's next for you?
Lunch
to R.S.V.P to Oliver's open studio on 4th June 7-9pm at 220 Arlington Road, Nw1 7HE email ben@fluffpr.com
About Mark Westall