The Museum of Contemporary Art presents Art in the Streets, the first major U.S. museum exhibition on the history of graffiti and street art, through August 8th, 2011, at The Geffen Contemporary at MOCA. The exhibition traces the development of graffiti and street art from the 1970s to the global movement it has become today, concentrating on key cities where a unique visual language or attitude has evolved.
Art in the Streets showcases installations by 50 of the most dynamic artists from the graffiti and street art community, including Banksy (London), Fab 5 Freddy (New York), Lee Quiñones (New York), Futura (New York), Margaret Kilgallen (San Francisco), Swoon (New York), Shepard Fairey (Los Angeles), Os Gemeos (São Paulo), and JR (Paris). MOCA's exhibition emphasizes Los Angeles's role in the evolution of graffiti and street art, with special sections dedicated to cholo graffiti and Dogtown skateboard culture. The exhibition features works by influential LA artists such as Craig R. Stecyk III, Chaz Bojórquez, Mister Cartoon, Robbie Conal, RETNA, SABER, REVOK, and RISK.
A special emphasis has been placed on photographers and filmmakers who documented graffiti and street art culture including Martha Cooper, Henry Chalfant, James Prigoff, Steve Grody, Gusmano Cesaretti, Estevan Oriol, Ed Templeton, Larry Clark, Terry Richardson, and Spike Jonze. A comprehensive timeline illustrated with artwork, photography, video, and ephemera will provide further historical context for the exhibition.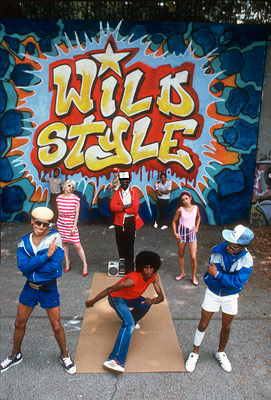 Image: Wild Style mural by Zephyr, Revolt, Sharp. front row: Doze, Frosty Freeze, Ken Swift; middle row: Patti Astor, Fred Brathwaite, Lady Pink; back row: Lil Crazy Legs, Revolt and Sharp; directed by Charlie Ahearn, photo by Martha Cooper.
1983
Art in the Streets feature several shows within the show. There is a special section dedicated to the Fun Gallery, which connected New York graffiti artists with the downtown art community in the early 1980s. Cocurated by gallery founder Patti Astor, the Fun Gallery installation features the work of Keith Haring, Jean-Michel Basquiat, and the graffiti artists who shaped the gallery's history. A section dedicated to the seminal film Wild Style (1983), co-curated by the film's director Charlie Ahearn, documents its influence on the global dissemination of graffiti and hip-hop culture.
The exhibition also features a memorial presentation of Battle Station, a rarely seen work by legendary artist and theorist RAMMELLZEE, and a display of graffiti black books and other historic works from the Martin Wong Collection presented in collaboration with the Museum of the City of New York. A highlight of the exhibition is a Los Angeles version of Street Market, a re-creation of an urban street complete with overturned trucks by Todd James, Barry McGee, and Steve Powers.
The exhibition opens with a skate ramp designed by pro-skater Lance Mountain and artist Geoff McFetridge. Skate demonstrations by the Nike SB skate team will be held on Thursday and Saturday afternoons.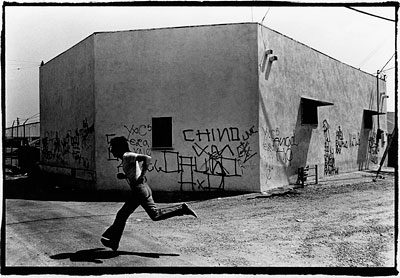 Image:Chaz running in a backstreet near Whittier Blvd in East Los Angeles, 1974, photo by Gusmano Cesaretti.
"Art in the Streets is the first exhibition to position the work of the most influential artists to emerge from street culture in the context of contemporary art history," said MOCA Director Jeffrey Deitch.
"This quintessentially urban and dynamic partnership between the Brooklyn Museum and MOCA began with the 2005 Brooklyn-organized exhibition of the work of Jean-Michel Basquiat, the consummate American street artist of his generation; continued with the MOCA-organized ©MURAKAMI in 2007, defining critical elements of worldwide street art; and now culminates with a groundbreaking exhibition devoted entirely to street art and graffiti," said Brooklyn Museum Director Arnold L. Lehman. "The partnership has, in itself, provided a major record of public art over the past half century."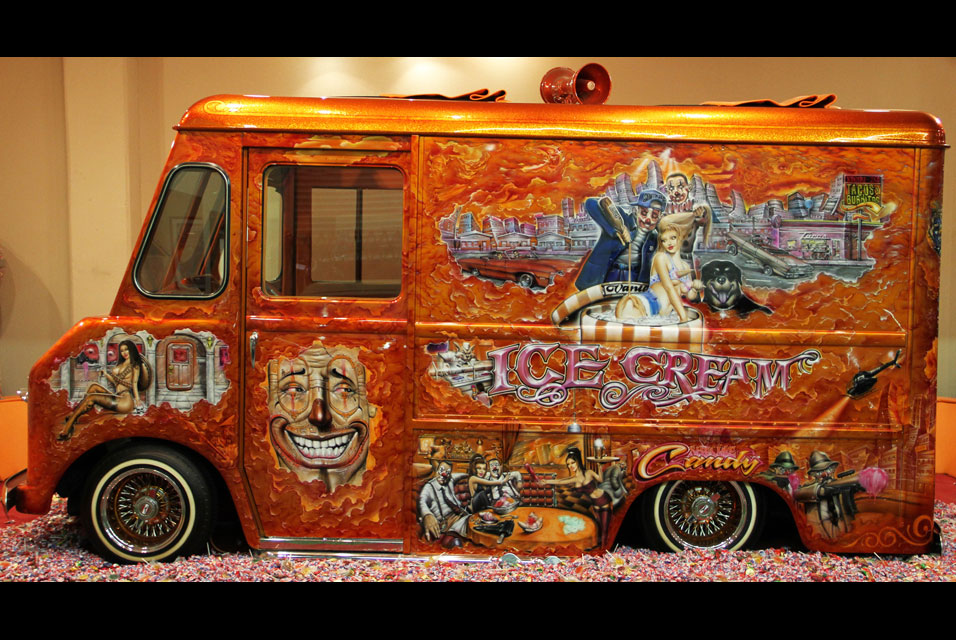 Image:Mister Cartoon (1963), International Ice Cream Truck, 2010, Urethane enamel candy painted freehand on truck by Mister Ctoons, photo by Estevan Oriol.
Categories
Tags