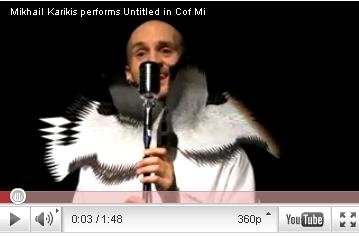 For one night only! 30 of the most exciting artists working across visual art, film, music, dance and theatre each give a two-minute performance that follows a light dinner of soup and tart, in the spirit of Jean Dupuy's legendary 1974–75 events at The Kitchen, New York.
Line up of artists include:
Bad-girl performance art legend Penny Arcade; pioneering artist Christian Marclay, whose work explores the connections between visual and audio cultures; Turner Prize-winning artist Martin Creed; investigatory pop/electronic composer and performer Simon Bookish and the spectacular contemporary dance choreographer Frauke Requardt.
Artist Edwina Ashton whose work includes illustration, film and home-made insect costumes also contributes along with mime artist and alternative drag scene favourite Ryan Styles; visual artist/fantastical performance-maker Tai Shani; artist and film-maker Mark Aerial Waller and dance and performance collective Dog Kennel Hill Project.
Also performing is artist and founder of makeshift troupe 'The Archimboldo Singers' Tom Woolner; composer, performer and visual artist Jennifer Walshe; audio visual artist Vicki Bennett (People Like Us); genre-challenging artist and musician Mikhail Karikis; dancer, choreographer and icon of the UK's dance scene Rosemary Butcher.
The night also includes works by sculptor/performer and installation video artist William Cobbing; performance artist Holly Slingsby; performance sound and video artist and object maker Marcia Farquhar; acclaimed film-maker, artist and writer Andrew Kotting, artist Jeremiah Day whose work spans photography, installation and storytelling; and collaborative performance duo Lucy Beech and Edward Thomasson.
Also just announced are award-winning folk singer Sam Lee; counter-cultural writer Stewart Home, experimental composer and saxophonist John Butcher; theatre director, choreographer and designer Simon Vincenzi; artist, writer and artistic director of cult experimental theatre company Forced Entertainment Tim Etchells, text, song, sculpture, film and performance-maker Hilary Koob-Sassen and live documentation from LuckyPDF.
Plus a special filmed contribution from Michael Clark and video artist Charles Atlas, who was a participant in the original Soup and Tart.
Watch more videos HERE
Categories
Tags