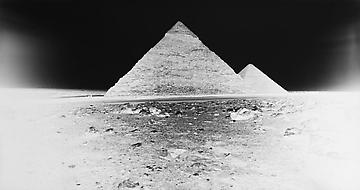 April 12th – May 21st 2011
In terms of the pyramids, it is fascinating to me that these enormous building have been left alone and are in a natural state of deterioration within the magical landscape of the desert.
–Vera Lutter
In Lutter's conceptual approach to the camera obscura, the apparatus records the outside world in a direct and immediate way. By choosing to retain the negative image as her final printed work, Lutter transforms the visual facts of her chosen environments into scenes reflecting on the twin realities of space and time. Her exposures can take days, or in some cases months, to produce and correlate with the scale of the photograph. Akin to x-rays, in these exposures the most stable and permanent aspects of environments emerge as spectral foci. And nowhere is this relationship between time and form more pronounced than in the recordings of the massive buildings that populate the deserts of Egypt.
Lutter's Egypt series is as much a record of undisturbed ancient architecture as the scope of restrictions and prohibitions that she encountered. She produced these photographs using an empty suitcase transformed into a covert camera obscura, lined with photosensitive paper. Thus each of these works conforms to the dimensions of the improvised device, producing a scale that is much more intimate than in previous series.
Traveling through Egypt in early 2010 Lutter's experiences with local laws forbidding photography of these monuments and suspicion of her photographic apparatus guided her to the pyramids and landscapes that she finally chose as her subjects. Largely preserved by national regulations, these timeless and enigmatic monuments, including the Meidum Pyramid and the Bent Pyramid in Dahshur, appear splendidly isolated, devoid of any trace of contemporary life. Lutter also gained rare access to the Kom Ombo Temple, where she captures tourists as barely perceptible specters against the majestic architectural backdrop.
Categories
Tags