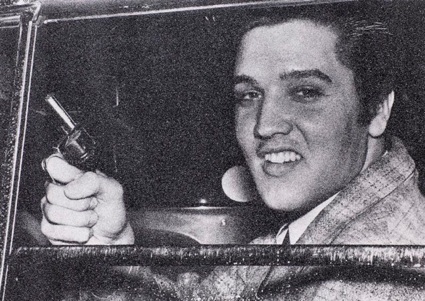 Image:"Elvis with Gun"
Exhibition dates: 7th April – 14th May
"American Envy" is the third exhibition at Scream Gallery of celebrated British artist Russell Young, and it follows his sell out show 'Dirty Pretty Things' in 2010. Young made his mark with a graphic, bold style, and his iconic diamond-dust screen prints are sought after by collectors all over the world. He finds inspiration in popular culture and the media, and his signature screen prints have immortalized iconic actors and …performers from stage and screen, as well as some of the darker events of our subculture.
This new body of work is influenced by a far more personal experience, which has had a deep impact on his approach to life and his art. In February 2010 he had a near death experience, and was in an 8-day long induced coma. The recovery period shed a new light on the therapeutic powers of art, and he had to learn to breath, write, walk and create all over again.
Young's 'American Envy' series is his latest examination of American society, and addresses the idea of the American dream, exposing its fragility. By way of explanation he says: "Am I asking you to witness my own personal souring of the American dream, or are you being given a deeper glimpse of my life long obsession with American Counter culture?" His images pay homage to Andy Warhol, the original embalmer of celebrity, and he creates silkscreen prints on one of the printing presses originally used by Warhol. Yet Young's style is completely unique, and he is renowned for his energetic live performances, where he demonstrates his ability to capture iconic images on canvas.
The "American Envy" series shatters the illusion of the American Dream, with screen prints such as "Elvis TV", referring to Memphis Tennessee in 1966 when a young Aaron Elvis Presley shot the screen out of his television, the crackling sound of interference silenced by a single shot, juxtaposed with an image of a smiling Elvis holding a pistol in 'Elvis Pistol'. A young Jackie 'O' gazes coquettishly at the camera in "Jackie", but some years later, when a single bullet penetrates the windshield of JFK's Lincoln Continental, her seemingly perfect world is destroyed along with the hopes and dreams of a generation.
"Float like a butterfly, sting like a bee", shows the upside of the American dream, portraying young black boxer Cassius Marcellus Clay Jr, who changed his name to Muhammad Ali and propelled himself to stardom through sheer will and determination, silencing critics and challenging the prejudices of a nation along the way.
www.screamlondon.com/
www.russellyoung.com/
Categories
Tags