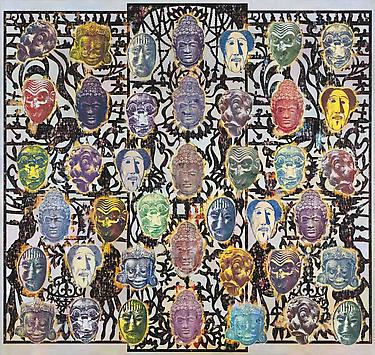 Image:Buddha field, 2010-11 Mixed media on linen 80 x 84 1/4 inches (203.2 x 214cm)
7 April – 14 May 2011
"A painting should come out of a grand synthesis of visual forces and ideas. Twentieth century modernism has been a series of ruptures: it was about abrogating belief, about consuming and moving on to the next thing and dismantling what went before it. My attitude at the end of the twentieth century has more to do with healing, storytelling, and craft."
–Philip Taaffe
Philip Taaffe, first-ever solo exhibition in London will be at Gagosian Britannia Street .
Taaffe's paintings are the slow product of wide-ranging meditations on the interrelation of forms and images in art, nature, architecture, and archaeology. Filtered through a critical and dynamic relation to the history of abstract painting, Taaffe's oeuvre is remarkable for its visual exuberance and intricate craft. In a single work he might combine the gestural impulses of Action Painting with the mechanical processes of silk-screening, as well as relief printing, marbleizing, traditional gold-leaf illumination, and subtle collage processes that are entirely of his own invention. Through these elaborate methods he composes dazzling schemes of great eloquence and beauty, often combining deeply personal visual reflections with quotations and vestiges drawn from a vast array of world cultures. Yet these works are not merely a compendium of historical styles; they are, in every instance, indisputably postmodern creations, paintings that speak to many of the most challenging artistic and cultural issues of our time, and which, in their complex visual and conceptual layerings, continue in the tradition of artists such as Robert Rauschenberg or Sigmar Polke.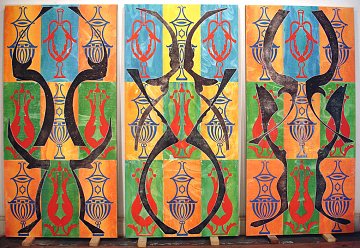 Image:Vasorum (Vessel Triptych), 2006 Mixed media on canvas Triptych: 99 x 48 inches each (251.5 x 121.9 cm); 99 x 144 inches overall (251.5 x 365.8 cm)
Familiar themes in Taaffe's past work pulse through this exhibition, recast and recombined with many new elements to produce unexpected and challenging propositions. Three different impulses are immediately evident in the present exhibition. First, two striking groups of works continue Taaffe's fascination with ritualistic activities and archaic totemic imagery, which he combines with twentieth century optical experiments and modern animist imagery to reflect upon mankind's earliest motivations toward image-making. In Onibaba I and Onibaba II images of brightly colored Noh masks emerge from a network of bold, black calligraphic lines derived from Japanese perforated screens and lanterns. The Japanese masks in Buddha Field indicate the wider migration of these motifs throughout Pacific cultures. The background inspiration for these works range from Taaffe's love of classic Japanese cinema to the earliest temples of the Asuka.
In a related but contrasting series, Taaffe employs masks from Greek tragedy to form a haunting chorus in Parodos. In Paintings with Byzantine Fragments, two related studies of late Roman and Byzantine busts are overlaid with imagery sourced in Coptic ornamental friezes and Paleo-Christian stone-carving, evoking the complex world of late antiquity. Of his method Taaffe has remarked, "The importance of ornament to me is that it signifies an encapsulation or crystallization of a cultural energy embodying the geographical place and the historical time from which it emerges." Similar ornamental motifs are deployed in a several entirely abstract meditations, Crescent Totem, and in two works (Observatory and Muscorum) that revisit the Artificial Paradise series of 2008, a title that references the dark, refined sensuality of Charles Baudelaire and the new frontiers of poetical and pictorial space explored in his writings. Muscorum portrays a phantasmic spectacle of seeds, spores, roots, aquatic plants and other botanical forms, these paintings harken back to Taaffe's 1990s explorations of the great works of natural history, from Ulisse Aldrovandi to Ernst Haeckel.
A series of purely abstract works combine parallel historical moments from Islam and Japan. In works such as Isfahan, Sevilla, Epiphania and Large Cairene Window, Taaffe examines the pre-geometric foundations of Islamic art, superimposing the arabesque latticework over controlled explosions of color generated by orizomegami —Japanese fold-and-dye paper techniques developed during the eighth century. In their vivid colors and geometric orientation they also recall Frank Stella's Moroccan paintings from the 1960s, while the triangular works in the same series acknowledge the influence of Barnett Newman.
The richness of medieval European stained glass windows alluded to in these works is finally realized in Medallion Window (2011), where a strikingly contemporary abstraction emerges from Taaffe's abiding interest in stained and painted glass sources, which include Stan Brakhage's Chartres Series of hand-painted films (1994), the magnificent windows created by Sigmar Polke for the Grossmünster Zürich, and the windows of Canterbury Cathedral, from which the designs in this painting derive.
Taaffe's exacting oppositions–between art and craft, violence and harmony, control and abandon, figuration and abstraction–radiate a profound and ecumenical power. His intricate works insist on (and duly reward) close attention. The experience of his compositions and the multitude of techniques he uses to create them—such as collage, monotype, relief printing, paper marbling, and decalcomania—intensifies the complexity of his unique visual universe while provoking closer contemplation of the continuing role of painting as a vital field of contemporary research.
Categories
Tags