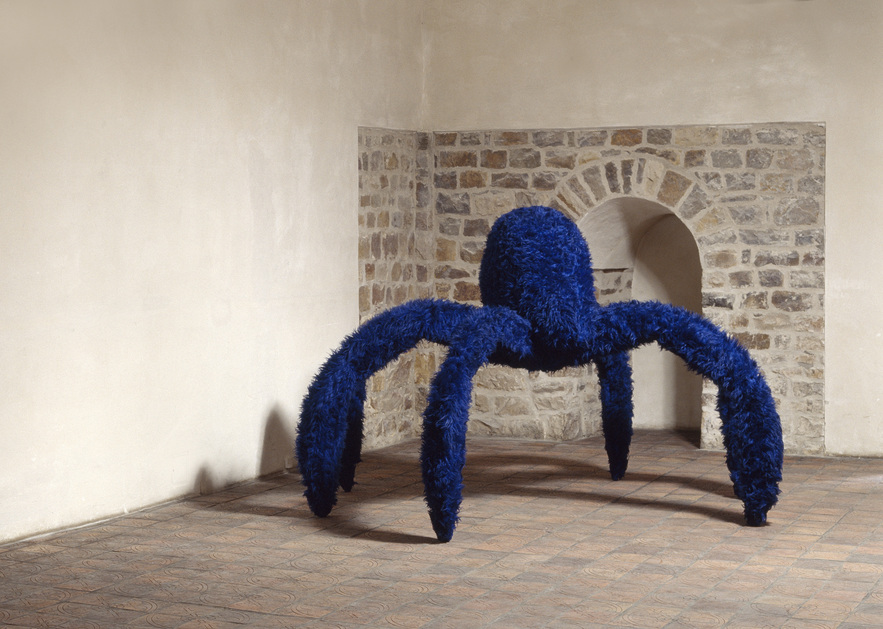 Image:Pino Pascali La vedova blu 1968
'…a multitude of soap bubbles which explode from time
to time….'
Pino Pascali's Final Works, 1967 – 1968
4 March – 1 May 2011 Gallery 1, 2 and 3
This March, Camden Arts Centre presents the first solo exhibition in a British gallery by Italian artist Pino Pascali (1936-1968). The exhibition focuses on his work in 1967 and 1968, the years in which the artist became associated with the phenomenon of Arte Povera, the radical trend in Italian art towards using everyday materials in resonant and seemingly unambiguous combinations.
While Arte Povera has retained its importance for audiences and artists, there has never been a show in Britain devoted solely to Pino Pascali's work. With loans from public and private collections in Austria, Britain, France and Italy, this show will introduce a wider British audience to an artist who remains surprisingly little known.
Yet his place in art history is undisputed alongside Giovanni Anselmo, Jannis Kounellis, Giuseppe Penone, Michelangelo Pistoletto, Gilberto Zorio and others synonymous with Arte Povera.
At the core of this exhibition will be the work Pascali made for his one-person presentation at the XXXIV Venice Biennale in 1968. Using steel wool, coloured fun fur, feathers and straw, Pascali created a visually exciting and texturally appealing installation. Among the forms on view were a possible drawbridge, two giant hairy mushrooms, a massive house of cards and a shield pierced by eagles' quills.
The show closed after two days when the artist withdrew his work because of student unrest in the city and the police response. Early in September 1968 Pascali died, aged 32, following a road accident.
Augmenting works first seen at Venice that year will be sculptures that show Pascali's interest in natural themes connected with sea and the land. From 1967 he used overtly man-made materials to make fake silk worms in brightly-coloured acrylic; an oversized blue spider in fun-fur (Vedova Blu); a nest of raffia and synthetic fur; and tools reminiscent of agriculture. Trained as a set designer, Pascali worked in television and film, a career he could only afford to abandon in 1967 to concentrate full-time on art.
The selection of this exhibition highlights this artist's complexity as a maker. His career has considerable relevance for generations of artists today as his work ran contradictory notions of reality and artificiality in parallel, and contrasted conventions of fixed form with an aesthetic infused with playfulness and a preference for shapes that could be manipulated on the spot.
Like his mentor Michelangelo Pistoletto, whose solo exhibition Oggetti in meno (Minus Objects) 1965-1966 was held at Camden Arts Centre in 1991 (the first by this major figure in a British public gallery), Pascali refused to be identified with a particular style or technique. He believed in tapping fact and imagination simultaneously and in never repeating the same work. "I am like a serpent," he once wrote, "each year I change my skin."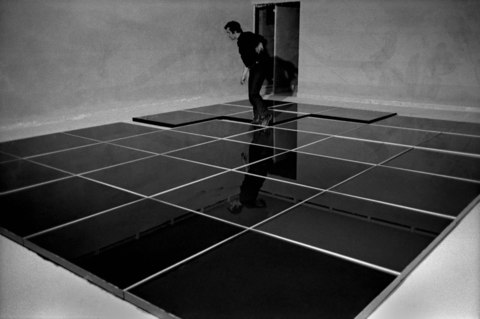 '…a multitude of soap bubbles which explode from time to time…'
Pino Pascali's final works, 1967 – 1968 has been initiated and selected by writer Martin Holman. Organised by Camden Arts Centre, with support from The Henry Moore Foundation.
The exhibition title is a quote from Pascali in an interview about his work with Carla Lonzi in 1967.
About The Artist:
Pino Pascali –
Pascali was born in Bari, Italy, in 1936. He moved to Rome in 1955 to study scene painting and set design at the Accademia di Belle Arti where Jannis Kounellis was a fellow student. After graduating, Pascali worked for RAI, the Italian state broadcaster, and as an illustrator and animator for television commercials before his first solo exhibition in 1965 at the Galleria La Tartaruga. His practice moved quickly from Pop-influenced images to three-dimensional forms which predominated
in future shows. The Armi, or "weapons", are perhaps his best known works.
Assembled from found materials and painted olive-green, they faithfully imitated the detail and colour of modern cannons and missiles. They introduced an ambiguity about meaning, which persisted as his career developed, between directly presenting reality and a fascination with artificiality. Unable to show the weapons in Rome, Pascali took the objects to Turin where they were exhibited by Gian Enzo Sperone in 1966.
Thereafter, he investigated organic forms from the sea and land.
After introducing more synthetic materials by 1967 his work acquired a paradoxical quality uncommon in Arte Povera, the name given that year to the trend among Italy's most experimental artists by the critic Germano Celant. Pascali was included in Celant's important early shows of Arte Povera in Genoa and Bologna, and in Fuocco, Immagine, Acqua, Terra at Galleria L'Attico, Rome, in 1967.
Accorded a solo presentation at the Venice Biennale in 1968, his show was abruptly closed in the wake of political demonstrations. Ten weeks later Pascali died after a motorcycle accident. He was posthumously awarded the Biennale's top prize for Italian sculpture and a memorial retrospective exhibition at Galleria Nazionale d'Arte Moderna, Rome
(1969). Examples of Pascali's work are found in leading public collections in Europe and America, and recent important one-person shows have taken place at the Rijksmuseum Kröller-Müller Museum, Otterlo (1991), IVAM, Valencia (1992), Palacio de Velázquez, Museo Nacional Centro de Arte Reina Sofía, Madrid (2001), Castel Sant'Elmo, Naples (2004) and GNAM, Rome (2005).
Categories
Tags