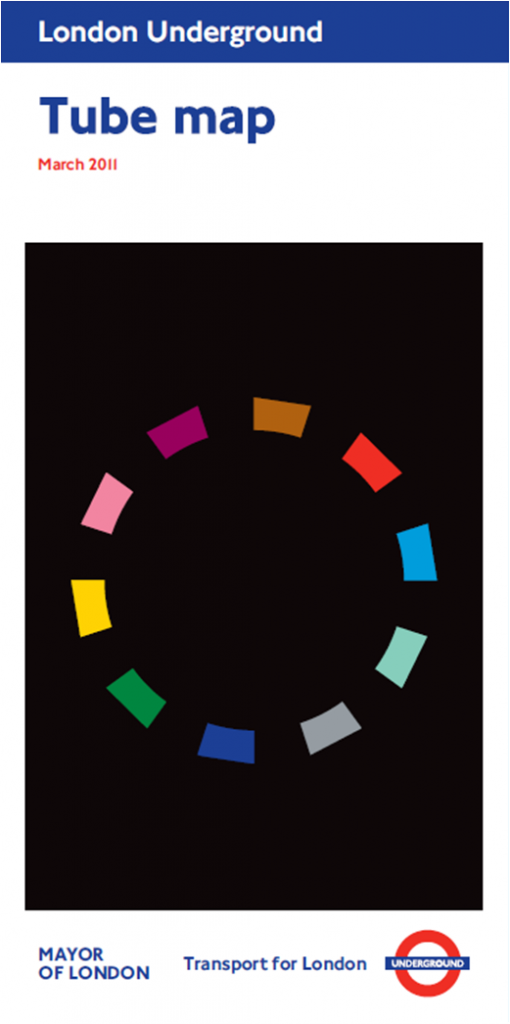 Artist Eva Rothschild's new art work, "Good Times", commissioned by Art on the Underground will be displayed on the front cover of millions of Pocket Tube Maps from March 2011.
"Good Times", which will be available for customers to pick up from stations across the London Underground network.
Eva Rothschild, who often uses a rainbow spectrum of colours in her work, has designed a ring made up of the Tube line colours with a stark black background, referencing the dominance of darkness as we travel through the tunnels underground.
"Good Times" and many of Rothschild's sculptures stem from the abstraction of different visual codes and imagery. Her iconography is informed by contemporary culture – music, film, literature and religion.
Rothschild's work is the latest in a long series of commissions by Art on the Underground for the Pocket Tube Map cover. Other artists in the series include Barbara Kruger, Jeremy Deller, Richard Long, Pae White and Mark Wallinger.
Eva Rothschild, commissioned artist, said: "The design for Art on the Underground's commission comes directly from a recent sculpture called 'Good Times'. The image takes the form of a ring made up of the Tube line colours, creating an expanded spectrum.

"The spectrum and colours also hold specific meaning of their own, echoing a life belt, for me this reference seemed appropriate because so many of us, including myself, depend on the Tube, its iconic map and London's huge transport system in order to go about our day-to-day lives"
Customers will be able to pick up Rothschild's map for free at Tube stations across London from March 2011.
art.tfl.gov.uk/
Categories
Tags