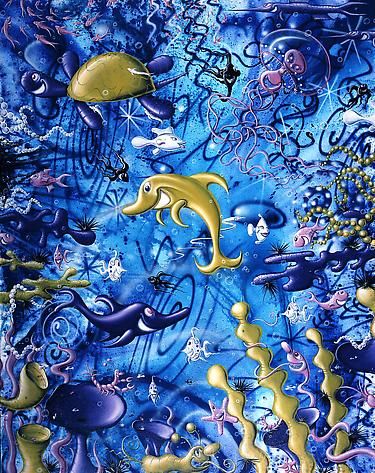 Image:Vivagua, 2010 oil, acrylic, and enamel on linen 120 x 96 inches 304.8 x 243.8 cm
Paul Kasmin Gallery announces a two-fold exhibition of works by the renowned pop artist Kenny Scharf, on view at the gallery's Chelsea locations from January 27th through February 26, 2011. NATURAFUTURA, a new series of large-scale paintings inspired by the surroundings of Scharf's coastal studio in Bahia, Brazil will premiere at 293 Tenth Avenue, and THREE DOZEN!, a collection of his iconic donut paintings will be shown at 511 W. 27th Street.
Born from the transitional zone where the jungle meets the sea, the paintings in NATURAFUTURA explore the richness of this landscape and humankind's multilayered connections to it. In these paintings, Scharf uses his own visionary lens to bring forth images of a fragile paradise populated by vivid flora and fauna set against voluminous grounds of highly keyed, patterned color. While Scharf completed two of NATURAFUTURA'S major paintings, which depict underwater scenes, BP's deep-sea oil rig explosion and subsequent spill took over the media. A longtime rainforest activist, Scharf incorporated elements of this event into "Oil Painting" (2010), which is currently featured in The Artist's Museum exhibition at The Museum of Contemporary Art, Los Angeles (MOCA LA), and "Vivagua" (2010).
Across the street at 511 W. 27th Street, the gallery will present THREE DOZEN!, a pop confection comprised of 36 of Scharf's signature donut paintings. The brightly colored images of assorted donuts floating against surreal skyscapes showcase the artist's trademark wit and fascination with optimistic fantasy.
Categories
Tags