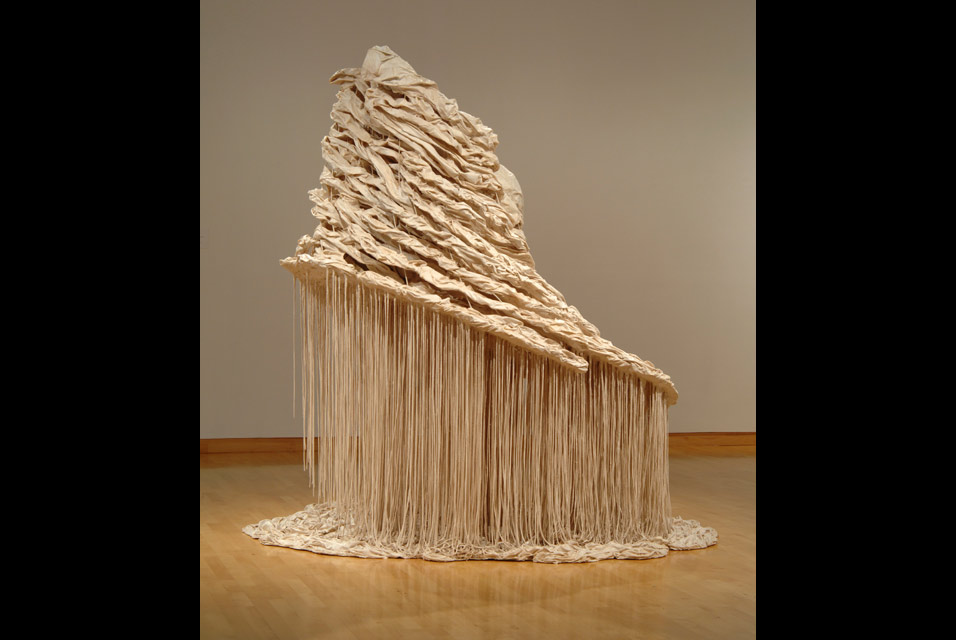 Image:Diana Al Hadid, Edge of Critical Density, 2009, Courtesy of the artist and Marianne Boesky Gallery, New York, Photo by Peter Foe.
This March Art Dubai Projects, a programme of films, talks, radio dispatches and performances, will feature the work of more than 75 artists commissioned to create interactive works in response to the fair. Presented by Art Dubai and featuring collaborations with regional and international organisations including Bidoun Projects and The Island, Art Dubai Projects 2011 will be the fair's largest and most dynamic series of curated programming yet.
"We are delighted to collaborate with leading cultural organisations to present a diverse range of projects that affirm Art Dubai's role as a site of discovery," said Antonia Carver, Fair Director of Art Dubai. "From film to installation to performance, Art Dubai Projects explores the fabric, economy, and theatrical nature of an art fair. These dynamic projects engage visitors of all backgrounds."
As part of its ambitious commissioning programme, Art Dubai has invited Abbas Akhavan, Oraib Toukan, and Hrair Sarkissian to create major site-specific installations that reflect on and examine the nature of the art fair. Vancouver-based Abbas Akhavan will undertake an eight-week residency as part of the Delfina Foundation's international residency programme in Dubai in the lead-up to Art Dubai 2011, through a new collaboration between the Dubai Culture & Arts Authority (Dubai Culture) and Tashkeel, with the support of the British Council. Akhavan will be working in a studio in Bastakiya, alongside UAE-based artist Shaikha Al Mazrou; both artists will be producing work for the fair and will exhibit in Al Bastakiya as part of Dubai Culture's Open House programme.
New in 2011 is a series of dispatches from Middle East, North Africa and South Asia (MENASA) artist studios that are designed to serve as a living archive of artistic practice across the region and interrogate the contemporary notion of the 'studio.' Co-curated by The Island, UK-based curators Andrew Bonacina and Victoria Brooks, MENASA Studio Dispatches will include more than 60 five-minute audio projects ranging from spoken word and music to abstract sound collage. Participating artists include Ramin Haerizadeh, Hassan Khan, Radhika Khimji, Faisal Samra, Bani Abidi, Naeem Mohaiemen and many more. The project will be presented on radio station Dubai Eye 103.8 FM, on listening posts at the fair and will be serialised for Art International Radio (www.artonair.org).
2011 is the inaugural year for the new MARKER section of Art Dubai. Art Dubai has commissioned curator Nav Haq to invite experimental commercial and non-commercial art spaces from across Asia and the Middle East, most of whom are new to exhibiting within an art fair. These five dynamic project stands, or 'concept stands,' dotted through the gallery halls, will showcase work by emerging artists who are creating new work especially for the fair. MARKER will feature Alexandria Contemporary Arts Forum (ACAF), Alexandria; Grey Noise, Lahore; Liu Ding's Store, Beijing; Makan, Amman; and Ruangrupa, Jakarta.
Building on the success of last year's interactive performative artist tours, which included Daniel Bozhkov's running tour of Art Dubai, Khalil Rabah's sedan chair journey through the gallery halls, and SciFi Wahabi's intergalactic interpretation of the fair, this year's tours of Art Dubai will be developed by artists Abhishek Hazra and Malak Helmy.
Art Dubai 2011 will also launch DXB store, a not-for-profit space featuring limited edition products and artists' multiples that are designed and made in the UAE. Highlighting the innovative work of contemporary UAE-based artists and designers, the collection will include newly commissioned objects as well as sought-after recent works.
The leading Middle Eastern arts organisation Bidoun Projects returns for its fourth year as a project partner, kindly supported by the Emirates Foundation.
Art Dubai welcomes back the peripatetic Bidoun Library, featuring 'The Natural Order,' a new section specially curated for the fair that focuses on printed material on the Gulf from the past five decades. 'The Natural Order' will include corporate and state publications, as well as magazines and lay-ethnography on the Gulf published in the mid 20th century, when the region was mostly unfamiliar in the West and was becoming a source of great interest with the discovery of oil. Bidoun Projects will also present a live mural, painted and repainted each day throughout the fair by a group of distinguished artists – Dubai-based Rokni Haerizadeh among them – tasked with depicting the theme of 'labour.'
2011 also sees the return of The Big Idea, a highly popular, fast-paced forum for 10 young designers and artists based in the UAE, who will present upcoming projects and their ideas for the future of the cultural scene in the Gulf.
The 2011 Bidoun Projects programme includes Art Park, an underground project space for film, video and talks, that features retrospectives of the work of two pivotal Egyptian artists, Wael Shawky and Sherif El Azma, curated by Bidoun's Kaelen Wilson-Goldie and Sarah Rifky of the Townhouse Gallery, respectively, as well as a sports-themed video programme featuring a variety of artists including Ziad Antar, Mahmoud Hojeij, Van Leo, and Marwa and Mirene Arsenios.
The Art Park will also host a series of workshops, programmed as part of the Global Art Forum, that focus on the practicalities of working in the arts in the region, with in-depth workshops on art law as well as writing and curating for local practitioners.
Categories
Tags